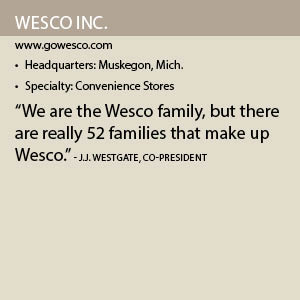 Since then, Wesco has grown to operate a chain of 52 locations that are primarily located in West Michigan. Co-President J.J. Westgate says the company sets itself apart with clean, bright and welcoming locations. "We really strive to make it a safe and comfortable environment for people to go to," he says.
In the Mix
Wesco constantly evaluates the product mix in its stores. "We continue to look at products we're offering [so we] have what our customers are looking for," Sytsema says.
Popcorn is currently a high-selling item for Wesco, so the company has placed popcorn machines in each location. "It's amazing when you walk into the store," Westgate describes. "It's kind of like when you walk into a movie theater; [the smell] catches your nose and makes you buy it."
Merchandise also is part of the focus of Wesco's five-year, Destination Fresh strategic plan. The company makes sure its bakery and deli cases in its stores are stocked with fresh food daily. "That's one of our larger projects right now," he says. "We've been putting a lot of heat and light on that."
The stores' bakery and deli cases feature items such as sandwiches and salads that come from the company's central commissary that it built last year. "We're pretty proud of that," Sytsema says. Every night, deli and donut products made that day are delievered to each location, so that you can always find fresh items at all Wesco's. The Destination Fresh initiative also has been applied to the beverage offering in its stores, which include hot and iced coffee, iced tea, cappuccinos, fountain drinks and Icee's. "[We also have] F'Real machines at select locations," Sytsema adds.
But more work has yet to be done in the program. "Our future plans are to expand into other fresh offerings that we currently do not have," Westgate says. "We are in the process and constantly on the lookout of trying to figure out exactly what those are, and what those unknown offerings look like for us."
Family Businesses
Wesco gives autonomy to its store managers. "Personally, I'm a strong believer in empowerment and letting people grow and make decisions," Westgate says. "[We give] them the authority and the ability to go out and stretch themselves."
Sytsema agrees. "The buzzword now is 'servant leadership,'" she says, noting that this was part of Wesco's philosophy before it became popular.
One example of the freedom Wesco provides is the responsibility of hiring new employees and maintaining their team. "It's really up to the manager," Westgate says. "We give [them] the tools that help them be successful," with items like hiring guides, interview questions and associate assessment tools.
Each store, he adds, also develops its own unique culture. "We are the Wesco family, but there are really 52 families that make up Wesco," he declares.
The company rewards these "families" for their work through a profit sharing program, Sytsema adds. "At each store location, a portion of their profit goes back to the entire team each month," she says.
The managers, she notes, receive the largest share of the profit. "It helps people see that their hard work pays off in the form of a larger profit sharing check," Sytsema states.
Easy Savings
Wesco's marketing initiatives include Wesco Rewards, its customer loyalty program. "It's based on customer purchases and accumulates how much they spend," Westgate says. In addition, during every Reward cycle there are a large mix of individual products that when purchased earn differing amounts of cents off of gas.
For example, if a client spends $50 in its stores, they would receive its "Two Cents Rewards." This gives them a discount on a purchase of gas, ranging from one to 20 gallons, he says.
But the purchases do not have to be made all at once. If a customer spends $30 on one visit to a Wesco location and $20 on another, "[They] would get the Two Cents Rewards," Westgate says.
The program also gives customers the ability to save money on special items. "You can buy a certain candy bar and save two cents," Sytsema says.
In a Good Spot
After 65 years, Wesco plans for more success. "I see us continuing as a people-based company that can provide quality goods and services to the communities we serve," Westgate says.
The company also will continue placing a high value on its employees. "We wouldn't be in the spot we are in if it wasn't for them," he declares.