For more than 20 years, the Quincy, Mass.-based company has been committed to work apparel in styles that keep its customers safe, comfortable and looking good. "We don't put anything in our stores that we don't believe in from a functional standpoint," DiPaolo adds. "We work with our customers to make sure they are happy."
The company also sells a significant amount of footwear with a proven reputation for quality, performance and comfort. Its buyers understand the demands of the workplace and hand-select each item for a specific job.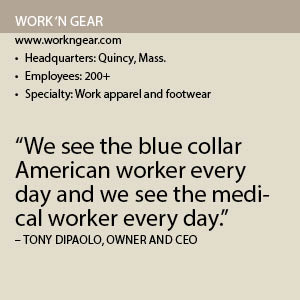 "We sell a lot of work boots," DiPaolo says. "It's a big category for us. A large percentage of these work boots are steel toe."
Work 'n Gear, which stands behind its products with a 100 percent satisfaction guarantee, also sells a large percentage of high visibility fire retardant clothing for electricians and others that require it. Healthcare apparel is another large market.
"We see the blue collar American worker every day and we see the medical worker every day," DiPaolo says. "The economy is good and I think we're doing something right because we're experiencing growth. Our sales are up over 7 percent in our stores and our internet sales are about 50 percent year over year."
Work 'N Gear business programs are easy to start up and simple to use. The company employs hundreds of knowledgeable associates, expert buyers and customer service representatives at its retail locations.
Variety of Brands
Work 'n Gear also sells a lot of branded products and has its own private label brand, called Scrubology, for healthcare professionals. Its private label brand carries items such as scrub tops, scrub pants, lab coats and jackets. "Scrubology is a pretty big business for us," DiPaolo says.
In addition, the company sells branded products. It has a partnership with more than 20 brands which include top labels such as Timberland Pro, Carhartt, Wolverine, Dickies and Grey's Anatomy.
"It took years to develop these partnerships," DiPaolo says. "We have great partnerships with our brands and I think that continuing to develop them is critical."
A Customized Look
Work 'n Gear knows that quality work apparel that is customized with a company's name or logo has many benefits. It helps promote brand recognition, instills workers with a sense of pride and team spirit and creates a professional image that builds credibility and confidence with its customers.
The company has the know-how and resources to outfit businesses of all sizes and industries. Need specialized apparel with features such as hi-visibility, electrical hazard and static dissipation? No problem. How about fire protection, skid resistance and toe protection? Sure thing.
Whether customized or branded apparel, Work 'n Gear is positioned to tackle customer requests at a reasonable cost.
"We've never gone after price – to stack it high and sell it cheap," DiPaolo says. "Price isn't the answer. It's part of the equation. I believe you have to do everything right."
Increasing Online Presence
Aside from its 40 brick-and-mortar retail stores throughout the Northeast and Midwest, Work 'n Gear does a solid amount of business online.
"About 20 percent of our sales are online," DiPaolo says. "But it's a growing percentage. Who knows what it will be in two or three years. As long as both channels are going up, I'm a happy camper."
To improve its online customers' shopping experiences, the company is making a number of improvements to its website.
"It may not be obvious to consumer, but it will function quicker for people to buy," DiPaolo says. "That's important for us. We're trying to streamline the user experience."
One of these is to increase its online inventory. "Even if we have it in the store, it may not be on the website," he adds. "It will be 95 percent of the time, but I'm a 100 percent guy."
Work 'n Gear is also beefing up its digital marketing efforts. The company has stepped up its email and social media campaigns and cut out paper. "Last year, we went full blown digital," DiPaolo says. "We continue to upgrade different software for customer engagement and marketing purposes."
As the company continues to develop its marketing strategy, it's becoming more savvy with respect to social media, especially YouTube. "We will be starting a big YouTube campaign next year," DiPaolo says. "We'll be focusing on the emotional attachment between the consumer and our company. We want to be the answer to their question."
It doesn't matter if it's through email, the company's website or in-store, Work 'n Gear wants it customers to have a similar experience. "We want to deliver a consistent message across all channels," DiPaolo says. "That is very important."
A Family-Run Business
DiPaolo purchased Work 'n Gear from Casual Male Corporation in 2002. The asset purchase granted DiPaolo rights to the company's inventory, leases, and employees, but he had to build all other aspects of the business from scratch.
The first steps he took were to install updated IT systems, implement operational guidelines, and organize the infrastructure. Soon after, he established distribution centers. DiPaolo is proud to serve his company and refers to it as his family.
"I run my company like a family-run business," he says. "I'm accessible to my employees and I interact with them in the field. Even though we're not all related, I feel like we are. I look out for our employees."
In addition to standing behind and speaking up for the Work 'N Gear brand, DiPaolo enjoys lending his name and experience to community efforts. Among other pursuits, he serves on the board of directors of the South Shore Art Center in Cohasset, Mass. Under DiPaolo's leadership, Work 'N Gear is the proud sponsor of the "Boot Trade" program.
Each year, before the cold of winter hits the northern states, this program provides thousands of pairs of gently worn boots to people in need. Customers who turn in their old work boots receive a credit for a new pair.
"We wanted a way to serve the less fortunate and a boot trade seemed like the perfect solution to a big problem," DiPaolo says. "The old boots are provided to the homeless across twelve states."
Work 'n Gear values dedication, determination and the value of good, honest and hard work. It believes it can help make people's jobs a little easier by providing a diverse selection of top-performing apparel designed for the workplace. The company says that it sells "apparel you can count on, day in and day out, to let you do your job."
According to its website, Work 'N Gear has a passion for selecting products with a proven reputation for quality, performance and comfort. The company promises to stand behind everything it sells with a 100 percent satisfaction guarantee.
It doesn't matter if an item was purchased in one of its stores or online, if it's not exactly what the customer expected, if it doesn't fit perfectly or isn't made how the customer thinks it should be, Work 'n Gear says the item can be returned within 30 days for a full refund. No questions asked.
"We're excellent with customer service," DiPaolo says. "Our people are great at accomplishing their tasks and we really work hard to make our customers happy."
To keep up with Work 'n Gear, you can follow the company on social media at: