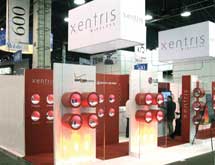 This wireless accessories supplier evolves its business platform to meet the changing needs of its customers. The world of wireless accessories has exploded over the past few years, and Xentris Wireless has successfully ridden the wave with its clients, including retailers such as Best Buy and providers such as Verizon. The company began with a products solution focus when it was founded in 2003 but has continued to evolve its business model to meet those same clients' needs.
Xentris' list of wireless solutions can be divided into three categories. First is product development, which includes manufacturing cutting-edge gadgets at its 132,000-square-foot warehouse in Addison, Ill.
Second is handling marketing for its clients, from product launch materials to store plan-o-grams, sales sheets, and marketing and promotional materials. Xentris' marketing services also include helping its customers develop product-appropriate packaging designs that not only hit display targets, but also help hit sales targets.
The third category covers what President and CEO Bill Christy calls the logistics end of the business. "We are equipped to handle the packaging and most of the distribution," he said. But the way retailers and carriers handle their distribution practices today is much different than it was eight years ago.
For the most part, companies are no longer warehousing. Some of Xentris' clients opt to go direct to a foreign manufacturer and come back to Xentris to either buy or bring their products from China, package them, and handle the logistics.
"Our customers increasingly don't want to warehouse the products themselves," Christy said. "In addition, rather than shipping 100,000 widgets to Best Buy's distribution center, we're now shipping 25 widgets each to 4,000 store locations."
Secret handshakes
The change in distribution practices hasn't necessarily changed the amount of product Xentris ships to its clients. In the case of Best Buy, it's still shipping out 300,000 products, for example. But the process of packaging each product to code specifications and then sending them to so many addresses created more work than the company's 54 full-time employees were prepared to handle for the long term.
The company was able to stay ahead of the demand but not without sacrificing the focus of its employees. So over the course of 2010, it worked on implementing a $1 million ERP system to improve its operations. Christy said the Epicor system gives his employees a chance to do the jobs they were hired to do, such as product development, rather than band-aiding processes to keep up with the demand.
"There were a lot of secret handshakes; one group didn't know what the other had to do to make things happen, but everyone here is incredibly dedicated to their jobs and the success of the company, so they did it," he said. "It had gotten to the point where it was incredibly time consuming to do these multiple ship-to orders, and we realized the only way to do it without error was to invest in a new system and change the way we ran the company."
The system will launch in May, and the change hasn't been an easy one, as any business that's installed an IT management system knows. But with an increasing number of deals such as shipping Motorola products to between 200 and 300 military ship-to addresses for one order, it was impossible for the company to move forward without changing its processes.
The new system will also help the company handle its burgeoning Internet sales going forward. As an example, Xentris handles the sales for BestBuy.com, offering particular deals for online sales and coordinating shipments to end-users.
"It's not a new business segment for us, but it's grown significantly," said Christy. "A year ago, we would have had 20 sales
a week; now we're doing several hundred a week."
Hybrid approach
The Internet isn't the only segment where Xentris is seeing growth. On the retail side, the company's accounts with Radio Shack and Best Buy have grown in the hundreds of percents year over year. "We're getting stronger with them because we're not only designing product that carries the Xentris brand, we're also packaging their private label brands and manufacturing them," said Christy.
In the case of Best Buy, Xentris manufactures products under the retailer's Rocket Fish brand, then Best Buy takes title of the product in China and handles the process from there. If Xentris manufactures the product under the Xentris Brand, it will bring into its distribution center to distribute it according to the retailer's specifications. The company is doing the same with Radio Shack's private label.
"Our approach is unique," said Christy. "It's a hybrid method of using the old business strategy and what's evolved from our customers' needs."
From the carrier side of its business, Xentris had been servicing Verizon for years, which Christy said was more than enough business to keep the $150 million company busy. But to remain competitive in its field, Xentris now works with mid-tier carriers such as Cricket, Go Wireless, and Wireless Zone.
Although these companies only have between 400 and 1,000 stores, their purchasing generates enough volume to keep Xentris growing. In addition, many of the larger carriers are starting to go direct on commodity products, which Christy said they do every few years to see if the waters are any different than they were during last direct-comodity cycle.
"We saw the writing on the wall that we were going to lose some of the commodity business, but there's a huge market for it in the mid-tier carrier market that would love to have these products," he said. "However, we continue to service the Verizons and AT&Ts and focus on the new, innovative items coming through the wireless industry."