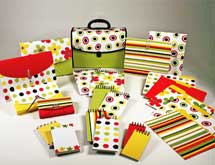 A recent rebranding campaign is just what this staple of the US paper products industry needed to freshen its image. This year marks the 120th anniversary of a humble invention a young man named Thomas Holley created in Holyoke, Mass. back in 1888. From the clippings and rejected sheets of paper on the floor of a factory there, Holley stitched together the first legal pad and founded Ampad. Today, the company is still dedicated to innovative products and high-quality, responsive service for its customers.
Today, Ampad offers more then 1,400 products, providing complete solutions for its customers with writing pads, customizable designer paper, filing products, envelopes, and business cards, to name a few. One of the newest product offerings is the innovative Hangline filing tool, for which a patent is pending. It's an expandable rod that clips onto the rails of a file drawer, keeping the files on the rails and preventing documents from dropping to the bottom of the drawer.
Several years ago, however, Ampad was struggling with basic operations. When Don Meltzer joined the company in 2005 as the new CEO, along with Pamela McMaster as VP of innovation, design, and product marketing about two years ago, they and the executive team at Ampad were charged with reinvigorating the company. They did just that.
"I simply told people the truth. We were in trouble, and we needed to figure out where to go and how to get there," said Meltzer in an interview with American Executive magazine in 2007.
Rebranding
McMaster explained that Ampad pared down the number of brands it offered from 31 to five to reflect the markets it operates in and better target consumers. Gold Fibre is the company's prestige brand, designed for professionals to whom status is important. The Evidence brand offers a line of high quality products for consumers demanding performance. Designed for the cost-conscious consumer, the Ampad Efficiency brand is very popular according to McMaster, as is Ampad's Envirotec brand, which includes several products that are made of 100% recycled material with 100% post-consumer content, yet are equal in quality to any other paper.
To bring these brands to life, Ampad worked with Davis Design, a Canadian design company, to develop a new company logo and new logos and packaging graphics for each brand.
"Our old company logo was from 1997 and looked dated and tired. We wanted to retain some aspects of it that we felt contributed to its easy recognition among consumers, such as the vertical slant, the all-caps lettering, and the star, which we integrated into the letter A," McMaster explained. "But we changed the font and coloring to make it more distinctive and convey our leadership in the industry."
Four of the five brands offer a complete line of most products Ampad manufactures, from writing pads to envelopes. McMaster said that the fifth brand, Embassy, is an especially popular collection of designer paper and stationary products. There are 10 SKUs of patterned and colorful paper offered every year, three of which change quarterly with the seasons. According to McMaster, these designs are most often used for social communication, such as party invitations, or by small businesses to print flyers.
She explained that Ampad's designer paper products hit the sweet spot between run-of-the-mill stationary and expensive, custom-made stationary, and that most of the hits on the company's Web site come from customers using the printing tool to achieve a professional-looking layout for their finished product.
Ampad is adding a line of products to the Embassy brand in the coming months: The Collections by Embassy Studios, which are brightly patterned, coordinated sets of filing and writing products. The Collections are targeted toward women, who McMaster said will love the various color schemes such as Lemon Drop, Metro-Chic and Catalina.
Value-added services
In addition to high-quality paper products and office solutions, AmPad began offering category management services and market intelligence to its customers several years ago. Customers can gain insight into shopping behavior and consumer trends; get advice on product assortment management, replenishment strategies, and price and POS data analysis; and get help designing in-store signage, planograms, Web sites, and promotions.
"We create a real partnership with our customers," said McMaster. "They explain to us their objectives and strategies, and we recommend specific services we can provide that will give them the tactics and tools to meet those objectives."
She added that one of the most popular services Ampad offers is planogram design and said many customers have benefited from the company's years or research and experience in creating an easier shopping experience.
"Within our sales team, we have a category management team with people dedicated to certain shopping channels because each channel has different shopping experiences and consumer behaviors," McMaster said.
So many new products and value-added services, plus a streamlined manufacturing process and more targeted product development, make Ampad a very different company than it was just a few years ago, and its new look reflects that.
"We've changed so much in the past two years, and the logo will reflect that we're a different company, one that's committed to bringing innovative products to the market and working closely with customers," said Meltzer.