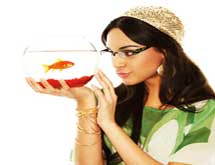 This company took its years of experience in manufacturing, importing, and distributing eyewear and created its own brands to help it expand globally. Eyeglasses are more than just sight aids. They are a statement of an individual's personality. For Canada's Wescan Optical, being on top of market trends has helped the company grow steadily through importing and distribution. Now the company is promoting brands of its own.
Wescan's roots stretch back to 1961 as a family business, which it still is today. The founder's children serve as co-presidents, with Michael Suliteanu running day-to-day operations and his sister Beverly in charge of eyewear design. Having started out in Quebec, Wescan steadily expanded across Canada province by province. There are 84 people working at its headquarters in Montreal with 20 sales people located across Canada.
The company is also a part of WestGroupe, which has three divisions—Western, Wescan, and Westlab. Western carries fashion value brand eyewear, Wescan offers higher end products, and Westlab was founded in 1982 to make lenses, making the company a one-stop shop for eyewear design and manufacturing.
Stepping up
In 2004, the company made some strategic decisions designed to diversify its operations and geographical reach. For its entire history, the company imported its own products that were made in China for sale domestically, distributing products from US well-established brands like Perry Ellis and Elizabeth Arden and creating relationships with highly valued vendors that last to this day.
But four years ago the company moved toward creation of its own brands and distribution of its products around the world to expand beyond the borders of Canada's 30 million citizens. The company brought in an external marketing agency to help craft a concept for market-driven product lines. The company developed the Kliik Denmark and Fysh UK Urban Kool Eyewear brands, each designed to reach different segments of the consumer marketplace and sold in 32 countries.
"We needed to do this to take our business-to-business to another level," Suliteanu said. "Because of our experience importing and working with vendors as a distributor, we had an understanding of how to do both, so we took that knowledge, and we became vendors ourselves."
Integrity is key to working in such an environment. For example, Wescan has been partners with Eyewear Designs in New York City for close to 30 years, the vendor for the Perry Ellis and Elizabeth Arden products Wescan distributes around Canada. Wescan makes sure the other products it distributes, as well as the eyewear it makes itself, are in different product categories so as not to hurt its partnership with Eyewear Designs. "We distribute 15 brands in Canada, and they are all in different categories, either by price, style, or target market," Suliteanu said.
Now that Wescan is looking for distributors for its own brands, it wants to partner with companies with similar values. In the US, when it began getting the Kliik and Fysh brands distributed, the company partnered with two companies, one on each coast. Two years ago when they started, their partners had but a handful of representatives. Today, each has dozens of sales people because they have followed the Wescan example. They are loyal to their brands, bringing in supplemental product lines that do not compete directly with the Fysh and Kliik brands that got them started.
Wescan now has partnerships with distributors in 20 countries in Europe, Israel, and Australia. The company is attracting smaller to medium-sized businesses that either don't import directly or are trying to find the niches where larger companies are not.
Supporting predictions
Driving forward the evolution of its own products, Wescan has an active R&D program, creating 30 new models of glasses per collection annually. The company believes ensuring it is critical to be in line with, or ahead of, market conditions and the public's eyewear expectations. Wescan keeps close contact with independent and chain optometrists to get a sense of the market, as well as heading out to industry events to make sure it is on top of the popular color palettes of the day. The bridge and the eye shape of Wescan's glasses are simple and classic, and color is where the company experiments.
With its own brands, the company recognizes that popular fashion begins in other areas like accessories and leather before working its way up to eyewear. Although there were well-developed eyewear brands within the optical business, gigantic fashion names were not tied to those brands. Wescan decided to build its Kliik and Fysh optical brands and a marketing force behind it.
"If you look in magazines like Vogue, it is only the fashion guys doing the advertising for eyewear. There are very few optical brands that are marketing," said Suliteanu. "We want to build our brands and market them like the fashion guys, so we are doing billboard and magazine advertising to support the brands. Our ultimate goal is to license our brands to the fashion world."
One of the keys to supporting this growth has been reinforcing its structure and fleshing out its management capabilities. Wescan brought in an operations manager with experience running nine warehouses across Canada to help streamline operations. The company also added warehouse managers, customer service managers, and inventory managers.
With Suliteanu's focus shifting to international efforts, the company brought in a new national sales manager to work with its domestic sales reps. Canadian staff comes together twice a year for training on sales techniques, customer service, and how to work on their own. All reps have a great deal of autonomy over their individual territory, making this training critical to success of the individual and the company.
Now, as the company tries to expand into more markets and predict which of its products will be successful, inventory control will be a challenge. But Suliteanu is adamant that the integrity Wescan has always brought to its operations will suit the company well as it grows. The company knows its place in the industry and believes it can solidify its foundation through solid growth supported by a long-term commitment to the course it has charted.
"I love that we are steadily developing our brands. The next challenge is to license those out to the fashion avenues," Suliteanu said.