Associated Supermarkets Group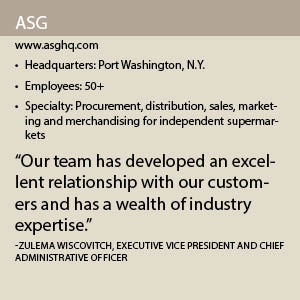 Among its banners are Associated, Compare, Met Foodmarkets, Pioneer, Met Fresh, and Metropolitan Citymarket. The company also serves other independent supermarkets such as Giunta's Meat Farms, Village Barn and Gourmet A'Fare.
Key Advantages
Since it's founding in 1954, the company's keys to success have been the ability to understand the needs of its customers and the ever-changing marketplace, says Executive Vice President and Chief Administrative Officer, Zulema Wiscovitch.
"We have a great team of professionals with a wealth of experience and expertise in the supermarket industry, who are very passionate about the company and the customers we serve."
Wiscovitch notes that ASG's small but mighty team allows the company to be nimble and pivot when necessary. "We have industry veterans that have solid experience in the supermarket industry," she says. "We also have new people that have joined the company who work very well with our veteran employees."
The ASG program is another key to the company's success. "The program provides the store owners the flexibility to run their stores, a robust assortment of products, and aggressive pricing, which are crucial for successful stores," Wiscovitch says. "In addition, our access to capital is also critical to the stores we serve."
She adds that the company's strong financial footing allows for store financing, including renovations and store acquisitions. "Qualifying store owners have quick access to capital if the project makes sense and fits into our growth strategy," Wiscovitch says.
ASG provides solutions for its customers to stay up to date with today's technology. "We've been very diligent in the technology space, as it has become critical in the grocery business," Wiscovitch says. "We partnered with a small group of innovation companies, including SelfPoint for online grocery shopping, ShelfMint for specialty products and AppCard for loyalty cards to offer the stores solutions at competitive prices."
ASG also provides solutions at store level, such as their "In Store Execution Team," which provides reset services, including planograms and category management, utilizing data to ensure the right assortment of products is available in the stores.
"As the grocery competitive environment continues to change, from online grocery shopping to meal kits, it is important that our independent stores have the access to services and solutions that enable their success," Wiscovitch says.
Working Together
ASG maintains an excellent relationship with its vendors, Wiscovitch notes. Its main provider is C&S Wholesale Grocers, while it also has partnerships with Porky Products, Nebraskaland, and R-Best Produce to name a few.
"We have very strong relationships with them all," she says. "Our vendors also have good relationships with the stores, which keep the business growing, and more importantly, results in longstanding loyalty."
ASG's merchandising team, headed by Executive Vice President Joe Garcia, works to not only ensure its customers receive the best pricing, but also provide them with quality products. "Our merchandising team help the stores to keep the best prices in the market to pass the savings onto consumers through weekly in-store specials," Wiscovitch says. "That is exactly what the consumers want: good quality, assortment of products and competitive prices."
Additionally, ASG is proactive with staying on top of industry trends and regulations. "We keep our customers updated on any and all regulations that might affect them," Wiscovitch explains. "For example, when New York City passed legislation to have supermarkets post calories on their prepared foods, with the assistance of several industry associations, including the Food Industry Alliance and the National Supermarket Association, we were able to get the city to exempt the requirement for ASG serviced stores."
Building On Success
In 2017 ASG launched its new private brand, Avenue A. Developed exclusively for the independent supermarkets served by the company and inspired by the diverse and vibrant communities where the stores are located, according to Wiscovitch.
ASG also owns the private label brands Super A, which will be transitioning out of the market as Avenue A items become available. "We are very excited with the consumer's response to many of the items, especially the ice cream line," Wiscovitch says. "Other products in the stores already include canned foods, oils, rice, honey and vinegar."
The Avenue A line is being released in phases during 2017, and will include more than 500 products ranging from frozen foods to dried grocery goods to paper goods, among others.
Looking Ahead
Wiscovitch has been with ASG for three years and says she is most proud of the core customer base the company has. "These are entrepreneurs who, for the most part, started from scratch and now have successful family businesses where first and second generations work together to grow and make a mark in the marketplace," she says. "They are very loyal and have a strong sense of community."
ASG's community outreach program is called the Good Neighbor. The company participates in numerous events, including the annual Susan G. Komen Race for the Cure Walk, which funds local breast health programs and research to find the cure for breast cancer. It also partners with the American Diabetes Association hosting a Healthy Cooking Tour series created to demonstrate to consumers how to cook recipes that are healthy and delicious with a Latin and Caribbean twist. The program promotes healthy cooking habits to decrease and prevent diabetes.
"The stores also give back to their communities with Customer Appreciation Day events, where they host fairs in their parking lots, and partner with vendors to give out food samples, provide entertainment and thank customers for their patronage," Wiscovitch explains. "The Compare Foods store in New Jersey raffles a car every year."
As ASG looks ahead, its vision is to keep growing by securing good stores, increasing its sales and continuing to meet the needs of its customers. "In a market rapidly changing, we are committed to the success of our customers by providing the solutions that keep them ahead of their competition," Wiscovitch concludes. "Our success depends on our customers' success."