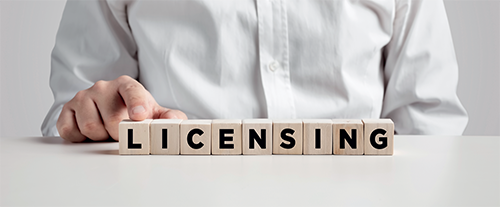 Retailers have navigated an overwhelming number of challenges over the past few years, stemming from the Covid-19 pandemic that shrouded nearly every segment of the retail industry in uncertainty. From significantly reduced in-store foot traffic, supply chain woes to a total disruption of consumer shopping behaviors, these detrimental effects, unfortunately, shuttered brick-and-mortars on a global scale and saw the very foundation of how consumers shop drastically change.
Those that leveraged a multi-faceted approach such as brand licensing and an omnichannel approach not only survived, but established loyalty with new audiences that will drive continued growth. Licensing is a potent marketing tool that capitalizes on fandom, familiarity and embraces heritage, allowing product on shelf to stand out on shelf.
Retailers that 'won' 2021 focused on creating a destination that meets consumers wherever they are in their shopping journey, whether that be introducing a digital approach through omnichannel platforms via social shopping, curbside pick-up or quick delivery, or bringing the brands customers engage with on TV, in books, and in sports arenas to life at the in-store level in new and engaging IRL ways.
Wayfair, known for operating a handful of pop-up shops over the years, recently announced that AllModern and Joss & Main, the e-commerce giant's two specialty retail brands, have plans to establish a brick-and-mortar presence this year. Beyond a traditional in-store experience, the physical retail locations "are introducing a new kind of omnichannel shopping experience powered by the Wayfair platform, inviting our customers to engage with the brands they know and love in an innovative format that blends the best of in-store and online shopping," according to Karen McKibbin, head of physical retail at Wayfair, in a recent interview with License Global.
More and more retailers weather the ongoing economic turbulence by redefining what the shopping experience looks and feels like. For example, Sumit Singh, CEO of the online pet retailer Chewy, told CNBC: "Remember the first time that you went to Disney, and you had such a great experience, and then you were like 'I wish I could go back again,' and you had a great experience again?"
This mentality of hyper-focusing on leaving an impression beyond the purchased product builds a deep pool of long-lasting, repeat customers.
Sounds great in theory, but how do you, as the retailer, fashion a destination and bring the shopping experience to life?
Let's start with the basics: why does licensing work?
If you're looking to expand your customer base, you need to cater to that demographic's interests. If you're trying to reap a higher profit (who isn't?), you need to sell sought-after goods that align with shifting consumer trends.
As retailers know, recognizable brands like Nike or Coca-Cola command a higher price point and are exceedingly attractive to consumers, thus resulting in more sales for you as the retailer. They are also tried and tested brands – this is the benefit of licensing at its core. By striking deals with licensors that own the IP to notable brands such as LEGO, Marvel, Supreme, or Taco Bell, you attract customers that are willing to pay a premium to engage with and represent their favorite characters or brands. The result? Increased foot (or click) traffic and repeat sales.
Licensing takes many forms. Which is right for you?
Retailers new to brand licensing often dip their toes into the water by holding the exclusive rights to sell branded products. But licensing is not one-size-fits-all; it's also a strategic tool to boost brand awareness for the long term.
As the world rebounds and consumers' sights veer from material products to experiences, we're seeing an emergence in location-based experiences disrupting how retailers engage with their customers. LBEs take a beloved brand and immerse the customer with a brand authentic experience and a like-minded community.
A prominent example from a few years back is Forever 21 in a strategic partnership with Dr. Suess' 'The Grinch'. Every customer that visited the store or e-commerce site 'entered Whoville' with Grinch-inspired clothing, accessories, and décor that drew upon the nostalgia of the holiday classic.
I want in! How do I learn more about licensing and devise a strategy?
We're entering a new age of consumerism, one that is driven by experience and familiarity that poses an immense opportunity for retailers to access new audiences and lock in life-long customers. There are many platforms made readily available for those interested in learning more about the dynamic and profitable world of licensing:
For licensing 101 content, refer to the Licensing Brand Handbook viewable on License Global.
License Global live (webinars) offer category-specific insight. While not elementary, the webinars speak to any interest in an accessible manner.
Once you're ready to dive in and meet licensors, attend Licensing Expo, returning this year to the Mandalay Bay Convention Center in Las Vegas with a theme that complements the changing way in which consumers engage with brands: location-based experiences. Slated for May 24 through 26, you'll have the opportunity to network with the industry's leading licensors, retailers, licensees, and manufacturers, ink deals, and learn how to find a winning property and what consumer trends will be hot this year and next.
For a list of sources used in the article, contact the editor.

Amanda Cioletti
Amanda Cioletti is content director at License Global magazine – www.licenseglobal.com
Visit www.LicensingExpo.com to sign up
Find the Licensing Brand Handbook here: www.licenseglobal.com/what-licensing/what-licensing