Augmented Reality Makes Getting Valpak Savings Virtual, Interactive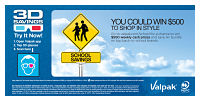 July 9, 2013 – Valpak Direct Marketing Systems, Inc., a leader in local print and digital coupons, will introduce a special Augmented Reality feature on The Blue Envelope for two months during August and September, which will direct consumers to Valpak coupons and offers and allow them to interact on a real-time basis.
Augmented Reality uses innovative technology to combine real and virtual, making the consumer experience interactive and in 3D.
Consumers will first download the Valpak app onto their smartphone, tap the AR icon and then scan the envelope. The AR feature launches and consumers can then hold their phone to the horizon and view nearby businesses offering a Valpak coupon.
The app launches the smartphone's camera and GPS to overlay a set of 3D icons in real-time, showing the available Valpak coupons in the vicinity as the user scans the surroundings, with a radius varying from 5 feet to 25 miles away. The coupons and offers literally "pop up" on the screen so that a consumer can see what offers are around them.
"AR offers the consumer a new and fun way to find local coupons in their area," said Michael Vivio, president of Cox Target Media, provider of Valpak, Valpak.com and Valpak apps. "In addition, it offers advertisers further reach for their businesses and gives them the added bonus of attracting nearby customers at the same time they're ready to make a purchase."
Once the two-month print/envelope promotion period is over, the AR will be available on the Valpak mobile and tablet apps, which is available on iOS and Android platforms. The original Valpak app and the AR feature were both developed by WillowTree Apps.
Valpak has past experience using AR and has incorporated AR into offers in the past, first partnering with junaio in spring of 2010.
Initially, the AR feature will only be able to be launched through the Valpak envelope. The opportunity is offered by the USPS Emerging Technologies Promotion which offers a postage discount for companies using emerging technologies such as Near Field Communications (NFC) or Augmented Reality (AR). The USPS promotion is designed to promote awareness of how Augmented Reality can be integrated with a direct mail strategy to enhance the value of direct mail.
Valpak also participated in a similar program from the USPS in the summer of 2011 with Quick Response (QR) codes.