Authentic Apparel Partners with "The Rock"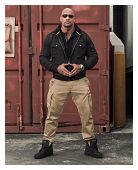 Nov. 14, 2013 – Authentic Apparel Group announces the launch of a premium line of army style clothing that is officially licensed by the U.S. Army. International film star and 10x former WWE champion, Dwayne "The Rock" Johnson, will partner with Authentic Apparel Group to celebrate the U.S. Army's rich heritage.
As an advocate of personal achievement and an active lifestyle, Dwayne Johnson is an inspiring role model who mirrors the values and inherent characteristics of Authentic Apparel's collection. "Authentic Apparel Group is about legacy, performance and innovation. I am proud to represent a company that supports and honors the everyday heroes that inspire me," explains Dwayne Johnson.
The apparel and footwear created for U.S. Army soldiers has influenced designers and fashion for centuries, bringing forth some of the most iconic looks of all time. "Authentic Apparel is honored and privileged to be licensed by the United States Army and to bring to consumers a truly military inspired line. Utilizing historic archives spanning 238 years, our team of designers have created a collection that not only stays true to Army style but Army standards and quality as well," says Ronnie Reuben, Chairman and Founder of Authentic Apparel.
The collection of jackets, pants, sweaters and shirts takes the heart and soul of classic military apparel and tailors it with an eye toward modern fashion and cutting edge performance. Bomber jackets, khakis, cargo pants, henleys, and field jackets are just a few of Authentic Apparel's takes on contemporary classic Army heritage pieces. Tailoring integrity and fine details such as side panel cuts and wicking material allow for optimal fit and style. Kevlar ® threading and double stitching also allow for durability and longevity of the product through the rigors of day-to-day wear.
Purchase of officially licensed U.S. Army merchandise aids the Morale, Welfare and Recreation (MWR) Program, which benefits the lives of Soldiers, Retirees, and their Families.
Select styles from the men's collection are available exclusively on Zappos.com, a leading destination in online apparel and footwear sales. "We're very excited that Zappos has been chosen as the exclusive online retailer for the launch. We support and respect the efforts of Authentic Apparel and its program under the license from the U.S. Army. We are thrilled to be a part of this unique opportunity," said Galen Hardy, Head of Clothing for Zappos.