Jennifer Love Hewitt Collaborating with A Pea In The Pod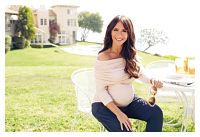 Nov. 13, 2013 – Jennifer Love Hewitt, actress and mother-to-be, will release a collection for Spring 2014 in collaboration with A Pea in the Pod. The perennial favorite of fashion-forward moms-to-be who want to maintain their style throughout their pregnancy, A Pea in the Pod is known for its trend-right maternity wear which includes both namesake-branded apparel and expertly-edited offerings from the industry's leading contemporary designer brands.
"Like other moms-to-be, I had to dress for my new figure but I hoped that wouldn't mean sacrificing my personal style," said Jennifer. "It was a relief to go into A Pea in the Pod and to see I could continue wearing the clothing and designers I loved before pregnancy and to find pieces I really felt like myself in. To have the opportunity to bring my own perspective to such an established brand and to collaborate on a collection that other moms-to-be can wear and feel great in has made this time in my life even more special."
"Jennifer has been a fan of A Pea in the Pod throughout her pregnancy and we were impressed by how she styled our pieces to make them her own," said Chris Daniel, President of Destination Maternity Corporation. "Her own approach to maternity wear informs the collection and encompasses what we feel many moms-to-be want: looks they can wear throughout pregnancy and for the first few months after that are stylish, versatile and that they don't have to overthink."
The 15-piece capsule of loungewear and weekend wear called "L by JENNIFER LOVE HEWITT" will be available in March exclusively in A Pea in the Pod and select Destination Maternity stores and online at each brand's respective website. Inspired by Jennifer's effortlessly chic California style, the collection is comprised of easy-to-wear separates in a soft color palette: flowing maxi dresses, dressed-up leggings, casual and soft tees and a French terry jacket that is perfect for layering.