Avon Names Lauren Andersen Global Celebrity Makeup Artist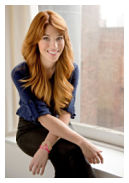 March 21, 2013 – Avon Products Inc. today announced it named Lauren Andersen as Global Celebrity Makeup Artist. In the role, Andersen will serve as a global spokesperson for the Avon Color brand, share beauty tips and trends in the Avon Brochures and create beauty videos for Avon's YouTube Channels. Andersen will play an integral role in debuting the newly revamped Avon Color line, launching summer 2013, and she will help introduce Avon's new Color collection of lipsticks and eye shadows that have been reformulated with new cutting edge innovation, featuring Color Reveal Technology that is designed to deliver ultra-wearable, high-impact color.
"Growing up my mom was an Avon Representative and some of my earliest memories playing with makeup are with Avon products," Andersen said. "My passion for beauty began with Avon and I'm excited to continue my journey with the brand as they debut an innovative new Avon Color collection."
"In a year when we're launching so many innovative beauty products and updating the Avon Color brand, we're thrilled to partner with Lauren who is a true authority in the beauty industry," said Meg Lerner, Vice President Avon North America Marketing. "Lauren embraces Avon's philosophy that beauty can help you reveal your most fabulous you."
Andersen first discovered her love of makeup as a child in Los Angeles, where she grew up closely watching her mother's beauty rituals. Her beauty obsession translated into a successful career as a celebrity makeup artist on editorial shoots, ad campaigns, press junkets, and major red carpet events. Andersen's beauty philosophy is founded on the idea that makeup should evoke a sense of beauty and confidence, whether she creates a natural, translucent look or a smoky, dramatic effect.