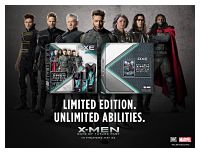 May 7, 2014 – The X-Men franchise is a favorite around the world. So today, AXE announced a partnership with 20th Century Fox's "X-Men: Days of Future Past" that hooks fans up with movie-themed gift sets, new content and access to the star-studded film premiere.
AXE is releasing limited-edition gift sets featuring an exclusive "X-Men: Days of Future Past" poster inside. These custom gift sets come in four popular AXE fragrances that were developed by the world's top perfumers and include Phoenix, Apollo, Anarchy, and Dark Temptation. Each pack includes a bodyspray, shower gel and antiperspirant.
Throughout May, fans can see their favorite characters paired with top AXE fragrances when X-Men takes over AXE social channels with custom content. AXE is also sending six lucky fans to the "X-Men: Days of Future Past" global premiere at the Jacob K. Javits Convention Center in New York City on May 10. Winners, selected at random, entered by following and retweeting specified AXE Twitter posts.
"We know that the X-Men are hugely popular with guys and girls alike – from the classic comic books to TV shows and blockbuster films. That's why AXE is giving fans the extra access they have come to expect from us," says Matthew McCarthy, Senior Director, AXE & Men's Grooming for Unilever.
"AXE has executed a fantastic social media, retail and packaging program around the film. We couldn't be happier to continue our work together on this project," says Zachary Eller, Senior Vice President, Marketing Partnerships, 20th Century Fox.