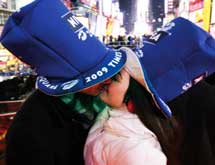 This skin and beauty care company connects with US consumers by understanding how they want to feel, what they want to buy, and who they listen to. Beauty isn't only about how you look; it's also about how you feel, especially to someone else. For Beiersdorf North America, the US division of one of the leading skin and beauty care companies in the world, feeling beautiful comes down to more than a positive attitude.
"In our US division, we're focusing on beauty as a component of the way you feel," said Iain Holding, president of Beiersdorf North America. "The core of our business is skincare, and touchably beautiful skin is an emotional benefit of using our skincare products."
One of Beiersdorf North America's main product lines is Nivea Body. To support the concept of touchably beautiful skin, in 2006, the company launched the "Beauty Is" platform, which underlines the holistic vision of beauty being what you feel. The signature sign-off for the communication platform is "Touch and Be Touched," a way for the company to bring emotionality to the hand and body category, which was more focused only on functional benefits in the past.
In the past few years, the company has launched a number of Nivea-brand lotions, including Smooth Sensation, Goodbye Cellulite, My Silhouette, and Sun-Kissed Beautiful legs. It also launched Nivea Lip Care in 2008, which Holding describes as a logical extension to the brand's strategy.
"Our 'Touch and Be Touched' platform became 'Kiss and Be Kissed,'" he said. "Our lip care products have a unique moisturizing technology that is new to the US market, and our Nivea body products brought us double-digit sales increases and increased our marketshare."
Develop, innovate, repeat
Another key driver in Beiersdorf North America's successful 2008 performance came from its second main brand, Eucerin. The company innovated this product line by launching Everyday Protection, a moisturizer, and backed the new product with its 125 years of skincare.
"Beiersdorf invented water-in-oil emulsion and has been a pioneer in developing skin moisturizers with great moisturizing properties and also wonderful tactile sensation benefits for more than a century," said Holding.
While Nivea is known more for its cosmetic benefits, Eucerin has a strong clinical reputation and has been the number one recommended brand of lotion by dermatologists and pediatricians for years. "Eucerin enjoys a great deal of trust and endorsement from medical professionals because it is an excellent moisturizer," said Holding. "It's also strong in the winter months when the instance of dry skin is at its highest."
In 2008, Beiersdorf North America launched Eucerin Everyday Protection moisturizer and Calming Body Wash, building on Eucerin's calming franchise, which has been a real driver of Eucerin's growth. Holding said the key to innovating both of the company's brands is understanding what consumers want and leveraging the company's R&D know-how to make it happen.
Beiersdorf has a large R&D center at its headquarters in Hamburg, Germany with 870 scientists dedicated to product development. Beiersdorf North America also has an R&D team in the US, and the two work closely together. "We have the largest dermatological skincare research facility in Europe, and that's where we're developing these new products," said Holding.
"The starting point for our research and development process is really understanding consumers' needs and behavior," he continued. "We have a very consumer-centric marketing and research approach."
Effective introductions
Beiersdorf has a strong presence in hand and body lotions, face care, deodorants, sun protection, shampoos, conditioners, decorative cosmetics, baby care, lip care, and men's care products in its global business. The Nivea brand covers the entire spectrum while the Eucerin brand is focused on dealing with skin problems such as dry skin, although the brand has also launched products promoting healthy skin during the last couple of years.
To handle the needs of such a wide variety of consumers and ensure excellent distribution for the company's retail customers, the company invested resources in its customer service and replenishment capabilities. Holding said there are three ways the company adheres to its goals in supporting its retail partners.
It starts with ensuring there is a strong process within the company to forecast the potential sales of new product launches. Flexibility is the next key so that if there is a short-term increase in demand, the supply chain and production centers can respond quickly to the demand.
The third area of focus is close relationships with customers to understand their requirements, the initiatives they're planning, and the inventory they have in their warehouses to allow the company to step to the plate when needed.
"We've focused on providing superior reliability and execution around delivery service and replenishment, providing greater category focus and flexibility in terms of understanding how the product should be placed on shelf, and increasing our capabilities in the area of insights and analytics and shopper-centric solutions to ensure concepts and execution at the point of sale," said Holding. "It's all about making our products available to our consumers in the most efficient and effective manner."
Remaining relevant
Part of Beiersdorf North America's success has come from its breakthrough marketing concepts that have made the Nivea brand a modern beauty contender with consumers. A piece of that strategy has come from the use of music in the commercials.
In one instance, the company used Grammy-nominated singer Duffy on its three lip-care commercials. It also launched a consumer integration project around Fashion Rocks at Radio City Music Hall this past September.
Music aside, Beiersdorf North America launched another consumer integration project with Nivea at Times Square in which Nivea "owned" the first kiss of the year in the celebration. "Times Square was just a sea of blue with Nivea hats, and I think that event encapsulated the excitement about brand and the emotionality that Nivea is bringing to skincare here in the United States," said Holding.
Celebrity supporters, such as the "Ellen DeGeneres Show" and the "Tyra Banks Show" have also placed the company's brands closer to the hearts of American consumers. "Part of our success is in connecting with contemporary America," said Holding. "It's about being part of Americans' lives by being relevant and modern."