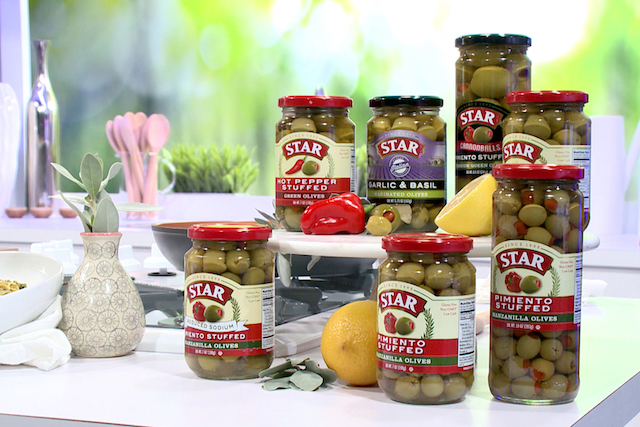 Borges' olive oil expertise has earned it loyal customers worldwide.
By Alan Dorich, Senior Editor at Knighthouse Publishing
Borges is the definite expert when it comes to producing high-quality olive oil, President Francesc Sola says. Not only are millions of consumers loyal to the products sold under its brand name, but "we are the No. 1 producer of organic extra virgin olive oil in the world," he says.
Borges' roots go back to 1896 when the Pont Creus family started a small business that sold olives and almonds in Lleida, Spain. Today, the company is the world's largest exporter of organic olive oil and the second largest of grapeseed oil.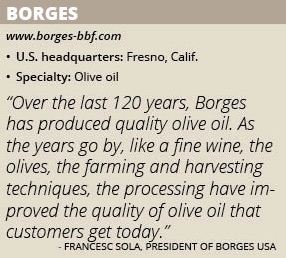 "We have our products in over 114 countries around the world," Sola says, noting that Borges' olive oil products are sold in the United States under the Star label.
Borges buys its olives from around the world, including from locations in Spain, Indonesia and Greece. But before they are approved, they undergo rigorous quality testing. In fact, only about 5 percent passes these series of tests and makes it into bottles with its logo. Additionally, the company undergoes multiple outside testing and certifications.
Success in Retail
Borges sold 134 million bottles of olive oil through retail stores last year. "Our olive oil received over 21 independent awards in 2017," Sola says.
Interestingly, olive oil can spur consumers to purchase more at the grocery store. Sola, who recently completed a shopper basket survey with The Nielsen Co. (US) LLC, found that the average grocery cart sum is $42.70.
However, "It was interesting to find out that once they put olive oil in their cart, they're going to add a lot more groceries," he says, explaining that customers will use the oil to complete the preparation of recipes. This more than doubles the value of the cart to $90.26.
But Borges also copes with challenges in the retail environment. Many times, Sola explains, customers will choose the cheapest brand of olive oil, with limited understanding of quality.
One brand, he adds, makes sure its price point is even below the retailers' brand of olive oil. "It's perplexing to me that a retail chain would allow a manufacturing partner to undercut their own private label," he says. "Consumers today place a high value on private label products."
However, Borges sees a customer shift that makes up for this loss. "The consumers is becoming increasingly engaged in their health, which leads them to look for healthy eating habits. They have access to quality information, which allows them to be demanding in the products that they incorporate into their diet. It is for this reason that they care about the quality of their meals at home and fresh ingredients," Sola says.
More competitors also are entering Borges' market, making its marketing efforts more critical. "We want people to have value," Sola says. "We also want to make sure they understand quality."
A large portion of its marketing campaign, he notes, includes sending consumers recipes and ideas for meals where they can use Borges' olive oil. "[We're] giving them more reasons to experiment and enjoy their own gatherings."
Nice Alternatives
Borges recently launched its new 100 percent plant-based milk alternative, Rice & Walnut drink, which has five walnuts in every serving. "It gives you that boost of Omega-3s with a rich taste," Sola says.
"It's a really nice alternative to rice, almond or soy milk," he says, noting that the Rice & Walnut Drink can be used any place that milk is used and even for making martinis, smoothies and brownies.
The product also was featured in a retail-cooking segment on "The Balancing Act" on Lifetime TV. "It aired over 200 times in January on Lifetime, the major networks and Hotel television," he says, noting that the product is currently participating in road shows and sampling at Sam's Club.
Borges also will soon launch its International Olives line, which will come in four different flavors. "We're offering the Premium Olive Bar Experience at a value to customers," Sola says.
Ready for a Comeback
Sola is proud of Borges and how it still feels like a family-owned enterprise after more than a century.
When Sola visited the company's olive fields in Spain during the harvest, he was impressed by the attitude of the workers. "Everybody's so proud of what they do and everybody's so invested in it," he says. "The farmers care, from nurturing the trees to when they're harvesting."
He sees a strong future for Borges, which wants to regain customers it has lost to cheaper competitors. "We would like to make sure people know we are the experts and the integrity that is in the product," he says.
Borges also wants to re-establish a presence in the eastern United States. "We have a lot of calls from customers who say, 'We used to buy from you,'" he says. "It keeps our mail order business thriving, but olive oil is not something you mail away for."
The North American Olive Oil Association has partnered with the American Heart Association to educate consumers about the heart healthy benefits of olive oil. This will allow the company to expand its mission of internationalizing the Mediterranean diet with a quality assortment of ingredients.
SIDEBAR – By the Numbers
5 kilos of olives equals one liter of olive oil
66 lbs is the yield per one olive tree
134 million bottles of olive oil sold last year
15,110,328 pounds of olives per year to produce olive oil