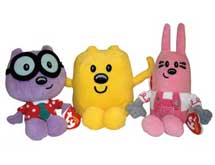 With roots as a basement business selling through eBay, this e-tailer is taking a new approach to online sales and marketing of branded products geared toward kids. If you thought it wasn't possible to build a business by selling items in places like eBay, think again. Just ask Ty Simpson, the founder, president, and CEO of Brand Performance, a company that literally began in Simpson's basement.
The business began in 2002 as essentially a hobby, selling one brand on eBay. Simpson's young daughter was a fan of the Australian children's entertainers The Wiggles. Despite the band's popularity and exposure through Playhouse Disney, finding Wiggles merchandise in the US was near impossible.
"What was interesting was how powerful the brands are and how different this business model was from traditional retail," said Simpson. "Customers were interested in anything with these characters on it and were shopping online by the brand."
In 2003, Simpson built his own Web site, Tystoybox.com, around the one brand. People who had shopped with him on eBay began spreading the word about the new site. Soon after, The Wiggles rolled out a US merchandising program. Simpson started buying from US manufacturers and moving tons of product from day one because of the consumer base his fledgling company had already assembled.
From there, the concept took off by focusing on brand strength and bringing licensed property owners and manufacturers together. The company now has two offices, one in Denver and one in Northern Kentucky, and operates Tystoybox.com and Allaboardtoys.com. Today, Brand Performance represents more than 100 brands and is an Amazon platinum seller with Ty's Toy Box at Amazon. The company also runs the official shops for iconic characters like Thomas the Tank Engine, Barney, and Bob the Builder, running standalone stores and leveraging its technology, warehouse, and procurement strengths.
One of the reasons Simpson's concept took hold was the reality of modern retail stores, which have limited shelf space reserved for the most popular brands. This means property owners of brands like The Wiggles were starved for shelf space. As Simpson's business took on additional brands like Strawberry Shortcake, it began carrying products made by more than 100 different manufacturers and building these new marketplaces with the license holder or property owner's help.
"They provided us with information we needed to put these marketplaces together, giving us the style guides so we could develop stores with official graphics," Simpson said. "This evolved over time as we realized if we could get to know the brand and get the product into the supply chain, and then find great distribution channels to sell the products, we could literally have hundreds of places where the brand and product was sold."
Managing growth
Brand Performance became linked to the shop at Strawberryshortcake.com, which was like opening another store because it brought traffic from the Strawberry Shortcake site to Brand Performance's e-commerce site. The business model has proved remarkably effective, and Simpson said the company plans to build more online e-tail locations to sell more of the branded products it represents, which will give the company the leverage and scale needed to get to the next level.
To help control its supply chain, Brand Performance has a three-pillar approach. Up until 2007, the company's products were 100% warehoused, but because of rapid growth the warehouse was doubling in size annually. Realizing this wasn't sustainable, Simpson moved in other directions. The first was drop shipping, a technique that means Brand Performance doesn't have to keep goods in stock. Instead, customer orders and shipping information is passed on to the product manufacturer, which ships the order directly to the customer. "This allowed us to offer more SKUs without taking inventory in or handling the product at all," said Simpson.
The second pillar is the print-on-demand program. Brand Performance has its own licensing deals, which allows the company to offer products that are exclusive designs to its distribution channels. This has given Brand Performance the opportunity to seek out gaps in the marketplace where certain items and brands were underrepresented. "In this economic environment, one key is differentiating yourself. We can offer products customers can't find anywhere else," Simpson said.
Simpson also said that online retailing is putting the consumer back in charge—the third pillar. Customers interact with Brand Performance, letting them know exactly what they are looking for, whether it is Barney bedding or Strawberry Shortcake party supplies. Whereas buyers in traditional retail are judged by every foot of shelf space hitting the right numbers, data from online customers can be taken to property owners, showing them request after request or keyword search after keyword search demanding a certain brand or product, and that can help them find a manufacturer willing to pay them for the rights to make that product.
Unfortunately, the supply chain wasn't built for online e-tailers. It is fragmented by product minimums and is still focused on serving the largest retailers. It may take a 40,000 unit minimum order just to get a plastic toy made, so Brand Performance has been finding ways around supply issues by investing in soft line goods because it only takes about 1,000 units to get a backpack or T-shirt made.
The future for online retail is clearly very bright, even more so because property owners and manufacturers are now looking to get products and brands directly into consumer hands, whether through their own official shop or by partnering with an entity like Brand Performance that can offer the brand in multiple places quickly. In fact, Brand Performance can actually do both, running their partner's official shop while selling through its own retail site as well. Simpson said there is an excitement about online retailing because the perception is of virtually unlimited shelf space with direct access to consumers.
The challenge is to make the retail business profitable 12 months a year. Simpson doesn't think aiming only for profitability after Black Friday is sensible in this economy. He also said Brand Performance needs to grow the non-retail aspects of the business, bringing in more revenue from property owners who pay the company for brand exposure and online shelf space. But Brand Performance's biggest asset today is the same thing it was at the company's humble beginnings—a willingness to take risks.
"There is a real opportunity for companies that are willing to take a chance on brands that maybe the big box retailers don't want," Simpson said. "We could still just be selling The Wiggles in my basement, but now we have more than 100 brands, multiple Web sites, and businesses within the business. We do licensing, we have a warehouse, and we have the retail, merchandising, and marketing expertise that a brand needs to thrive online. This is a multifaceted business."