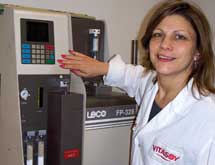 Growth for this Asian-inspired food company will come through new distribution channels, according to Walt Riglian. For more than 15 years, Vitasoy USA has been importing soy beverages from its parent company headquarters in Hong Kong to Asian specialty food stores in the US, but in the last few years, it's started broadening its scope. "In the late 1990s and early 2000s, interest in and sales of soy and tofu products jumped to a new level as people in this country became more aware of its health benefits," said Walt Riglian, president and CEO. "They know now that these are healthy options, but the typical American consumer doesn't know just how healthy or how to integrate these products into their daily diet; our current focus is to teach them."
Vitasoy USA is one of five operating units owned by Vitasoy International Holdings, a Hong Kong manufacturing and distribution company that is a household name in China. In addition to its North American and Hong Kong branches, the company conducts business in mainland China, Australia, and, as of last year, Singapore.
The two largest brands Vitasoy USA manufactures and distributes are Nasoya and Azumaya. The Nasoya brand includes several varieties of organic tofu, Asian-style noodles and pasta wraps, a vegetarian mayonnaise alternative, and salad dressing recipes, which the company sells across the country. Azumaya offers more tofu and noodles products and is primarily found on the West Coast. The third brand the company distributes is Vitasoy beverage products imported from Hong Kong, which are popular in urban Chinatowns and Asian specialty markets.
Wider appeal
Like many natural food companies, Vitasoy's biggest markets are the east and west coasts of the US and Canada where there are already high populations of tofu and soy consumers. From this well-established base, Riglian plans to bring the company to new heights.
"We are introducing a new product, Silken Creations, and developing different packaging concepts to bring us into more varied distribution channels and attract the peripheral American consumer who knows our products are healthy but needs to know where to start," said Riglian.
Silken Creations is the first non-dairy dessert starter on the market. It's an extension of the Nasoya tofu line that is low in fat, has no cholesterol, is gluten free, and can be used to replace butter, eggs, cream, or sugar in popular baked goods or dairy-based recipes such as pies and cakes.
It's part of Vitasoy USA's "Healthy tastes good" marketing campaign, which seeks to teach consumers how they can enjoy the health benefits of tofu and soy products. As part of that campaign, the company has partnered with Chefs Jim Coleman and Maribeth Abrams to develop recipe ideas for the company Web site and POS materials. The company sponsors Coleman's cooking show "Healthy Flavors", which airs on PBS-TV and local cable channels across the country.
"He's been a great partner of ours, using our products in his show and touting the health benefits of soy and tofu," said Riglian, who noted the American Dietetic Association is a
participating partner of the show.
Riglian said for now, the company is waiting to gauge the success of Silken Creations before launching any more products; his long-term goal is to develop meal applications for soy and tofu other than desserts and complete meal solutions instead of just components. In the meantime, the company is targeting new distribution channels to widen its reach.
In 2007, Vitasoy won the On-the-Go Trailblazer Award from Grocery Headquarters for its single-serve organic soymilk product. Since then, Riglian said the company has retrenched to adjust its packaging format, size, and flavor lineup.
"Part of our focus on redesigned packaging is to enable our move into new areas, particularly food service organizations such as universities and restaurants, and eventually C-stores," he said. "Club stores and C-stores especially are not developed soy and tofu outlets, so we are working with them to find a solution."
Spreading the word
In addition to sponsoring the national cooking show, Vitasoy is planning a multi-faceted outreach campaign for the summer. It will include print exposure in magazines like Redbook that target women, more sampling programs when possible, improved POS brochures, and an overhaul of the company's Web site as well as its brand site for Nasoya.
Riglian said the new Web site design will have a more consumer-friendly feel, feature extensive educational information with a library of recipes, and make it easy for curious customers to locate retailers that stock Vitasoy products. It will also devote a substantial amount of space to the company's wrap products, which are its fastest growing products. He added that much of the growth would be from educating consumers on product usage versatility such as cinnamon apple rolls, shrimp poppers, and pocket desserts.
Vitasoy appears to be on the right track. Last year, the company enjoyed nearly 8% growth, and Riglian fully expects to match that in 2009. He said the recession has not adversely affected business; more people are eating at home and looking for healthy options at a good value, exactly what Vitasoy delivers. Business has been especially good at more value driven retailers like Walmart, and Riglian said that is one more good reason to start looking at club stores and C-stores.
"If we can get the word out about how healthy and delicious soy and tofu products are at such an attractive value, we know that Americans will fall in love," he said.