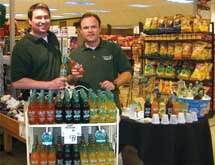 Because of a commitment to people, planet, and profits, this maker of healthy, organic beverages has seen rapid growth in a little more than six years of operations. Perhaps this is overstating the obvious, but excessive soft drink consumption is bad for you. Or at least it used to be. Thanks to Eric Schnell and Steven Kessler, co-founders of the Steaz brand of organic beverages, soft drink lovers can now choose a soft drink that is good for both body and mind.
"After more than six years in the business, we can stand in front of buyers and talk about products that no one else has. That has been part of the DNA of our company since day one," Schnell said. "We are organic, fair trade, and vegan certified. We are everything good a beverage could be, and that is the embodiment of our brand, from the mission, to the flavors, to the sourcing, and to everything else we think about."
Since starting the company in 2002, Steaz has branched out beyond its original Steaz Sparkling Green Tea and is just now beginning to reap the rewards of the forward-thinking vision of its co-founders. Officially known as the Healthy Beverage Company, it started with a mandate to create a sustainable business model and to create healthy, organic beverages, a mission it has never veered away from.
Ahead of its time
Kessler and Schnell are both veterans of the natural foods industry, Schnell with a background running an organic tea company, Kessler in vitamins. In the 1990s, they watched as companies like the Arizona Beverage Company successfully introduced the American consumer to the health benefits and improved taste of green tea.
"Prior to that time, it was the Nestea and Tetley style traditional black tea with lemon flavor, which didn't have bold flavors or health benefits," said Schnell. "At the same time, we saw traditional soft drinks like Coke and Pepsi decline every year by single digits. By 2000, the soft drink category was no longer growing or projected to grow."
Recognizing that domestic and international consumers love bubbly, carbonated, flavored soft drinks, Schnell and Kessler decided to develop a cleaner, healthier soft drink to give consumers an experience they could feel good about on the inside while also enjoying the taste. The idea was to blend soft drinks and green iced teas to come up with an organic soda line.
Although the goal was to create a brand that could potentially rise to become one of the elite global beverage brands, the bottom line wasn't just profitability. Before it was in vogue, Steaz was created with a triple-bottom-line business model focused on people, planet, and profits.
"Our focus is on living those triple bottom line values every day and making sustainable choices in every business decision we make," Kessler said. "From our employees' 401(k)'s to the type of energy offsets we buy to make our company carbon neutral, every little decision we think of as a major decision. That is something our core 'Steazer' also believes. They buy into the lifestyle our brand exemplifies."
Financed initially by Kessler and Schnell's personal savings, Steaz took its message to trade partners like Whole Foods Market and Wild Oats Market, receiving positive feedback about the prospects for the concept of what would become the first USDA-certified organic soft drink line in the US. United Natural Foods, Steaz's first distributor, believed in it enough to write a purchase order in November 2002 that helped get the fledgling company off the ground.
Moving ahead
In both 2003 and 2004, Steaz had annual sales of $1 million, giving the brand some legs and moving the company toward finding outside investment money from like-minded investor groups willing to sign up for the long-term goal of building a strong brand and iconic presence in the market.
Early on, Maris Acquisitions made a minority equity investment in the company, becoming its first investment partner. Last year, Switzerland's Inventages, a global private equity firm that specializes in life sciences, nutrition, and wellness, committed an additional $10 million of private financing to the company while the Whitefish Group, the Canadian Steaz distributor, joined Inventages to commit another $1 million.
Recently, Steaz has evolved beyond making just USDA-certified organic and fair trade-certified Steaz Sparkling Green Teas. First, the company expanded its main product line to include Steaz Diet Sparkling Green Teas. Then, a little more than two years ago, the company saw the increasing presence of the energy drink market, with more and more consumers willing to spend money on an unhealthy drink just for the energy boost. The company's answer was Steaz Energy, made with the same organic ingredients but with a caffeine boost from sources like yerba mate and organic guarana.
"We did $2 million in sales our first year with Steaz Energy, and it has been at 100% growth every year since we launched it," Kessler said. "We've expanded the flavors from berry to orange and lime and introduced a diet version as well."
After creating what is now the best-selling organic soft drink brand in the US based on total dollar sales, as well as the number one natural energy drink, Steaz is branching out again. After hearing from trade partners like Whole Foods and other key accounts that no one was making an organic, fair trade, high quality premium tea in an aluminum can, the company launched Steaz Organic Iced Teaz last year. Not only that, the company is introducing a natural energy shot to give consumers a healthy alternative to products like 5-Hour Energy.
With annual sales now approaching $14 million, Steaz has been growing at about 70% annually for the past five years. Available at retail outlets like Whole Foods, Wild Oats, Wegmans, and Shaw's in the US, it has branched out internationally and sells products in Canada, Australia, Mexico, India, South Africa, the Netherlands, and the Middle East. Although maintaining that rate of growth and expansion is a tall order, Schnell is confident the company has a foundation in place that can help it continue on what he believes is a path to become one of the leading beverage brands in the world.
"We've tried to build the brand from day one with a focus on doing our part to make this a healthier world," said Schnell. "That's why we're organic, that's why we're fair trade certified, and that's why we offset our carbon emissions. We know consumers are more aware than ever of how their purchases impact the global community. We always want Steaz to be associated with the best product and a better way of doing business."