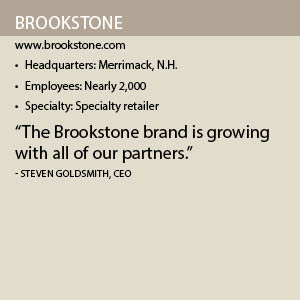 Chief Marketing Officer Kiran Smith agrees. "It's all about becoming this truly magical international product development brand," she says. "As we continue to scale up our product development game, it enables us to pick great partners, which inspires us to be even better."
She adds that domestic and international home shopping channel partners are the platform for Brookstone. "People love to hear longer presentations and stories about our inventions," Goldsmith explains. "Now we have a whole new world because there are home shopping channels on a majority of the continents. We're reaching home shopping fans who are perfect Brookstone customers."
Making It Happen
Brookstone focuses on three product categories: health and wellness, fun and entertainment, and travel. The 52-year-old company sells a variety of products ranging from drones to massage chairs.
In the United States, the company is also focused on expanding its airport and mall presence. Brookstone has 200 mall-based stores and 45 U.S. airport locations.
"Our products are also sold within 1,000 Bed, Bath & Beyond stores, and we also are able to tap into 96 million U.S. homes with our different home shopping channel partners," Goldsmith says. "The Brookstone brand is growing with all of our partners – including Amazon and Costco – which is why we are working in partnership with many retailers, including our own channels, to produce products that are right for their customers as well."
Goldsmith notes that the Brookstone brand "means a lot" to its partners because it resonates with their customers, too. "Our products always have great innovation and our value comes from the incredible quality and innovation that we bring," he says, adding that when it comes to the innovation behind its product development, employees' children have even inspired "big ideas."
"One of our most successful items is the Big Blue Party Speaker," he says. "It's an incredible speaker that you can take outside with you because it's weatherproof, loud and has a sturdy handle on it so it's easy to carry."
He notes that recently Brookstone took that idea to another level by pairing the Bluetooth speaker with a football. This led to the company's innovative Gronkball, a Bluetooth speaker football that can be thrown more than 30 yards. It will also continue playing music if it hits the ground, has a five-hour charge life, and its lighted laces can be changed to the color of one's favorite football team.
"Ultimately, you have an incredibly fun and entertaining item," Goldsmith says proudly. "This idea came from an employee who had the Big Blue Party Speaker at home, while playing football catch with their child. Their child noted how it would be interesting if the football was a speaker and they could throw it. So the innovation came from the family and then we invented it."
Working Together
Although consumer demand for speed has never been greater, Goldsmith notes that Brookstone was prepared for it because of its history in the catalog business. "We needed to be very efficient in how fast we shipped merchandise to our stores and direct customers," he explains. "As we strategically add key retail partners, we've sharpened our product development and distribution muscles more and more."
Shipping to stores, partner retailers and direct customers takes place in Brookstone's distribution facility and customer care center near St. Louis, Mo. Product development is also something that needs to happen at an ever-faster rate, and most Brookstone products are developed at the Brookstone product laboratory, or BLABS, in Merrimack.
"When it comes to speed sometimes you can be ahead of the curve, but you never want to be behind it," Goldsmith says. "Our employees ensure we are always ahead of it. We have engineers on-site from MIT and they bring a lot of ideas, but all of our employees contribute to our innovation. There's a tremendous amount of collaboration that is required and we bring that to the table."
The company's street address is 1 Innovation Way and Goldsmith says that the rock engraved with Brookstone's name outside of its headquarters excites employees, including him. "I think they love working at such an innovative company," Goldsmith says, noting that the innovative culture not only helps with engagement, but also retention.
"A few years ago we were struggling because we weren't innovating our channels and were doing too much brick-and-mortar business in malls that weren't doing well," he explains. "Our financials were tough, but our employees didn't leave because they loved the brand so much. We just needed to change how we got our wonderful merchandise to the consumers."
Additionally, Brookstone is revamping its training and development to be more formalized. "We're rolling out an extensive leadership-pipeline training program that methodically surveys core competencies in multiple areas, from general to business-specific, and then provides a customized blueprint for developing the full potential of the individual," Goldsmith explains. "This is a huge undertaking, but it demonstrates how much we value the potential of each associate."
Looking Ahead
As Brookstone moves forward, it aims to become a developer of products people love and "didn't even know they needed," according to Goldsmith. "That's the enthusiasm that every Brookstone employee works with," he says. "With our Gronkball, it took 375 tries to get it right so that when it fell the Bluetooth speaker wouldn't break, the lights wouldn't go off and it would last five hours between charges."
The company is also enhancing its website and e-commerce offerings because "the customer rules," Goldsmith says. "Mobility is key today," he says. "Customers can use any device and discover what they want, wherever they want. We are discussing all of the mobile payment solutions customers insist upon, and are tapping a few that we don't have yet."
Goldsmith has been with Brookstone a year-and-a-half and says that he is most proud of his team's leadership to ensure all parts of Brookstone's organization can do their jobs. "This means that if we're producing really great products that work well, our partners will have the same enthusiasm for our products that we have," he says. "We know if they appreciate what we do, they will show it to their customers the same way."