Consumer retail habits, preferences and pain points
Consumers buying online value stress-free, on-time delivery says GT Nexus survey; 70% of consumers expect delivery of goods bought online within four days, while just 3% have purchased goods using social media

Dec. 4, 2013 – Current consumer behavior indicates that most of us are more concerned with how well retailers are able to deliver goods according to our preferences than we are about ordering via social media channels. Despite the hype surrounding the retail industry's need to focus investment on new shopping channels such as mobile and social media, a GT Nexus online survey, conducted in association with global polling company YouGov, tells a different story.
Looking at consumer retail habits, preferences and pain points in the US, UK, Germany and France shows that while three percent of respondents say they have purchased goods using social media channels, consumers generally cite the inclusion of delivery/collection options as being important to them when ordering a product either online or in-store (75%).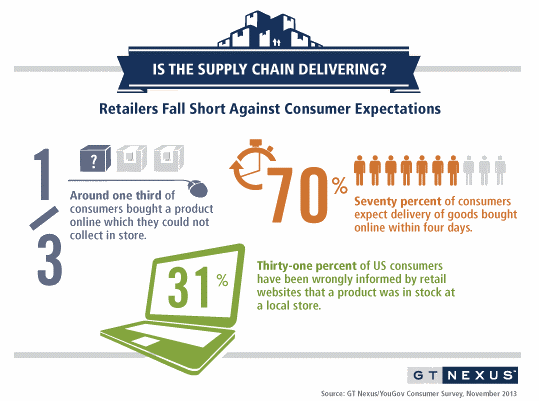 Further interrogation of these numbers shows that consumers consider it important that their expectations of delivery times are fulfilled. European consumers surveyed are less tolerant, with an average of 65% expecting delivery of purchases made online within three days or less – whereas in the US only 24% of consumers expect delivery in that time frame.
"These results show that retailers are potentially focusing their investments on the wrong thing," GT Nexus' Chief Marketing Officer Greg Johnsen said. "Obviously, having a good front-end multi-channel strategy in place is important, but what some may be missing is that it's the back-end of the multi-channel strategy that will ultimately influence consumers' propensity to order from a particular retailer. It is completely pointless to have fancy user interfaces across all channels if you cannot deliver when and where a consumer wants to receive your goods."
Showrooming
The rise of the phenomenon known as "showrooming" (browsing in a physical store to test products, then ordering them online) will only add to this requirement for retailers to get physical stock levels, delivery and collection options right at the back-end. Consumers in the UK (62%), US (64%) and France (70%) say they have engaged in showrooming over the last twelve months.
Cross-Channel Inventory Management
Currently, effective cross-channel inventory management to enable efficient fulfillment of consumer orders differs in quality across the globe. 31% of US consumers report that they have queried stock availability in a physical store using online tools, and then found the product out-of-stock when going to the store. This practice is less prevalent in Europe. As such, the data reflects that with, for example, only 11% of French consumers saying they have experienced this issue. On average for Europe, 13% of consumers reported that this is an issue they have run into.
Delivering Related Products
Another area in which retailers could improve their performance is getting the back-end support for 'recommendation engines' improved. The GT Nexus online survey shows that despite the widespread use of merchandising related products in online stores, retailers have not cracked the issue of delivering related products (such as an iPod and headphones, or a bike with a helmet) ordered at the same time, together. UK retailers appear to do best at this, although a significant 34% of UK consumers stated that they had this experience at least once. Almost half of consumers in the US (46%) and France (45%) say they have experienced this issue at least once.
Expectations for Delivery Time
86% of those surveyed said they would wait longer for a delivery if promised a 10% discount on their purchase. This is an interesting contradiction to the finding that consumers expect goods to be delivered in a short time span. When offered only a slight discount, their willingness to wait for a product vastly increases.
"To really fulfill the promise of 'anytime, anywhere shopping' – retailers need to get better overall at linking their inventory management and delivery tools to the front-end shopping experience. However, the fact that our research shows that consumers are prepared to accept slower delivery times in return for discounted prices means that there is scope for retailers to be creative about how they tackle this multi-channel opportunity," concludes Johnsen.
An executive summary that highlights key findings from the survey is available here: http://mktforms.gtnexus.com/RSConsumerSurvey_Reg.html