Warner Bros. unveils worldwide licensing program for The Hobbit sequel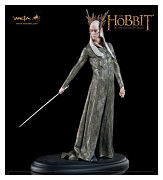 Dec. 5, 2013 – Bilbo Baggins' journey through Middle-earth resumes on December 13, and Warner Bros. Consumer Products (WBCP) has teamed up with their roster of global licensees to create an array of offerings inspired by the second film of The Hobbit Trilogy, The Hobbit: The Desolation of Smaug, a production of New Line Cinema and Metro-Goldwyn-Mayer Pictures (MGM). From Academy Award-winning filmmaker Peter Jackson, The Hobbit: The Desolation of Smaug returns fans to the world of Middle-earth and will be supported by global licensees across multiple categories, including toys, apparel, publishing and more.
Inspired by the much-anticipated film The Hobbit: The Desolation of Smaug, co-master toy licensees The Bridge Direct and Vivid Group will cater to discerning fans with an assortment of detailed action figures, collectors figures, and role play accessories that promise to bring the films' beloved characters and epic quests to life. Also supporting the film are global perennial favorites including LEGO, with adventure-filled building sets inspired by the film; world renowned physical effects house Weta Workshop, with replicas based off of those Weta created for the film; The Noble Collection, with high-end collectibles; Ravensberger, with engaging puzzles; HarperCollins Publishers, with detailed companion books; Bioworld, with fun apparel for all ages; and Rubies Costume Co, with costumes, accessories and dress-up clothes; among others. Products inspired by the film will be available at retailers worldwide, with select offerings also available at HobbitShop.com.
"The richly imagined world of Middle-earth continues to captivate the imagination of fans around the globe, and we are privileged to work with our renowned licensees to bring fans products that keep the adventure going even after the credits roll," said Brad Globe, President, Warner Bros. Consumer Products. "As excitement builds for The Hobbit: The Desolation of Smaug, fresh offerings inspired by the film will further drive anticipation for The Hobbit Trilogy and delight fans for years to come."
In The Hobbit Trilogy, Ian McKellen returns as Gandalf the Grey, with Martin Freeman in the central role of Bilbo Baggins, and Richard Armitage as Thorin Oakenshield. The international ensemble cast is led by Benedict Cumberbatch, Evangeline Lilly, Lee Pace, Luke Evans, Stephen Fry, Ken Stott, James Nesbitt, and Orlando Bloom as Legolas. The film also stars Mikael Persbrandt, Sylvester McCoy, Aidan Turner, Dean O'Gorman, Graham McTavish, Adam Brown, Peter Hambleton, John Callen, Mark Hadlow, Jed Brophy, William Kircher, Stephen Hunter, Ryan Gage, John Bell, Manu Bennett and Lawrence Makoare.