CUTCO experts: Be well-equipped for holiday food preparation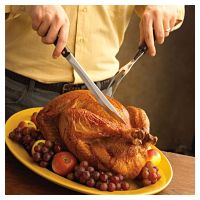 Oct. 9, 2013 – Tis the season for chopping, slicing and dicing. With that thought, the experts at CUTCO Cutlery advise that you have the right tools for the upcoming holiday cooking frenzy.
"From creating multi-course holiday dinners to simple finger foods for cocktail parties, these five knives are holiday essentials," said Kathleen Donovan, senior public relations coordinator for CUTCO. "Having them on hand and making sure they're sharp will help make food preparation run more smoothly."
Paring knives for trimming vegetables and meat, peeling and cleaning potatoes, and sectioning citrus fruit.
Chef knives or santoku knives (an Asian-inspired knife) for chopping and mincing onions and celery for the stuffing, cubing hearty squash and cutting other veggies.
A bread knife for slicing warm breads and rolls for the dinner table, and slicing crusty baguettes for appetizers.
A carving knife for disjointing turkey legs, carving the turkey and slicing ham.
A cheese knife for creating a party platter of cheese, salami and tomatoes.
These knives were selected by CUTCO's culinary advisory board and its fans on Facebook as the most essential for the holidays.
"If you're on a budget and just beginning a quality knife collection, the chef's knife and paring knife will get you through all your holiday prep," said Barbara Seelig-Brown, cookbook author and host of the PBS show Stress Free Cooking.
Looking to turn up your culinary creativity? Chef Susan Goss likes the bird's beak paring knife and santoku-style paring knife. "I can make flourishes and carvings, and the trimmings easily fall away from the knife."
Along with having the right knives on hand, CUTCO offers these tips for being holiday-ready.
Sharpen your knives before the holiday rush so they're ready to tackle all that chopping, slicing and dicing.
Write down what and how much food you purchased so that next year you'll remember if you bought enough potatoes or needed more butter.
Your freezer is your friend. Prepare as much ahead of time as possible.
Check your cutting board status. Do you have enough and do you have a variety of sizes?
Have extra paring knives, vegetable peelers, towels and aprons for guests who want to help.