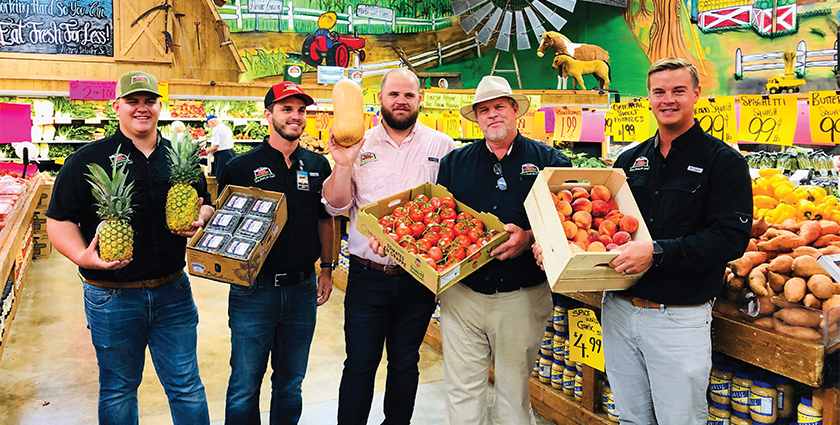 A family working together
Detwiler's Farm Market believes that great things happen when family comes together. The fresh produce grocer has lived by this ethos since its inception, and continues to be a go-to store for customers across Florida
The story of Detwiler's Farm Market's (Detwiler's) success is one rooted in humble beginnings. Henry and Natalie Detwiler, with the help of their young family, began selling produce, Amish barns and outdoor furniture in the late 90s in Virginia, but the story starts back a couple generations in Franconia, Pennsylvania where Henry's grandparents owned a butcher shop / grocery store. Grandpa Landis taught him early to treat others like you want to be treated and the value of hard work. Every Sunday was a day of worship and time for family and community instead of working, a tradition that is still valued today.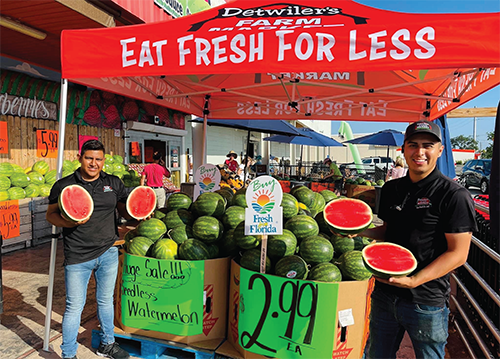 Speaking with Sam Detwiler, the President, and his father, Henry, who also serves as the company's CEO, we learn more about the core values propelling Detwiler's to be a leading fresh food grocer. "Great things happen when a family can come together," Sam begins. "We wouldn't be where we are today if all of us hadn't worked together to make this business happen. We were determined to go against the biggest retailers without a fear of failing, and I think that courage has served us well."
In terms of the company's produce, Detwiler's takes advantage of South Florida's excellent weather, especially in the summer when customer favorites are in season. "We work very closely with local farms in the area to offer the best of their crops and harvests. We believe that the closer to home we can purchase produce, the easier they are to restock, and the higher the quality. South Florida is an excellent producer of great fruits and vegetables and has an extended growing season that starts in December and ends in May. On our shelves, customers can find peaches, watermelon, blueberries, but we also have some of the more tropical ones like mangoes, papaya, starfruit and jackfruit. So, we have been so blessed with our Florida location as it has provided us with loads of diverse produce that adds a uniqueness to our catalogue," Sam highlights.
The company aims to create a fun shopping experience, too. In addition to delicious produce, customers can also find a bakery at the farm market, as well as signs of the family's affinity to ice cream. "That project is something that I am very passionate about because my mum taught me to bake when I was just a kid. My wife and I worked hard to get that going, and now it brings me great joy that our daughters have taken over, and they are doing great work with it. We also ensure we always have ice cream in stock as that's another family favorite – we all love ice cream. Because I come from such a big family, we didn't often go out and buy ice cream because we couldn't afford it, so now we make sure that at the end of their shopping experience, there's always a fully stocked ice cream display. On my 58th birthday, we sold cones for 58 cents," says Henry.
As Sam mentioned earlier, the Detwiler family has an extensive history in the retail industry, owing to their heritage. However, according to Henry, these years and years of experience have solidified the importance of the company's ethos and its best practices. "We have two generations before us that lay down the groundwork for our current success. Working with family in some ways is a great way to practice those values that we like to extend to our customers, and we've had years and years of experience with that," says Henry.
"We hold very closely what God has done for us, and we want to make sure we're able to extend that to our customers and, especially, our employees. If someone is going through a challenging time in their life, we want to help in whatever way we can. We also recognize the importance of improvement, and accordingly, we believe in honesty and transparency. We know that caring for our employees means walking alongside them, and supporting them through the ups and the downs, but we also want to push them to grow in their careers."
Sam shares the sentiments of his father, adding: "We don't view ourselves as better than those who work for us, and so early on in our journey, we wanted our employees to feel like they're part of the family. To serve thousands of customers a week take lots of good attitudes and lots of work. We want them to become part of the team, "the family if you will". A couple years ago we started a quarterly bonus program so that anyone who works over 1000 hours annually gets to share in our pot of benefits."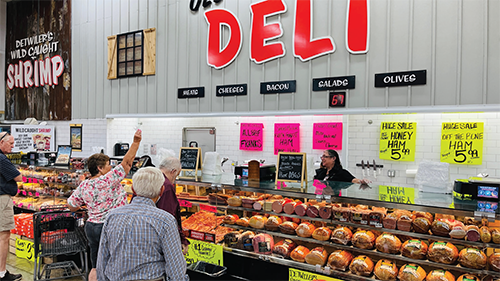 Both father and son agree that there is a unique difference to the way the business operates, which circles back to the core values that are intrinsic to the company's name. Tying in with this, Henry and Sam believe in maintaining fair and lasting relationships with their suppliers, who have been incremental in navigating the challenges of the last two years. "Our supply chain partners have been pivotal in keeping the business going. This is why we always want to do our best to look after them and demonstrate that their relationships with us are so important. We want to work closely with each other, and so we strive to be honest with our suppliers, because we never know what challenges lay ahead or when we're going to need to lean on each other. There might be situations where the commodities might not look like they're supposed to, or they might not be the best quality for different reasons, and we have to look at how we can negotiate that. Being able to work together with our farmers to create the best solutions has served us well so far, and I know it will continue to do so," says Sam.
Speaking of the pandemic, Sam shares how the business took on a fantastic opportunity during Covid-19, by introducing a drive-through for its main store to improve efficiency. "We offered between 100 and 125 items, and we had a sheet of paper with everything in numerical order so we could pick out orders extremely fast, and we got our IT department to perfect our methods for boxing the orders. It was wonderful to see an idea grow into an operation that served about 600 cars a day," says Sam.
Now, looking towards the future, Sam and Henry express that they are excited about potential expansions for the business, but only when the opportunities arise. For the father and son duo, it is crucial to grow the business with strategy and precision to ensure the quality remains as trustworthy as it has been all these years. "In the next five years, we want to centralize to one distribution center, which is the largest part of our business. Because we run our own trucking company, I see a lot of potential to increase that aspect, which will help us hugely.
"In addition to that, I believe that we will also look to open a few more stores to keep serving the community, but we are in challenging times, so we do need to be cautious and keep moving forward, as long as the time is right," Henry shares.
From speaking with Sam and Henry, it is clear that Detwiler's is a business that believes in its community. It is also passionate about giving back to the customer and the community: "In the last couple of years with the prices going up, we have been trying to hold prices down, until we see our bottom line getting too tight, and work out whether we are going to have to increase our prices accordingly. Having said that, our slogan, 'eat fresh for less', it isn't just a slogan, it's the passion that really started this journey. We are so inspired to make sure people can afford good, organic food from a name that they can trust. With everything that has happened over the last two years, our customers are looking at what they spend, which is why we are doing all that we can to take care of them, as well as our employees. We are continually working to create a winning combination that makes Detwiler's a fantastic place to work and an even better place to shop. If we can keep this up, I believe that will be one of the qualities that separates our name from the crowd, and I would love to see us continue to do so for a very long time," Sam concludes.
https://detwilermarket.com