Proudly Canadian
Specializing in high-quality, affordable Canadian goods, Lastman's Bad Boy is entering a new chapter with the launch of its new ecommerce site
The story of Lastman's Bad Boy (Bad Boy) began in 1955, when Mel Lastman opened his first Bad Boy store on Weston Road. Billed as 'the place to shop' because of its great prices and excellent service, Mel forged a name for himself in Toronto through a series of creative publicity stunts, including selling two-dollar bills for one dollar – dubbed 'the best two-for-one deal you could find.' It wasn't before long that Bad Boy had blossomed into a well-known chain, with over 40 locations throughout Canada.
But that wasn't the end of Mel's ambition. In 1972, he turned his attention to politics, running for the position of Mayor of the City of North York. He won – and by 1975, Mel decided it was time to sell his beloved furniture, appliance, and electronics empire, and focus solely on serving his city.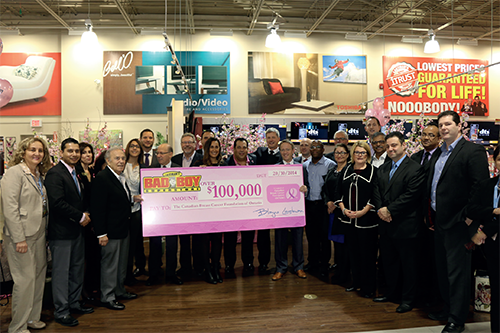 "Not many people know, but Bad Boy didn't exist from then, right through until 1991," says Sam Lastman, Vice President at Bad Boy, and granddaughter to Mel. It wasn't until Sam's father, Blayne Lastman, decided to resurrect the chain that it returned, opening its first store for the second time in 1991, on Kennedy Road.
Today, Bad Boy provides products across furniture, appliances, electronics, and mattresses, comprising both locally sourced goods, and products shipped from overseas. "On the furniture side in particular, a lot of what we sell is made in Canada," Sam reveals. "We specialize in high-quality items that, when touched and felt, have a very distinct level of craftsmanship." Yet, despite this emphasis, the company retains a reputation for impressive value. "High-quality doesn't mean a $10,000 sofa," Sam adds. "That's not the business we are in, and we don't try to compete in that arena. Instead, our target customers are those who are looking for an affordable product. That's the niche we're trying to carve.
"We work with a number of major suppliers, including Whirlpool, GE, Frigidaire, Electrolux, Panasonic, Bosch, Samsung, LG, Décor Rest, Ashley Furniture, Sony and several other big names, across a total of 12 retail stores," Sam tells us. "It's a footprint that ranges from Ottawa in the east, to London in the west. We also have our wholesale business, through which we sell to developers of condos, high-rises, and similar residential projects."
Asked what sets Bad Boy apart from its competition, Sam is quick to highlight the company's reputation for impeccable customer service and flexibility. "We really go above and beyond," she says, a practice that Sam believes is rooted in Bad Boy's origins as a family business. "If someone needs a fridge by tomorrow, we'll get it for them – it's an essential good. It's about making magic happen."
To that end, the company has been hard at work introducing a number of customer service innovations. The recent launch of a sales hotline provides those of Bad Boy's customers who aren't as familiar with online purchases with an avenue to discuss potential orders, while a delivery hotline allows customers to track their purchases and monitor expected arrival times. As Sam puts it: "All of these additions allow our customers to keep in touch with Bad Boy in a different way."
It's been a challenging few years for businesses across the retail sector. The arrival of Covid-19 ushered in prolonged shop closures nationwide, forcing shoppers online. But Bad Boy wasn't prepared to let them go. Pivoting its focus, the company rolled out a new, more sophisticated ecommerce website, capable of handling a significant spike in transaction volumes.
As Sam says, "The demand for fridges doesn't just go down because of the pandemic. Although our retail stores suffered, one of the few positives to come out of Covid-19 is the way in which we and others learned how to operate a much larger-scale website." It's a business segment that Bad Boy has high hopes for in the future. "People still like to touch and feel their furniture," Sam continues. "That said, it's unlikely that the retail landscape will return to its pre- Covid shape for a while to come."
With the worst of the pandemic seemingly behind us, all of Bad Boy's retail stores have since returned to normal operating hours. Now, the company is refocusing its efforts, placing yet more emphasis on ecommerce and business growth. "We're always in the habit of trying to revisit things and identify improvements," Sam comments. "We have round table discussions with our managers regularly, where we try to understand things better. We also listen closely to our customers in order to try and meet their needs.
"Beyond that, we do have a growth strategy, and although we don't have a specific date or location at this point in time, we tend to add a store every couple of years," Sam concludes. "However, we remain the type of company that takes things one step at a time, and with everything that happened regarding Covid-19, we're still jumping back into our plan. Regardless, we are looking to build out within each of our existing stores."
https://www.badboy.ca