DHX Media Celebrates 30 Years of "Inspector Gadget"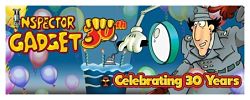 October 23, 2013 – DHX Media, a leading independent international creator, producer, distributor and licensor of children's entertainment content announced the release of a special 30th anniversary "Inspector Gadget" game, available for iPhone, iPad and iPod touch, as a part of the slate of original digital offerings from the DHX Media Interactive group. In addition to the game, DHX Media's partner Gaiam Vivendi Entertainment is celebrating the Inspector Gadget 30th Anniversary with free episodes*, discounted seasons and dedicated collections on iTunes. In addition, five new Inspector Gadget DVD releases are available from Cinedigm also commemorate this milestone at retail.
The show became a predictor of modern technologies to come that most of us today can't imagine living without– inventions such as Penny's computer book with wireless capabilities, the ability to look up any information, digital maps and GPS; Penny's digital camera and watch that sync up to her computer and its "face chat" capabilities; the self-driving, crossover vehicle known as the "Gadget mobile" and wearable computer glasses. Perhaps it is no coincidence that "Inspector Gadget" was primetime cartoon viewing for today's 30 and 40 something top minds in today's digital age.

Inspector Gadget's M.A.D. Grab game features Brain, Gadget's faithful companion and go-go-gadget inventions including spring boots and bionic arms to help players catch Dr. Claw and save Penny. Players can also try their luck in the game's Dr. Claw Machine, spending in-game tokens for exciting power-ups.

"DHX Media is proud to reach a 30-year milestone with Inspector Gadget, a brand that continues to inspire generations of young minds. The new game will appeal to original fans and new fans," said Steven DeNure, President and COO of DHX Media. "Everyone will enjoy bringing the Inspector Gadget hilarious adventures to life on the digital platform."
*Fans in the U.S. can celebrate the Inspector Gadget 30th Anniversary with free episodes, discounted seasons, dedicated collections and more at iTunes.com/InspectorGadget.