Dolphin Organics goes national with KeHE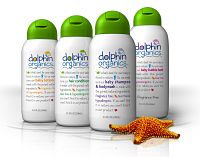 Feb. 13, 2013 – Dolphin Organics announced that is has begun national distribution with KeHE. Both of their brands – Dolphin Organics, a line of NSF certified organic personal care products for babies and young children, and DO Naturals, their newest line of natural skin and hair products designed for tweens to young adults – are available through KeHE.
"We have sold directly to customers via our website and through Abe's Market. However, we know that the greatest barrier for many parents is shipping costs," states Ayo Hart, Co-Founder of the family-owned business. "We will continue our direct sales to customers on our site because I thoroughly enjoy the personal connection with our parents. However, by entering our agreement with KeHE, we will make our award-winning products more readily available to families and local grocers nationwide."
Dolphin Organics is already on the shelves at all Natural Grocers by Vitamin Cottage, all New Seasons Market, Metropolitan Market and Market of Choice in the Northwest, all Kimberton Whole Foods in Pennsylvania as well as dozens of natural markets, pharmacies and wellness centers across the country. Through KeHE's Tree of Life Division, Dolphin Organics will enjoy the benefit of over 40 years of distribution experience.
"Working with KeHE will accelerate our sales and distribution plan, which Ayo and I laid out when we created Dolphin Organics," says Nigel Hart, Co-Founder.