Topps Kicks off the Return of Baseball with World's Largest Baseball Card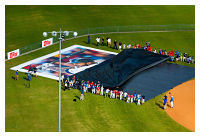 Feb. 12, 2013 – Spring training kicked off in Lakeland, Fla. with the Topps Company, one of the leading manufacturers and marketers of sports trading cards, creating the World's Largest Baseball Card to celebrate the return of baseball nationwide and the new 2013 Topps Baseball Series 1 cards. Detroit Tigers first baseman Prince Fielder and nearly 100 youth baseball players from Lakeland City Baseball unveiled the largest card ever created. Measuring nearly 90 ft. tall and 60 ft. wide, this massive baseball card depicts the image of Fielder, who appears on the cover of the Topps 2013 Series 1 box.
"It is truly an honor and a thrill for me to be featured not only on the 2013 Topps Series 1 box, but also on the largest baseball card the world has ever seen," said Fielder. "Baseball is back."
The grand reveal of this giant card took place at Peterson Park, a youth baseball field just a few miles south of where Fielder's Tigers teammates will hold their first workout of Spring Training for the 2013 season.
"Spring Training is one of the most exciting times for baseball fans, as it marks the official start of a brand new baseball season," said Marc Stephens, Marketing Manager for the Topps company. "We are excited to kick off the season and celebrate the launch of our new 2013 Series with Lakeland City Baseball, Prince and baseball fans everywhere."