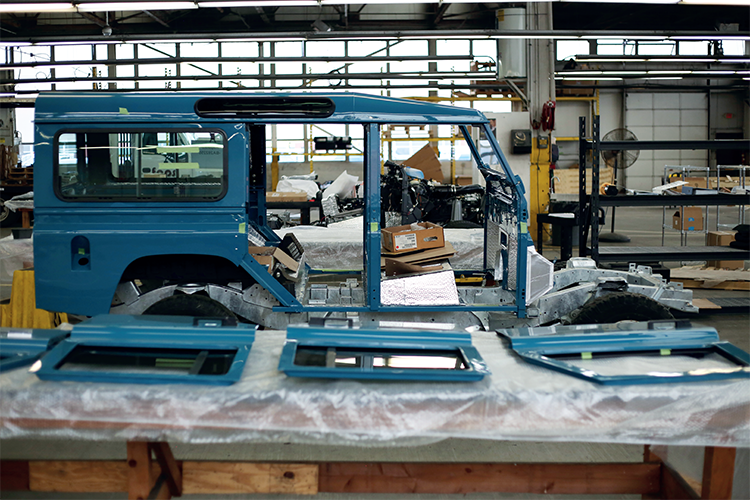 Starting a business while living on another continent is always a challenge. But when you do so at the start of a global pandemic, any issues you may face are multiplied several times over.
It's not something that Tom Maxwell was overly concerned about, however. With a luxurious, quintessentially British product, Tom knew that the desirability for his modified Land Rover Defender would remain constant regardless of the coronavirus crisis.
Tom launched Twisted USA LLC Group, the American counterpart of the Yorkshire-based Twisted Automotive Group, in April 2020 after securing a seven-figure sponsorship deal to take over the licenses for North America, the Middle East and the electric vehicle arms of the business.
Despite business travel to the States being out of bounds, and customers being unable to experience test drives in person, the business captured sales of $7m in its first year of trading.
Here, Tom reflects on the challenges and achievements his team has experienced over the past 18 months.
US twist on a British icon
It's no secret that there are a multitude of British institutions that Americans love. Whether it's the Royal Family, our music scene, quaint villages or our occasionally bizarre sense of humor, there's a lot our American cousins appreciate.
This extends to classic automobiles – and they don't come much more definitively British than the Land Rover Defender. Even the Queen drives one.
And when that icon is modified to be infinitely more powerful, better designed and more comfortable, it becomes even more desirable.
The Twisted philosophy of the best, made better, led to the development of the NA-V8 vehicle created specifically for the US market. It's unmistakable in style yet offers state-of-the-art technology throughout. Under that very British bonnet lies an all-American Chevrolet Corvette LT1 engine along with a braking and suspension system developed with Alcon, Bilstein and Eibach.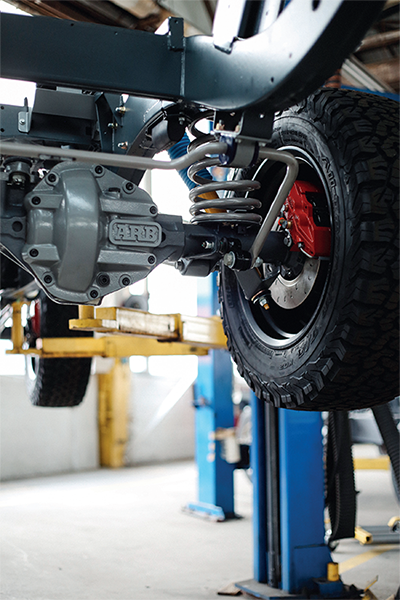 There's also the very latest info-tainment system, rear seat air con and a contemporary interior.
The NA-V8 doesn't look or drive like anything else on the roads in the US. It's hand built, with elements of modification taking place in the UK before it is shipped to the new 100,000 sq ft facility in New Jersey.
It's not cheap – prices start at $250,000 – but it's available in five different body styles, including soft top and double cab, with an all-electric version also set to launch later this year.
Even by Tom's high standards – in a previous role, he exported 250 Defenders to the States – results have already exceeded expectations. A further $500,000 in sales have been captured across the summer for the NA-V8 and a further $2m for the all-electric version.
The team has grown to 40, working out of the New Jersey facility and a 5,000 sq ft HQ and showroom in Austin, Texas. Tom recently secured a further 50 acres of land just outside the city for additional facility development and is also in discussions for California, New York and Miami retail spaces.
Challenges and solutions
Launching a new business at the height of a global pandemic takes courage and determination. When the business is focused on the other side of the Atlantic, any challenges are magnified considerably. As a result of the Covid-19 crisis, teams have been unable to meet clients in person – which is particularly problematic when your offering falls within a luxury lifestyle environment. Customers want to feel the quality of the materials and experience for themselves the sophistication of the engineering.
"Obviously, launching the business during lockdown caused issues," Tom says. "I'd been travelling to and from the States regularly, splitting my time between the UK and North America, so when suddenly all flights were cancelled, it was a bit of a shock to the system. But you adapt, you take managed risks and consider the long-term impact of your decisions. And you have faith in what you're offering. We know there's nothing out there to touch the NA-V8 in terms of style and performance."
From the off, communication was key. Like many others, the business has relied heavily on video technology for interacting with both employees and stakeholders. There's a weekly 'open book' meeting where everyone reports in, regardless of their seniority within the company, from the CFO to Tom's PA. This enables the team to see all activities, ensuring everyone is aware of the bigger picture.
Tom is also careful to keep the bigger picture in focus, insisting that in a fresh and fast-paced business, it is important to always keep perspective and your 'end goal' in sight.
Teamwork
Tom's the first to admit that he's not an expert in every part of the business – which is why he has assembled a team who between them have decades of experience in everything from retail to procurement and design.
His right-hand man is technical director Ryan Dimery-Seek, with 14 years' experience restoring and rebuilding more than 300 Defenders for the US market. Also dividing his time between the US and the UK – travel restrictions allowing – Dimery-Seek has spent tens of thousands of hours modifying Defender vehicles.
A series of other senior appointments has been made to ensure Tom is surrounded by the best in the business. These include Paul Kilvington, head of bespoke design. Paul launched Range Rover in North America and conceived the creative concept behind the 'Best 4x4xFar' campaign. Working with each client individually, he will be responsible for exploring the aesthetic design of every Twisted USA-Group build.
Technical designer and engineer Darren Jones had a hand in designing the NIO EP9 electric sports car that captured two Grand Prix d'Horlogerie awards and has completed bespoke commissions for Spyker and Morgan. His role involves working on projects with ultra-lightweight and ultra-luxurious elements.
Chief financial officer Louis Fernandez has more than 20 years' experience of corporate finance experience across several industries ranging from energy, engineering and construction and now the automotive space. He has worked for numerous Fortune 500 companies including BP, Fluor and BHP Billiton.
Alex Wharton has been appointed as technical manager to oversee the technical development and improvement of the product. Previously an OEM (original equipment manufacturer) master technician, Alex brings significant industry experience to the team in his approach to vehicle construction.
With Matt Macchi appointed retail manager and Martin O'Gorman heading up procurement, and with more appointments to come, Tom's team has the necessary experience to drive business growth across the board.
Looking ahead
As the world gradually emerges from the pandemic, the future is bright. Orders continue to roll in for the NA-V8 and electric vehicles and the group has just opened a new facility in the Middle East. Tom continues to spearhead the business's growth, meeting the highest client expectations and ensuring the heritage of the Defender – and the Twisted assurance of creating the best made better – continue on both sides of the Atlantic.
For more information, visit: www.twistedautomotive.com/en-US/