Adding a hardware store as part of the Dutch-Way brand was an opportunity that the company couldn't pass up. Another company operated the hardware store previously, and Dutch-Way eventually bought it about five years ago. "We had the opportunity to purchase that business, and we were able to make improvements so we're happily operating it," Bennett says. "We had a store manager at one of our grocery store locations that had a background in construction, and we felt comfortable taking that business on with someone that would be knowledgeable."
But having a hardware store and restaurant as part of a supermarket chain is not the only unique thing about Dutch-Way. The company prefers to take control of all aspects of the business as one of its core values and does as much as possible in-house, including laundry, employing a maintenance staff, floor and fixture cleaning and even operating its own trucks for hauling. The company prefers to employ people to perform those tasks rather than contracting outside the company.
In addition, Dutch-Way prides itself on being a Christian-owned and operated business. The company supports a number of local churches and organizations, including Focus on the Family, Life Change Ministries, Susquehanna Valley Pregnancy Services and Global Disciples.
"We try to run a good, God-honoring business. You will get genuineness from us and honesty if we're not happy, but we're also very reasonable and most of our partnerships would appreciate that. That's one thing I've stayed at this company for: The owners are supportive of people who want to do good business in a good way."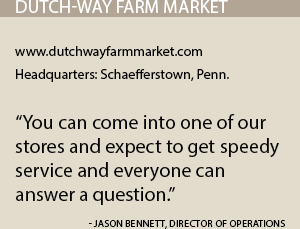 Value Added
Customers are expecting fresh, local produce and other quality products from the Dutch-Way stores, and the company is gladly complying, Bennett says. "We're evaluating what we do on a continual basis and looking to improve," he notes. "We're good at being critical of ourselves in the sense that we want to continue to do better each year and improve quality and the way we serve our customers.
"This is attributed to our employees as well. The teams we have in place execute everything and look at what we can do better. We've been blessed with a lot of good people to help from the top all the way down. We have people that care."
Some of its quality initiatives come from the kitchen and other departments. The stores are committed to having a fresh-cut meat department and do not solely offer pre-packaged meat. Most everything is cut and processed in-house. Dutch-Way also offers a lot of value-added items, such as its own sausage recipes, gourmet burgers and other unique recipe sets for customers to purchase.
Its bakery department is no different – everything is fresh-baked or homemade. It even recently purchased a donut maker so that bakers can prepare the batter and make signature donut items. "We try to provide value in our knowledge and pre-prepared items for people to take home," Bennett adds.
One of its most popular value-added sections is Dutch-Way Kitchens, which is part of the restaurant. Chefs make meals both to sell in stores and on the buffet line, like salads, soups, pre-prepared dinners and desserts. "Those unique things with our unique recipes set us apart," Bennett says. "Also, we have an old-fashioned approach to customer service. Not every business understands that, but we value that highly. You can come into one of our stores and expect to get speedy service and everyone can answer a question."
Committed Service
Many of Dutch-Way's customers come to the store thanks to word of mouth, so the company needs to ensure the next generation of shoppers also finds its way to its locations. It does this not only through tackling social media, but also by developing its employees so they remain with Dutch-Way for a long time and taking a vested interest in their career paths.
"We're taking more of an approach to identifying those leaders in the stores and pulling them in closer to catch the vision of the company," Bennett explains. "We want them to be more connected with the company. Whenever there's a missing connection to leadership is when we lose people. So, whether that's a dishwasher or bagger, or all the way up to a department or store manager position, it all comes back to that missing connection.
"We are committing to those things as opposed to just putting people in a random position," he continues. "We care about them and try to have conversations about what makes them tick and how we can best work together. It's a work in progress; we don't know everything but we're figuring it out as we go."
Dutch-Way's dedication to its employees is felt through how they treat the customers as well. "Our customer service is excellent," Bennett says. "We feel good when that is recognized by the customer. Plus, we have our own products that people love and people are talking about and that's exciting, too."