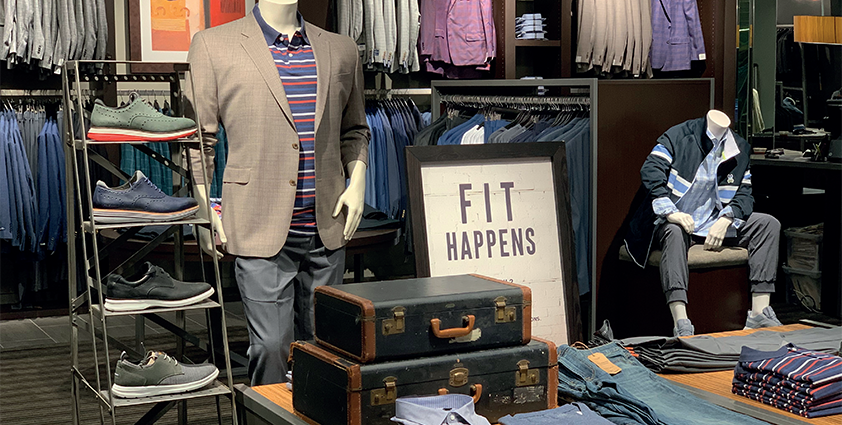 Always bigger, always better
Putting fit and customer experience first, DXL Big + Tall aims to engender inclusivity and diversity by making an underserved market feel fantastic
Headquartered in Canton, Massachusetts, DXL Big + Tall (DXL) has more than 250 retail stores across the US. That means, wherever you're based, there's a DXL store ready to welcome you in, regardless of your shape or size.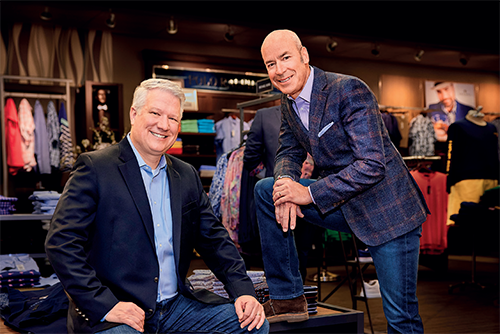 "I was in a store about six months ago with a very tenured manager," says Harvey Kanter, CEO and President at DXL Big + Tall. "That store manager actually knew most of the customers by name, and I happened to witness a very telling conversation between herself and someone shopping at DXL for the first time. It's worth repeating, but to cut a long story short: the man told our manager that he had stopped shopping at his usual clothing store because, after nearly ten minutes of trying to find someone to help him, he was told that they didn't stock sizes big enough for his body type."
That can be a crushing experience. As Harvey is keen to highlight, the pandemic changed the lives of many – and not necessarily in the first way that springs to mind.
"We often talk about the 'Freshman 15.' When kids go to college, they can typically gain around 15 pounds in their first year," he explains. "This customer said he was experiencing the 'Covid 15.' Prior to the pandemic, he was a 2XL. Now he's verging on 4XL. In normal circumstances, he would be out of luck. Thankfully, he found DXL. But he has every right to shop wherever he wants, and he should be supported in that. Respect should be universal, not predicated upon one's body size. I doubt this would have been a one-off event, either: over the pandemic, the average American male gained 37 pounds."
Fortunately, at DXL, respect and inclusivity are woven into the fabric of its customer experience. In its brick-and-mortar stores, on its e-commerce website, and throughout its mobile app, the industry leader is proud to stock one of the world's most extensive collections of plus-sized clothing and shoes.
From value-priced offerings like its Harbor Bay range to high-end, designer labels such as Polo Ralph Lauren, Lacoste, Levi's, and Reebok, DXL has you covered – and feeling valued. A broad variety of sizes are offered as standard: waists range from 38-to-70 inches, shirts from 1XL-to-8XL, and shoes from 10-to-18, with widths of up to 5E available.
Putting together an outfit that makes you feel confident and valued has never been easier, especially with the aid of DXL's in-house Fit Experts, who are always on hand to create an unrivalled, custom fit.
"We offer customers a unique space," Harvey notes. "But that's because we're unique ourselves: we have power, and we have purpose. That purpose is felt in our corporate office, stores, and across the DXL employee network. Workers are empowered because they can help an underserved customer. Often, a customer walks in and you get the sense he's not terribly confident. DXL understands his needs. We want to help. Unlike other stores, we typically offer two or more alternative outfits for the customer. Sometimes, he will come out of that fitting room and begin to cry. When we ask him what's wrong, he says: 'I didn't think I could look this good.' It's remarkable: we have the power to transform how people think and feel about themselves – for the better. That authenticity makes us unique."
Since we last spoke in 2021, DXL has enacted an evolution of sorts. Intent on celebrating all body types and all sizes, the big and tall retailer is in the process of creating and building more relationships with its shoppers, fine-tuning the experience from the ground up. As Harvey explains in more detail: "Like I mentioned, we really aim to do things uniquely at DXL," he says. "We're talking to consumers about what they want and why they want it. To that end, our online website features nearly a dozen gentlemen, all of whom vary greatly in terms of weight and height. That's something we've listened to: appropriate representation. Unlike others, our models accurately represent our consumer base. Website visitors are greeted with a great deal of inclusivity and diversity – that's our calling card and, more recently, we've begun to lean into it."
Indeed, DXL has even gone so far as to host its own 'Big + Tall Month.' Celebrating plus-sized people in this way has not gone unnoticed within the industry. Inclusivity has, ironically, brought with it the opposite: DXL has become the exclusive retailer for a range of brands, offering iconic apparel in sizes that include all. In some cases, Harvey notes, DXL has actually worked to influence and help recreate national brand specifications, spreading its key message of inclusivity inthe process. Peter Stratton, Executive Vice President and CFO at DXL, breaks it down for us: "Brands – and I'm talking about aspirational lifestyle brands – have become much more comfortable with us," he explains. "They understand that we're not only the market leader, but that we're also the place to build a business. For example, Nautica sportswear has heavily engaged in our mission, pulling its distribution of big and tall products from all retailers in North America – except for DXL. That means, excluding Nautica's own retail channels, we're the only retailer to stock its big and tall sizes in sportswear.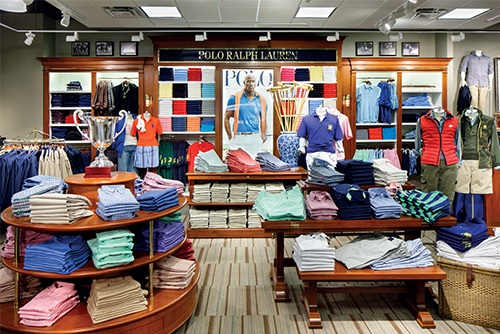 "vineyard vines went even further," he adds. "They recognized the inherent challenges of managing the assortment, engaging with consumers, responding uniquely and separately to them, within the big and tall market, and, in turn, they understood that we're leading the charge in our industry niche. As a result, vineyard vines has pulled its big and tall size range from all distributors, including itself, meaning we're literally the only place to purchase its big and tall clothing. Consequently, I believe we're the largest, purely big and tall specialty retailer in the world, in terms of only servicing and interacting with a core customer base."
As Harvey informs us, this feat is made ever more impressive when we factor in the challenges faced by retailers operating within the big and tall market, stuck in the middle of what we might call an industrial impasse.
"We stock over 100 brands in total," he notes. "Ralph Lauren, Lacoste, and Psycho Bunny, to name a few. Yet, in spite of our constant pursuit to work with more brands, curating a network of names in order to inspire individual customers, we're quite often met with the same response. It goes a little like this: 'We would love to do this with you, and we respect and understand what you do, but this is way too hard and way too difficult; there are too many other customers who are not necessarily big and tall, and we want to interact with them.' That's a real shame: we want to foster an inclusive and diverse model of distribution, catering to all sizes and engaging with underserved consumers."
Nevertheless, going forward, DXL intends to absorb even more market share – and quickly. Like its apparel, the Massachusetts-based retailer aims to be bigger than average. "We expect to grow our stores faster than the standard rate of growth experienced by most retailers," asserts Harvey. "They might be happy with a one-to-two percent growth rate; however, we believe that our comparable DXL stores should show growth of three-to-four percent at a minimum. Moreover, in terms of direct-to-consumer online retail, most companies would talk about a rate of growth between ten-and-15 percent. But, once again, by drawing new-to-file customers who have become disenfranchised with the general apparel industry, we believe that we should be growing faster than average.
"DXL finds itself compelled to consider the following: Why can't we have a ten or 15 percent market share? Why can't be become a billion-dollar organization? Sure, last year's revenue of $505 million is a long way off that, but if we successfully enact the plan we have authored, then the billion-dollar question stands, especially when we consider that other apparel retailers are less focused on the big and tall cause. Ironically, they host a small section for big and tall men. Whereas, DXL engages the consumer, compels them, and ultimately offers them a unique fit. At DXL, our big and tall section isn't a section – it's the entire store," he adds.
Whether by improving its loyalty program's mobile integration, offering customers more access to special events, reviews and rewards, or by utilizing its personalized, predictive marketing program, DXL is set on doing more and doing better in the very near future. That way, the clothing retailer can reach more prospective customers who, like the man in Harvey's story, may not have felt valued at other, less inclusive apparel retailers.
The result of all this? DXL now finds itself in a mightier and more financially buoyant situation than it has experienced previously. Indeed, while other retailers are forecasting negative growth of between five-and-ten percent, DXL expects to grow this year. As Peter elaborates: "I'm really excited about where we are in terms of our market position," he says. "Coming out of the Covid-19 pandemic, we finished in the strongest financial position that the company has seen in the last 20 years. Indeed, in 2021, DXL surpassed half-a-billion dollars in revenue for the first time ever – with an EBITDA margin in excess of 15 percent. As a result, we were able to reposition the brand to focus more on full-price selling, as opposed to discount selling, and restructure the majority of our store lease portfolio. That enabled us to drive up a cash flow level which we had never seen before: DXL found itself with over $70 million in free cash flow last year, allowing us to pay off all our debt. As we look towards the future from the vantage point of our strongest financial position ever, we are confident that DXL will grow even bigger, as it continues to fund these strategies for success."
https://www.dxl.com