El Río Grande – Latin Market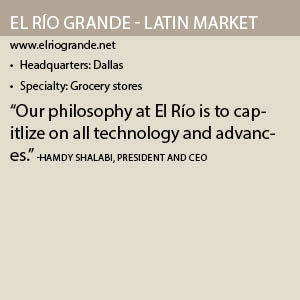 When Shalabi started the company, he had the vision to give consumers in the Dallas-Fort Worth area the chance to enjoy Latin American flavors with stores that stocked fresh goods and provided quality service. Today, El Río Grande has nine locations with bakery, fish and seafood, meat market and juice bar departments.
Those departments make sure their food is fresh daily, Shalabi says. For example, its bakery employees often show up to work at 5 o'clock in the morning to prepare foods before the store opens.
El Río Grande's locations also feature 120-foot-long meat departments where employees weigh products behind the counter for customers. "We also have a 24-foot section of pre-packed meat that we cut in our stores," he adds. "It's not shipped in from some kitchen offsite."
El Río Grande prides itself on strong service, which allows it to develop "a very high level of understanding of our core consumer," Shalabi says. "That intimacy is very strong and respected, and it's a guiding principle for us."
Going Professional
El Río Grande is underway on several projects, including work on its supply chain. "Right now, we're on the other side of the crossroad of being a family owned, family run business," Shalabi says.
The company, he explains, is working to make the transition into a "family owned, professionally run" business "by welcoming talented employees who contribute to our everyday success.
"What we're trying to do is put in procedures that are more cautious and code compliant without watering down what we think is the greatest attribute in our line of business, which is customer intimacy," he says. "We want to automate without taking the humanistic attitude out of it."
For the last 13 months, he explains, El Río Grande has started implementing an ERP system, along with warehouse management, customer relationship and loss prevention systems. "Our philosophy at El Río is to capitalize on all technology and advances," Shalabi says.
These will not only streamline processes and solutions for El Río Grande, but also keep it in accordance with industry codes. "We respect and comply with every code that is given to us," he says.
But the company is feeling a strain from all of the regulations. "I feel like as if we are getting over-coded," he asserts. "It puts the burden solely on the retailer to comply, but not necessarily on a wholesaler or a producer."
El Río Grande also taking steps towards offering online shopping. "We currently have a website that's more informative than an actual e-market," Shalabi describes. "We're creating our own hybrid approach to that."
He asserts that e-tailing will never replace El Río Grande's brick-and-mortar stores. "People that still cook at home are never going to lose their appreciation for having to pick their meat instead of having it downloaded into a cart," he says.
"A grocery store used to be the center of a town," he continues. "So we're trying to keep that old neighborhood market experience without denying that same customer efficiencies and technological conveniences of modern times."
Creating a Workforce
El Río Grande's stores employ larger staffs than its competitors. Most of its big box competitors have an average of 75 people per store, but "we have anywhere from 100 to 140," Shalabi says.
When the company looks for talent, it does not require store experience but instead, hires based on attitude and the willingness to learn and train. "We're becoming our own institute to create the workforce that is needed to fulfill the requirements of our stores," he states.
But talent retention can be challenging, Shalabi admits. "We're in a specialty grocers retail area that focuses on the Hispanic community," he says. "Our friends at the big box stores are wanting a piece of that pie."
But El Río Grande offers competitive benefits to protect its talent from corporate titans, as well as paths for growth. "We've had some people work in a meat department that end up in the marketing department," Shalabi says.
"We do have a path for the entrepreneurial soul that [wants to be] in management," he says, noting that some also prefer more conventional growth. "Some people are comfortable in their own areas."
The culture also keeps them loyal, Shalabi adds. "It's accessible, open, creative and collaborative," he says. "We have this great, welcoming attitude."
This philosophy has led to El Río Grande adopting many of its employees' ideas. "We still throw stuff at the wall and say, 'Let's try this,' which keeps a lot of momentum within our family in El Río, the neighborhoods that we serve and the vendor community that serves us," he says.
El Río Grande will put these ideas "in a test phase and implement them later on, companywide," Shalabi says, noting that this gives its workers a sense of ownership in the company.
The Best Option
El Río Grande recently opened a new store in Mesquite, Texas, that features its "Core Plus" approach. While the location offers goods that appeal to its core customer of Latin Americans, it has added different cultures as well.
After performing a demographic study, "We added Middle Eastern product lines," Shalabi says, noting that this will cater to clients in the adjacent town of Sunnyvale, Texas. Already, the store has earned a positive reception.
"The mayor of Mesquite came in and said, 'This is the nicest store that's opened in Mesquite,'" he says, noting that El Río Grande will continue growing with an organic, natural approach.
"We don't want to be another option for our consumer," Shalabi says. "We want to be the best option and we are on the way to achieving that. It's a merchandising approach to be applicable to a broader customer base that is reflective of the neighborhoods we serve."
This will be reflected in the company's marketing strategy. "The statement is to be the premier destination for families and provide a joyful shopping experience with a Latin flair," Marketing Manager Ana Medina says. "We will take care of the core customer but be open to the new generation."