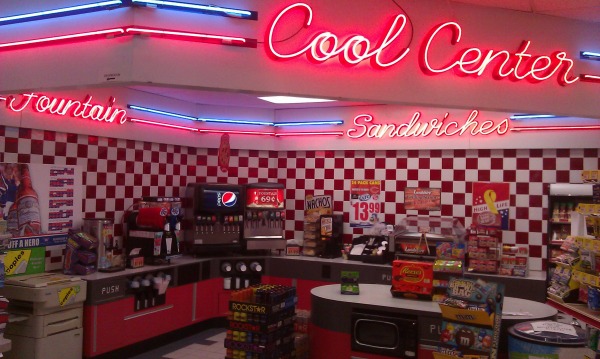 Graham C-Stores makes large investments as it celebrates 80 years in business. By Kat Zeman
Petroleum runs through their veins. As third generation pioneers of the gasoline marketing and oil business, Mike and John Graham know their industry.
Their grandfather, Eugene Graham Sr., founded Graham Oil in 1938 as a venture into the petroleum and gasoline market, delivering fuel and oil to homes and farms in Illinois. By 1954, Eugene's two sons, Jack and Eugene Jr., joined their father and the family acquired its first group of full-service gas stations with repair shops. It also became a distributor for Sinclair Oil.
By the 1990s, the third generation took over, expanding into the convenience store business and becoming Graham C-Stores Company. "We have tripled in size since taking over in 1991," says Mike Graham, who co-owns Graham C-Stores with his brother John. "We continue to impact the market with consistent, quality offerings which drive more business to our retail outlets."
Grayslake, Ill.-based Graham C-Stores owns 33 gas stations in Illinois and one in Indiana. Of that number, it operates 26 and rents the others. In addition, the company acts as a wholesale gasoline distributor for 50 other sites throughout Illinois and Indiana.
"My dad and uncle created a great company that we were able to make better," Mike Graham says, adding that his 80-year-old father Jack Graham is still involved with business matters. "A big part of our success is due to what we were provided with by the previous generation. We're very thankful that they created a business that is still viable today."
Investing in the Future
Graham C-Stores sells roughly 90 million gallons of gas per year and hopes to increase that number to 100 million in the near future, Mike Graham says.
In 2016, the company made a number of large investments. It remodeled an old truck stop in Sugar Grove, Ill. The multimillion-dollar project converted the truck stop into a Shell fuel station with a Graham's Marketplace convenience store and car wash. In addition, Graham C-Stores spent another $750,000 to remodel three additional Illinois locations in Mundelein, Skokie and Niles.
"2016 was a very big year for us," Mike Graham says.
Other investments included building "beer caves" inside its convenience stores. A popular trend in the c-store industry, these walk-in coolers consolidate all beer and alcoholic beverages in one area – making it fast and easy for customers to find their favorite beverage. Bright lights, glass doors and windows can turn an old drab corner into an inviting beverage oasis. The bright and colorful designs have proven to attract consumer attention.
"It gives customers a bigger selection and a new modern feel," Mike Graham says.
To increase revenue, Graham C-Stores also introduced gaming and video machines to select locations. "It's a new revenue stream for us," he says. Gaming and video machines require both a municipal and state gaming license but have proven to be a good source of revenue.
Graham C-Stores also invested in a number of technology upgrades. These include installing TV monitors at gas station pumps, new gas dispensers and LED lighting at its stores. In addition, the company introduced a Laserfiche record management system to its offices. "It eliminates a lot of the paper we used and changed the way we keep records," Mike Graham says.
Laserfiche is a state-of-the-art software system that allows scanned documents to be processed, batch-edited and indexed with user-defined keyword fields. Electronic records that require updates and revisions are easy to locate and fully text searchable.
In the future, Graham C-Stores plans to increase revenue and build customer loyalty by creating a mass texting program. Customers that sign up would receive special deals via text and news alerts like when the price of gas is about to increase or decrease.
Competitive Challenges
Though Graham C-Stores has been growing in size and revenue, it faces competition that cuts into its revenue stream. It comes in the form of large supermarket chains with gas stations, called hypermarkets. These include Walmart, Costco and Sam's Club – which are known to offer cheaper gas prices.
"They are a threat," Mike Graham says. "But we are a family-owned company and I believe that shines through to the customer."
In observance of that, the company has been redefining its cost structures from a fuel-purchasing standpoint, refining its labor efficiencies and looking for new revenue streams, he says. However, Graham C-Stores holds at least one competitive edge over the large supermarket chains.
"We are much more convenient," Mike Graham says. "We are located on hard corners, making it easier to get in and out in a minute. The hypermarkets can't touch that."
Fueling the Mind
The mind needs fuel too – especially the young mind. That's why Graham C-Stores, along with another family business, Graham Enterprise Inc., created a scholarship program for graduating high school seniors in the greater Chicago area. Established in 2012, the "Fueling the Minds of the Future" scholarship has donated to the communities the two businesses serve.
Every year, 40 scholarships valued at $2,000 each are awarded. Applications can be picked up at Graham C-Store gas stations. Since 2012, Graham C-Stores and Graham Enterprise Inc. has raised more than $400,000 for the scholarship program by hosting the annual Tournament of Hope golf outing.
The event is known to raise $90,000 to $100,000 each year. It generally takes place in the summer and its participants include employees, vendors and customers. It usually features a celebrity guest. In 2017, that guest will be Tom Waddle, a former wide receiver for the Chicago Bears.
Currently in its 28th consecutive year, the golf outing also raises money for the Muscular Dystrophy Association along with various in-store customer donation programs. In the past 10 years, more than $10 million was raised, Graham says.
Aside from charity, Graham C-Stores also rewards its employees. It offers a profit-sharing retirement program for long-term employees. The company contributes between 7 to 15 percent of the employee's salary into an account that becomes fully vested after seven years of employment.