Emmy Awards Jewelry Trend Predictions From Leading Style Expert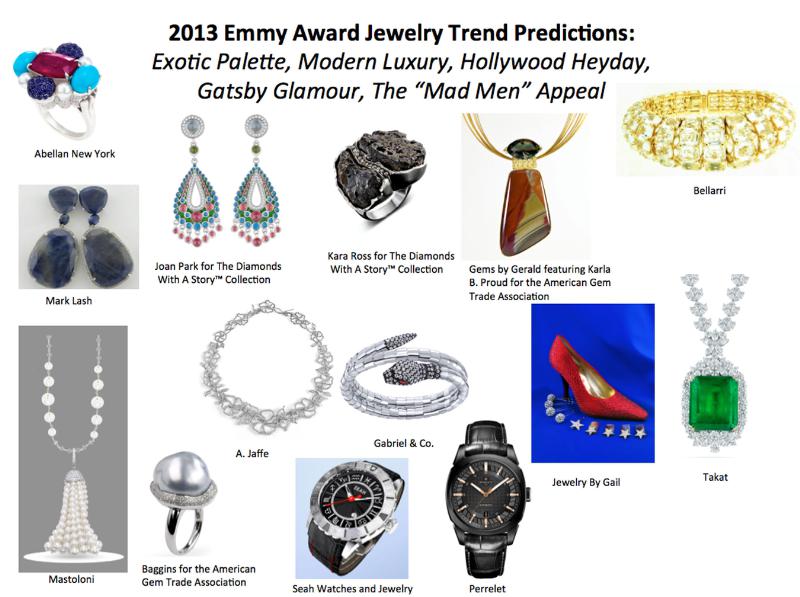 Sept. 16, 2013 – This week, Michael O'Connor – celebrity stylist and television personality – will host StyleLab's styling event for Emmy Award nominees, presenters and stylists at a private venue in Los Angeles. Every season, O'Connor curates a selection of one-of-a-kind jewelry pieces from world-renowned designers for celebrities to borrow for the red carpet. From colored gemstone earrings to exotic cuffs, O'Connor will accessorize Hollywood's leading stars with the most exquisite, highest quality jewelry.
This season O'Connor sees an overall fascination with more embellished styles featuring colored diamonds and precious gemstones – both modern and vintage designs. As the biggest television award show of the season quickly approaches, O'Connor offers the following trend predictions:
Exotic Palettes
We're seeing a variety of exotic gemstone colors and rare material mixes to create statement pieces. Jewelry designer Abellan New York is showcasing a ring with rubellite, turquoise, blue sapphires, pearls and diamonds. Designer Joan Park is featuring earrings with aquamarine, and green and pink tourmaline, priced at $3,000. This piece is part of The Diamonds With A Story Collection, which includes a grouping of designers who have expressed their design stories working with the variety of beautiful and natural shades from the Argyle diamond mine in Australia. The Collections are based across four viewpoints shared by consumers on what they want most in diamond jewelry; origin, sustainability, color and lifestyle. Another piece in The Diamonds With A Story Collection is from Kara Ross. She mixes parts of broken sidewalk concrete with diamonds to create a statement ring, priced at $2,130. The fashionable Heidi Klum would be a perfect fit for this ring.
Taking the concept of exotic palettes a step further, you will notice jewelry that is reminiscent of ancient times and far away lands. A necklace from Gems by Gerald featuring Karla B. Proud for the American Gem Trade Association (AGTA) is comprised of a 12-carat bi-color Oregon Sunstone and an imperial jasper cabochon, on a multi-strand chain, priced at $7,500.
Modern Luxury
Designers are also creating luxurious pieces with a sleek modern twist. The 114.94 carat white topaz cuff from Bellarri, priced at $21,780, takes the classic line-bracelet style to a whole new level. Canadian designer Mark Lash is showcasing drop earrings, priced at $5,580, that focus your attention on the lustrous 82.61 carats of sapphires and diamonds. The "Magnolia Flower" 10-carat diamond necklace from A. Jaffe, priced at $108,018, weaves floral design in a totally fresh way. Kerry Washington would turn heads in this necklace.
Hollywood Heyday
Hollywood Glamour will always remain a staple on the red carpet. Stackable cuffs with diamonds by Gabriel & Co., priced from $875, are ideal for celebrities who want to look polished without feeling "overdone". Celebrities are also obsessing over vintage pieces, including hair combs/pins once owned by Marilyn Monroe that are now part of the Jewelry By Gail collection, priced at $48,000. And, designer Takat is re-inventing the meaning of Hollywood glamour with an 108-carat emerald cut Columbian emerald necklace, featuring 72-carats of diamonds, priced at $3 million. The statuesque Sofia Vergara was born to wear these vintage types of designs.
Gatsby Glamour
"The Jazz Age" is swinging again! Designers are creating pieces that bring us back to the 1920's. Mastoloni introduced a signature black and white "Ice" necklace with cultured pearls and 30-carats of black and white diamonds, featuring a tassel of cultured pearls and white diamonds, priced at $10,500. AGTA designer Baggins shows a cocktail ring with natural color Akoya cultured pearls and diamonds, priced at $30,000. Michelle Dockery would evoke modern Gatsby glamour wearing these pearls.
The "Mad Men" Appeal
Don't forget about men on the red carpet, as they're quickly realizing that watches and jewelry make an important statement. Seah Watches and Jewelry launched "The Astronomer" timepiece, the only watch in the world that comes with the Greek Zodiac signs replacing the hours. It's priced at $600. The Perrelet "Double Peripheral Rotor" watch features a black dial and luminous hour-markers, on a black alligator strap with white stitching, priced at $8,550. We can already envision Jon Hamm and Aaron Paul wearing these styles.