Fathead Creates Iconic Images Of Pope Francis In Honor Of The 266th Pope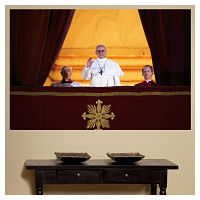 March 15, 2013 – Today, Fathead, the leading brand of officially licensed and custom wall graphics, announced the release of three Pope Francis Fathead murals. The photos in these one-of-a-kind collector's edition wall graphics were taken immediately upon the first sighting of Argentina's Cardinal Jorge Mario Bergoglio, now Pope Francis, on the balcony of St. Peter's Basilica in Vatican City. His appearance was the culmination of an exciting two day wait, where the papal conclave chose the 266th Pope during the meeting of the College of Cardinals.
"We have always stood by Fathead being all about what is passionate – For Real, and allowing people to bring their favorite inspiration to life," said Patrick McInnis, Chief Executive Officer of Fathead. "The process and pageantry of selecting a new Pope is extremely inspiring and we wanted to rush these amazing images to the international marketplace to allow Pope Francis followers and supporters the opportunity to truly celebrate with a special memento that was more than just a framed picture or small photograph."
Upon acquiring the initial images, Fathead began immediate production on three stunning 4×6 foot murals of Pope Francis' first St. Peter's Basilica balcony appearance as the world watched in wonder and cheered enthusiastically. These are no mere photographs, stickers, decals or posters – The Pope's REAL.BIG. Fathead wall murals are high definition images made of durable, high-grade vinyl that are tear and fade resistant. All Fatheads are removable, reusable and designed with a special adhesive backing that enables them to be moved from wall to wall with no damage to the surface. Along with the stunning main mural images, each mural includes a separate Pope Francis nameplate.
The Pope Francis wall graphics are available exclusively at Fathead.com along with more than 500 licensed brands and thousands of Fathead graphic products from Disney, Nickelodeon, Star Wars, WWE, Marvel and DC along with the NFL, MLB, NBA and many more popular brands.