By Janice Hoppe-Spiers
Brand licensing is a $270 billion-plus industry and growing that brings consumers the brands they love while being a true win-win business-to-business model. To be successful at brand licensing requires customer management and close coordination between partners because of the overwhelming amount of data shared amongst all parties.
In 2015, brand licensing professional and entrepreneur Kalle Törmä saw a need in the industry for much better tools that would enable licensors to have proactive control on how they steer their brands.
Flowhaven
was born one year later in Espoo, Finland, to help brands optimize their brand equities in licensing and scale their businesses globally.
"The idea behind Flowhaven was to respond to the real needs of brand owners and make it easily tailorable for licensors, agents and licensees to meet their needs and requirements," Törmä says. "In essence, I believe software needs to reflect the requirements of the business and not the other way around. Flowhaven was created to serve the commercial, creative and financial needs of all licensing stakeholders."
Designed to streamline the brand licensing journey, Flowhaven is a Salesforce-based software that covers all nurturing aspects of a licensing program from agreement management through to administration and optimization of financial performance. "We have a very different take on how to manage the licensing business and our focus is on a strategic program, having an easy to use software that is not about how but why," Törmä explains. "We give the brand owners and agents much better tools to be able to react to trends and to steer the brands in the direction they want."
The SaaS company's platform allows users to measure and see real-time business intelligence and manage the activity of each project throughout the journey. "Let's say you have a big deadline coming up to release a product line, you can look at the average time products in a category take to launch and manage resources much better to maximize the sales window," Törmä explains.
Constant Collaboration
Flowhaven has worked in close partnership with Rovio Entertainment since day one to develop its software tools. Prior to developing the software, Törmä worked in licensing at Rovio and was instrumental in the company's licensing sales, brand management and improving the overall operations and systems of the licensing business. "Kalle has good knowledge of the licensing process and worked with Rovio for a few years, which laid the foundation for him to develop a software for the industry," says Timo Pesola, head of operations and finance in Rovio's Brand Licensing Unit.
Rovio was already using Salesforce for leads and opportunities from potential licensees as Törmä was developing Flowhaven and expressed its desire to have the special parts of the licensing business to be included on the same platform. Flowhaven's tools include: agreement management, digital asset file sharing, design collaboration and royalty report management. "With Flowhaven built tools, we can bring new products faster to the market and as such maximize growth opportunities," Pesola says. "Being on the same platform with our agents and licensees gives us a lot of possibilities for a true collaboration in product design, approvals and reporting."
Salesforce has become the leading CRM platform for many industries, including licensing. With Flowhaven now easily accessible on Salesforce's AppExchange marketplace, it is another strong selling point for the company. "One key point for us was that we wanted to have a system software platform that is widely used, and Salesforce is the industry standard. People know it very well and the platform is developing well into the future," Pesola notes. "Using Salesforce-based Flowhaven helps our communication with licensees and our agents, and helps us build a tight community with our partners."
Building Relationships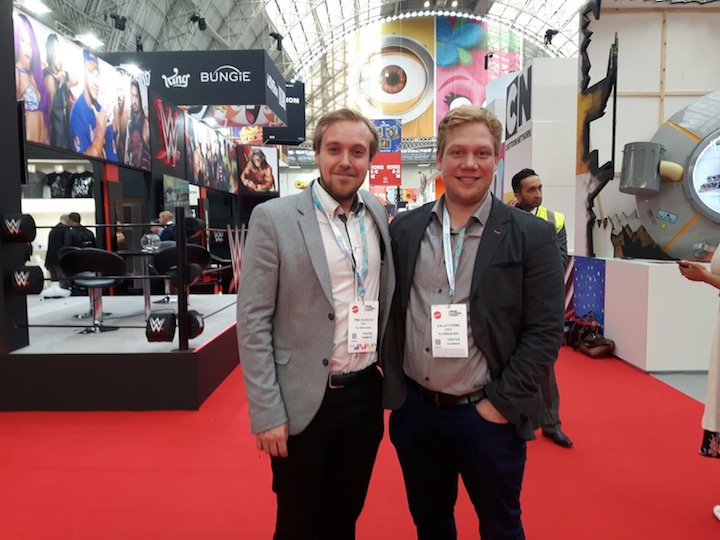 Flowhaven's ultimate goal is to provide a one-stop shop and single platform to serve all licensing needs with the most modern technologies available. The company continues to evolve to meet the industry's needs with clients like Rovio. "We are very thankful for the collaboration with Rovio who has been a long-term client from the very beginning," Törmä says. "It is very exciting for us to grow with them."
Flowhaven is used by licensors and licensees in about 200 countries and clients include a number of brands throughout Europe and most recently, the United States. U.S.-based Timbuktu Labs, bCreative Agency and Capezio all recently became clients of Flowhaven. The company opened an office in Los Angeles in March to better serve its North American partners and further expand its client list.
"Signing U.S. customers is a significant win for us. The U.S. is by far the biggest market in the industry," Törmä says. "In the licensing industry, which is based on personal relationships, references are everything and now we have excellent tools to increase our growth on the other side of the pond."
Staying on the Forefront
As the needs of brand licensing stakeholders continue to evolve, Flowhaven makes a conscious effort to stay on the forefront of innovation. The company plans to increase business intelligence capabilities later this year to truly measure licensing programs' success. "We are constantly developing new features in order to better service our partners," Pesola says. "We are currently building a tool for licensees and agents to support and help them collaborate with us in financial forecasting and again as a way to separate ourselves from the rest."
"The information we provide is about forming the right business decisions and there's no other platform that exists that does what we do," Törmä says. "We want to dig deeper into the power of analytics and transform the waylicensing programs are managed."