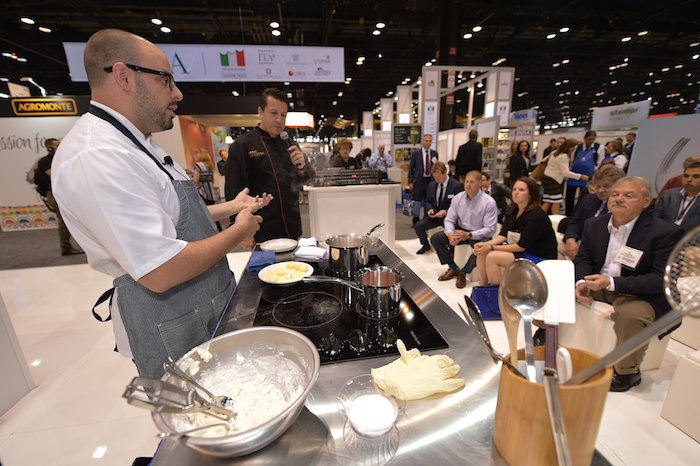 FMI Connect returns to Chicago's McCormick Place for its more than 12,500 attendees to experience trends and innovations in grocery retail.
By Stephanie Crets
Coming June 20-22 to Chicago's McCormick Place South Hall, the Food Marketing Institute will hold its annual show FMI Connect: the Global Food Retail Experience. More than 12,500 attendees will walk the show floor, visiting 400-plus exhibitors showcasing fresh and perishable products, packaged grocery, frozen products, retail technology, store equipment and design, health and lifestyle and corporate services.
This year, FMI Connect has several new events and products to showcase. One of the most notable will be its new campaign "Everyone to the Table." The industry platform is expected to explore all expects of the grocery business, especially the most profit-centric areas, such as fresh and prepared foods, private brands and health and lifestyle.
"'Everyone to the Table' has dual meaning – at a literal level, it depicts the end-goal for retailers and suppliers to provide the inspiration and products that enable people to gather for meals," says Margaret Core, vice president of marketing and industry events at FMI. "Figuratively, the proverbial table acts as a representation of what the event means for the industry – a platform for everyone to come together each year to prepare for the future and stay abreast of new efficiencies, trends, innovations and consumer engagement strategies."
FMI Connect has also evolved the annual Supermarket Chef Showdown to simply Supermarket Chefs, an intensive two-day immersion experience for top culinary professionals in food retail and their respective executive counterparts to build a mutual understanding of the business opportunities. "The goal of this revamped event is to bridge the natural divide in thinking and build stronger working relationships between two critical management roles in fresh prepared – chefs and sales leaders," Core says.
In addition, attendees will experience all angles of omnichannel during FMI Connect's all-new event called Pulse. FMI hopes the event provides actionable information and insights on leveraging technology to better service customers and increase profitability of the grocery retail business.
Returning to FMI Connect is the Technology Pavilion, which will highlight new technologies to help consumers and retailers address disrupters in everyday life and day-to-day operations. New this year is the Smart Label Pavilion showcasing companies who are well positioned to assist brand owners with digitally communicating all the things consumers want to know about the products they use and consume, or the wearable and useable technology that will be on display in the Tech Zone to improve.
"The speed of change has increased with diverse consumer culinary interests, dietary requirements, opportunities for fresh and prepared meals, demands on operational efficiencies, supply chain and of course, keeping and increasing customer loyalties," says Doug Baker, vice president of private brands and technology at FMI.
Attendees will have the opportunity to hear from top thinkers and leaders in professional development such as Steve Case, AOL co-founder and CEO of Revolution; Mario Batali, chef restaurateur and co-host of ABC's The Chew; Robert Irvine, chef and host, Food Network's Restaurant: Impossible; and Leslie G. Sarasin, president and CEO of FMI.
Plus, FMI Connect will continue to host Future Leaders @Connect, a leadership-focused program providing high-potential industry employees with supermarket-specific leadership skills and personal growth tools.
FMI Connect 2017 takes place June 13-15 in Chicago. For more information, visit www.fmiconnect.net.