Foot Locker Celebrates "Week of Greatness"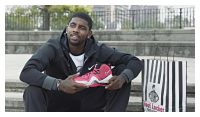 Nov. 19, 2013 – Foot Locker, Inc. unveiled today its newest national advertising spot to promote its "Approved" sneakers and gear this holiday season. The new commercial celebrates Foot Locker's annual "Week of Greatness" event—a week of the most anticipated sneaker and gear releases—and features some of the most legendary figures in professional sports.
The spot opens on pro basketball player Kyrie Irving expressing his excitement about this year's "Week of Greatness" and commenting that all is right in the world during this revered week. Reinforcing Kyrie's point, the spot then shows a number of iconic athletes and sports personalities revisiting their most notorious moments and making things right. Mike Tyson makes up with Evander Holyfield, Dennis Rodman buys a one-way ticket to North Korea, Brett Favre finally realizes when to bow out, and broadcaster Craig Sager burns his trademark tacky suits.
"We're thrilled to bring these legendary names together in one spot," says Stacy Cunningham, Executive Vice President for Foot Locker. "We wanted to showcase the magnitude of this special event with a star-studded cast of memorable sports figures to kick off this year's 'Week of Greatness' that offers an incredible assortment of premium product."
Foot Locker's 2013 "Week of Greatness" is the can't-miss shopping event of the year. Each day, Foot Locker will release a must-have sneaker and unveil the newest in "Approved" gear. For more information on the "Week of Greatness" releases from Nike, adidas, Jordan, and many others, visit the Foot Locker Launch Locator at unlocked.footlocker.com/launchlocator.
"I am excited to be a part of Foot Locker's 'Week of Greatness' for the second year in a row," says All-Star Point Guard Kyrie Irving. "This is one of the best weeks of the year to buy sneakers and gear, especially since 'all has been made right' by Foot Locker."
The commercial is part of Foot Locker's highly successful "Approved" marketing platform and can be seen at youtube.com/footlocker and on TV beginning November 21. The spot launches during a key selling season for Foot Locker, which offer everything from shoes, shirts, hats and hoodies to help complete this season's look.