Yamaha Launches New Web Experience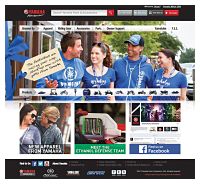 November 18, 2013 – Yamaha Motor Corporation U.S.A.'s Customer Support Group (CSG) unveiled its completely redesigned website, yamahapartsandaccessories.com, designed to enhance the Yamaha consumer experience by ensuring all Genuine Yamaha and Star accessories, apparel, gifts and parts that drive their Yamaha lifestyles are just a click away.
Owners and fans of Yamaha and Star Motorcycles; Yamaha ATV s, Side-by-Sides; and Yamaha snowmobiles, watercraft, golf cars and power products can explore the thousands of ways Yamaha helps maximize the ownership experience.
When CSG decided to evaluate its web presence and launch an optimization plan, it identified three primary goals:
Deliver a new, exciting look that matched the excitement of its products,
Increase website functionality and ease of use,
And create a web experience that appeals to both today's and tomorrow's Yamaha enthusiast.
The new site delivers a look and experience much like what consumers encounter when visiting a major retailer's site. Pages come alive with bold images depicting a variety of powersports lifestyles, and easy-to-use navigation and search bars ensure quick and easy browsing.
"I'm very proud of what we have been able to accomplish," said Frank Pittman, general manager of CSG. "We launched the new site on the heels of some significant Yamaha and Star introductions like the 2014 Bolt and Bolt R-Spec motorcycles, the 2014 Viking Side-by-Sides, the 2014 FZ-09 sport bike, the 2014 YZ250F and YZ450F motocross bikes, and the 2014 SR Viper snowmobiles."
Pittman added that while the new site has been launched, websites are "kind of like the Golden Gate Bridge. It's up and operational, but you're never really finished painting it." He promises fresh, up-to-date Genuine Yamaha accessories, apparel and parts information, accurate fitment data to ensure consumers find the right product for their Yamaha or Star, product and technical videos, news, service and maintenance information, and seasonal content tailored for each powersports or Yamaha product category.