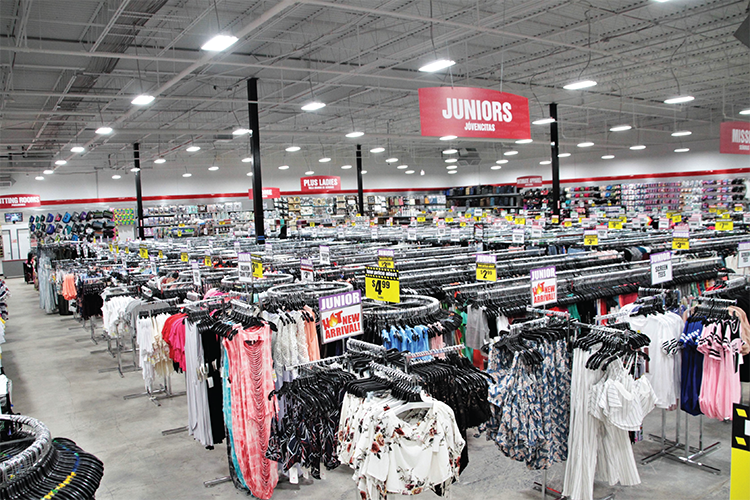 Rooted in the community
After withstanding the challenge of the pandemic, Forman Mills discusses the changing nature of its stores, the importance of capitalizing on new and upcoming trends, and its unique relationship with local communities
When Covid-19 hit the entire world in early 2020, the options for Forman Mills and so many others were few and far between. For almost three months, the company's stores, offices, and warehouses were all shut down for the pandemic. It wasn't until Black Friday that the company once again saw the entirety of its chain open and operational. Despite the challenge, however, Forman Mills regrouped. Against the odds, it ended 2020 with one of its strongest ever financial years.
How did we do it?" asks Mike Kvitko, President and CEO at Forman Mills. "We set to work, identifying what we needed to do to keep our staff and customers safe. We put protective measures in place: plexiglass and sanitizer at every register, new fitting room procedures, handling returned merchandise differently, sanitizing shopping carts and introducing a mask policy.
"It was a ton of work, but we did what needed to be done," Mike reflects. "With sites across multiple states, every location had its own unique set of challenges. We started discussing the kind of products we could stock to be classified as an essential retailer. Drawing on our contacts in the vendor world, we managed to get half a truck load per store of cleaning supplies, hand sanitizer, spray cleaner, wipes, bleach, masks, and we were fortunate enough to open some of our stores a few weeks ahead of schedule."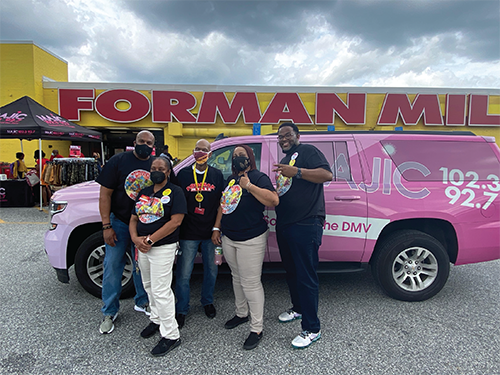 When the doors swung open for the first time, it was quite the occasion. "Our customers had gone months without a shopping experience," Mike says. "Restaurants were off-limits, there were no ball games or movie theaters open. But as soon as we re-opened, our customers came racing in."
It was a special moment for Forman Mills, because of the company's deep roots within the local community. "We go into neighborhoods where many retailers are fleeing, where consumers need us and we maintain a presence there," Mike points out. "That is what we did with our very first store, and it's where all our stores are located: close to home, within walking distance for our customers, in the areas in which they live.
"On top of that, we provide employment," Mike adds. "We have about 60 associates in each of our stores, each with families to support, pretty much all of whom had to be furloughed. They were relying on us to survive the pandemic and so having managed that is a huge relief."
To engage with its staff and customers throughout the shutdown, Forman Mills drew on the resources of its established SMS program. "With stores closed, communication with our store managers and team members was essential to keep them up to speed with what was going on," states Ryan Solleder, VP of Store Operations and Loss Prevention. "We tried to reassure our customers that we'd be back open as quickly as we could and that we'd continue to fulfil our essential role within each of our neighbourhoods."
The company has already seen the payback for its efforts. When social unrest gripped the US in May 2020, Forman Mills emerged relatively unscathed. "We've poured back into the communities that spend their hard-earned dollars with us," says Desiree Atkins, Director of Marketing at Forman Mills. "We provided essentials like cold weather gear and school supplies, and in return, we got a different kind of thank you; we got consumers that became our allies during some of the most difficult times."
It wasn't just customers that were rooting for Forman Mills, either. "Our vendors and landlords recognized that we were doing something good for our communities," Mike indicates. "With that in mind, they collaborated with us to find creative solutions to some of the problems we faced coming out of the shut-down. Every vendor and landlord situation was unique, and what was important was to get inside each other's heads, and to figure out how we could structure a win-win solution, together."
With retail now bouncing back strongly, Forman Mills is focused on doing what it does best, providing its customers with quality fashion at discount prices. "Our customers are very fashion-savvy," says Brian Lattman, Senior Vice President, General Merchandise and Manager. "It's our job to help them look good, at a price they can afford. Our mission, is to make sure we have the latest trends and brands in our stores at the right prices for our customers."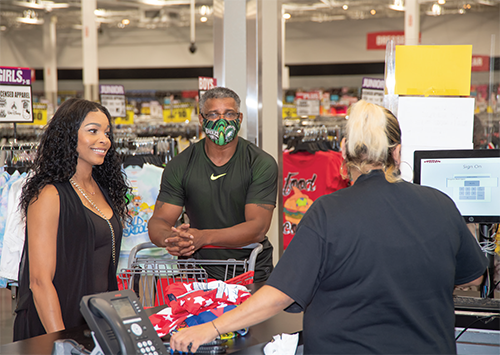 "Towards the end of June 2021, we did a tour of all our stores to thank our store teams for coming to work every day, and sticking with us throughout Covid-19," Mike remarks. "When we walked into our store in Maple Heights, Ohio, we found what was probably the most impressive ladies' department we'd come across. It looked phenomenal! All the fixtures were crisp, the trends were spot-on, and the outfits were perfectly merchandised together."
When he asked who was responsible for the display, Mike was introduced to a store associate named Annie. When he asked her how she was able to put the floor together so well, she had one answer, TikTok. "She'd been introduced to it by her daughter," he continues. "I go home each night and check TikTok, to see what people are talking about, and what the hot trends are. And I realized; we already have this stuff! So, I just put it on the front fixtures, and it sells like crazy!"
"When we walk on our selling floors today, it feels so different," Mike says. "Part of that is because the product has changed, but the experience has also changed. We've added hundreds of new four-way fixtures, to highlight all the great fashions. The lights are brighter, the floors are shiny, and it's less crowded, as we're running with a third less inventory per store than we were five years ago. Our customers have more space to shop, and the product is showcased in a way that's much more conducive to browsing."
"The whole customer experience has been taken to another level," Brian agrees. "It took a lot of strategy, discipline, and hard work from everyone on the team. Even now, it's constantly evolving."
It's not just Forman Mills that is changing – the company is also enjoying newfound success amongst female consumers. "For a long time, we were very male-focused," Brian concedes. "But actually, it's women who are the ones buying for the home, doing the shopping for their kids, or even their boyfriend, or their husband. By winning them over as a good place to shop for themselves, it's really increased the traffic.
"To do that, we focused first and foremost on giving them what they want," he explains. "In the past, we often approached things with a 'price, price, price' mentality, without necessarily thinking about the fashion. One of our biggest transformations has been adding new brands and licenses and investing in the right business, and we've seen that validated by our sales."
Forman Mills' SMS program led to the roll out the company's Forman Family Rewards Program. "The concept is simple: text JOIN to 50886," Desiree comments. "Customers are asked a couple of questions so we can localize our messages, and market to them directly. Then shoppers are invited to join our loyalty program, where they can take advantage of our member-exclusive-incentives and promotions. New customers receive an immediate discount, and a loyalty card, which can be saved in their digital wallets."
"This year, we are expanding that into a more traditional CRM program and building up our email base, so we can start to give people special gifts on their birthdays, or on anniversaries," Mike says. "It's a nice way to keep our customers engaged and wanting to come back."
With new stores opening in 2022, the future for Forman Mills looks bright. "After the lull of the pandemic, we're back on schedule to open three to five stores per year," Mike reveals. "We're opening three new locations in 2022, and we're also improving other stores as part of our remodeling program – one of the silver linings of surviving the social unrest in 2020, is applying those same remodel innovations to additional locations.
"For our employees, the fact that we're opening stores means there'll be even more opportunities to grow and advance," Mike concludes. "If you're a dedicated assistant manager in a Forman Mills store, you know that soon enough there will be an opportunity for growth to be a store manager, or even to work in our corporate office. We've recently seen one of our managers join us in a training and development role. It's great to see that progression, and to be able to channel that experience of what it's like to be in-store day-to-day."
"Our employees really are amazing, and we want that to be heard," Ryan confirms. "We know how valuable opportunities for advancement are, and we try to show our appreciation wherever we can."
https://formanmills.com/