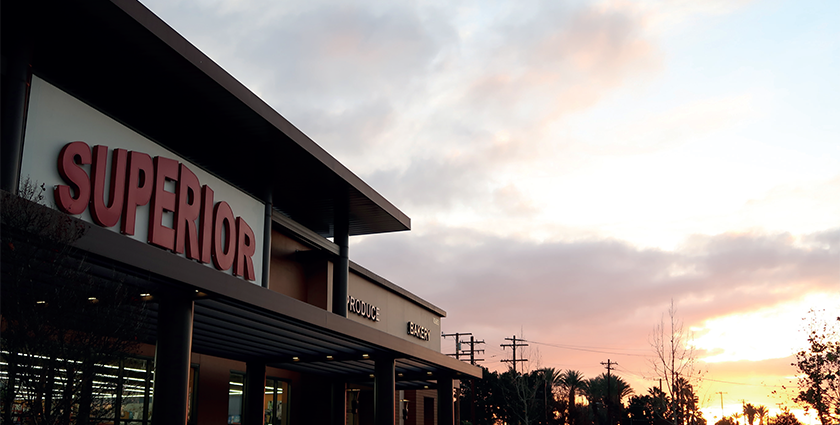 From humble beginnings to a California community – how Superior Grocers has become a cut above
Superior Grocers opened its first store in Covina, California in 1981. Since then, it has grown to encompass 70 stores throughout Los Angeles, San Bernardino, Riverside, Orange County, Ventura County and the outskirts of southern California. One of the largest independently-owned chains of grocery stores in southern California, Superior's philosophy is to offer the highest quality products at a value with exceptional customer service. Shoppers can always count on excellent quality, variety and value when shopping at Superior.
In addition to celebrating its 40th anniversary last year, in 2021, Superior's charismatic CEO and Founder, Mimi Song, was inducted into the Food Industry Hall of Fame. Executives and industry insiders said it is a well-deserved honor for Mimi, who as a young woman, in 1977, immigrated to Los Angeles from South Korea. From her first job as a cashier at a Korean grocery store in Los Angeles, Mimi founded Superior with a single former Smith's Food King store in a less than prime location. She came to the US with no experience of the industry but through hard work, dedication and determination, she and her team have grown the business to where it is today. Universally admired for her attitude, energy, work ethic and emphasis on teamwork, Mimi's attributes are reflected in the company's core values of integrity, service, passion and excellence, which have undoubtedly, helped to secure Superior's success.
Today's Superior team, headed by President, Rich Wardwell, alongside CFO, Blake Larson, VP of Marketing, Dale Nakata, VP of Grocery, Sally Hernandez, VP of Produce, Jon Holder, VP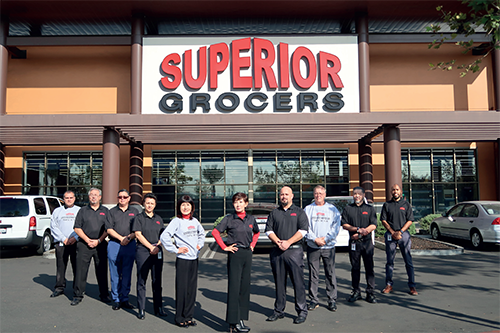 of Meat, Mari Mani, VP of Bakery & Hot Foods, Agustin Cabrera, VPs of Operations, Miguel Alarcon and Micheal Hilton, VP of Human Resources, Enrique Montes, VP of Distribution, Mark Harding, VP of Facilities & Construction, Leon Lopez, VP of Asset Protection, Darian Griffin and VP of IT, Bob Ing, continue to champion those values. As Rich says: "We are dedicated to building a community of loyal customers, vendors and staff where food shopping is fun and the spirit and love of family guide our actions."
Acquisition strategy
Superior is proud to have prospered in neighborhoods where others have tried and failed, and this success seems due to an inherent commitment to, and investment in, the communities it serves. Almost all of Superior's stores are in markets that serve the Hispanic community. As an immigrant, Mimi's special allegiance and responsibility to other immigrants is apparent in the way the business operates. Indeed, during the Los Angeles civil unrest in 1992, Superior stores were the only retail outlets that remained open and served the community. Mimi attributed this phenomenon to her deep commitment to the communities in which she operates.
In July this year, Superior announced that it acquired Numero Uno; an independent chain of 22 Hispanic retail grocery stores in southern California. This impressive acquisition has significantly contributed to the company's expansion. "We are excited to welcome the Numero Uno team and its customers to our company. This acquisition will strengthen our presence in southern California and reflects our continued commitment to growing the company to better serve our customers," says Rich.
With five new location sites currently under construction, Superior opened a new store in September and will open another one in November. As Rich expounds: "We will also be looking to advance our brand offering into neighboring states. Our goal is to be at 100 or more stores by 2025 and with the recent acquisition of Numero Uno, we are well on our way."
Superior takes great pride in the abundant variety of freshly prepared products found in its bakery, meat and seafood concessions. "We sell a wide assortment of products but mostly cater to the Hispanic communities in which we operate," explains Rich. "While we offer select products, such as grass-fed, choice beef and a variety of over 40 organic produce items, our power actually lies in our basics. With over 400 produce offerings, including a wide variety of service meat, seafood products and our popular in-house tortillas and chips along with a full-scratch bakery producing fresh pan dulce and cakes, our emphasis is always on delivering quality, variety and value.
"We are also continuing to add 'better for you' products to our offering as part of our commitment to improving the health of our communities." Indeed, Superior makes it easy to eat healthily by offering fresh produce, lean proteins and wholesome grains; all at affordable prices. A broad range of healthy food choices and education surrounding how to create and maintain a tasty, healthy diet are all part of how Superior contributes to the health and wellness of its customers. Community health fairs take place at all stores throughout the year. These events provide free health screenings and offer awareness and disease prevention education to empower customers to make the best nutritional choices and to keep communities thriving.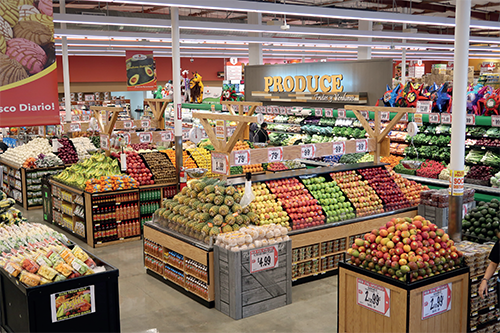 In addition to beautiful, spacious stores, filled with fresh foods, Superior also offers services to support the local community. One of Superior's core values is placing a high priority on exceptional customer service. That is why the business offers a range of services to satisfy its customers' additional needs. From utility bill payment processing and money transfer services to check cashing and ATMs, Superior takes the time to invest in its community and ensures that all people are served equally with care and respect.
Community support
Like many other businesses, Superior was heavily impacted by the Covid-19 pandemic. "We had to change the way we did business overnight," says Rich. "We had to meter people at the door, operate every other check stand, deploy six-feet social distancing at all service counters and we had to stop and sanitize surfaces every half an hour. In order to make sure our employees were safe, we put up barriers at service counters, rearranged break rooms, set up outside areas and hired companies to come in and regularly sanitize the stores. All self-service areas had to be manned in order to meet the customers' needs and we changed operating hours to service the elderly in our communities."
As Rich goes on to discuss: "We have always been focused on service and the delivery of a frictionless shopping experience. While our stores boast self-checkouts, in-stock conditions and full-service specialty departments, we obviously had to pivot drastically to be able to meet the needs of our communities during that incredibly difficult time."
Shared values
Furthermore, as Rich continues: "We feel we will continue to grow as the go to place in the communities we serve. There is nothing more important to us than the people that serve at our stores and the customers that allow us and trust us to serve them. We treat each other as we would like to be treated ourselves."
Superior knows that a community is strongest when it builds from within and the organization wholeheartedly believes that children are the future. That is why Superior's non-profit organization, Community Re-Engineering Inc. was established in 1995. The Superior foundation helps fund local youth programs that make communities thrive. Proceeds totalling over $3.5 million dollars from the annual golf tournament under the non-profit organization have been distributed to local youth programs and schools. The organization's vendor partners have been instrumental in helping Superior to achieve this goal through their generous support and participation. From the California Grocers Association Educational Foundation to City of Hope, numerous partner organizations have received Superior's support and share in its values of providing exceptional education and health programs.
True partnerships
Rich goes on to explain that Superior gives back to the local community through its education and arts foundation. "Most recently, we provided a local school with backpacks for all the children. We also offer scholarships through the Western Association of Food Chains and the California Grocers Association.
"Additionally, we are proud to support our employees by providing educational support; an example being the opportunity to earn a retail management certificate from Cerritos College. We also just completed our Inaugural English at Work program. This program aims to help our employees in their everyday lives by providing them with a laptop and the educational provision of English classes. We understand that a job is about more than just a pay check; it's about respect, recognition, professional growth, and the ability to provide for loved ones. We're committed to providing career development opportunities in addition to competitive wages and a comprehensive benefits package."
At Retail Merchandiser, we get the sense that working at Superior is about joining a family of people, committed to excellence. We begin to understand that people are Superior's foundation. Mimi's visionary leadership enables Superior's management, employees, customers and vendor partners to work together and create true partnerships in their southern California communities.