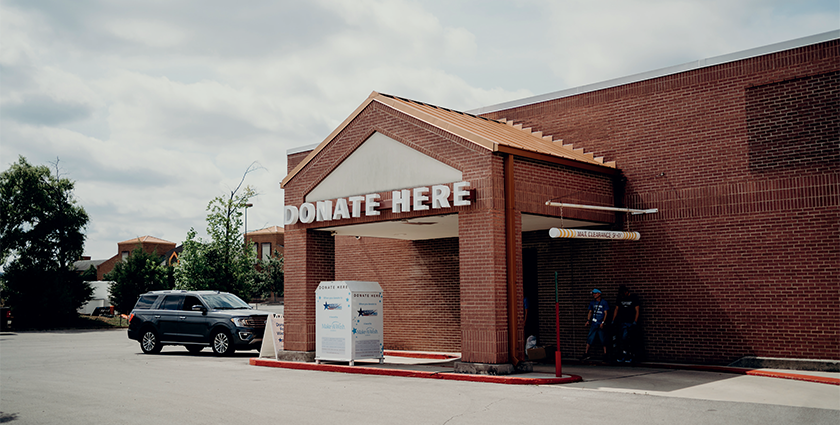 The story of America's Thrift Stores, and why secondhand retail is becoming customers' first port-of-call
It's been a busy year at America's Thrift Stores (America's Thrift). Having closed for much of the first half of 2020, the popular chain finished reopening its doors towards the end of June of that year, and immediately set to work making up for lost time. As part of a pioneering set of so-called 'phoenix projects' (as in, rising from the ashes) the company launched its 'Bright and Fresh' program of store renovations, intended to revamp the look and feel of its 17 original stores, and replicate its seven new stores.
"We began systematically painting the storefronts, the walls, hanging new signage, stripping and waxing the floors," recalls Ken Sobaski, President and CEO of America's Thrift. At the time of our interview, the company had successfully renovated all but one of those original stores, with the outstanding location to be completed in the coming months. As Ken adds: "It's all about making the shopping experience better."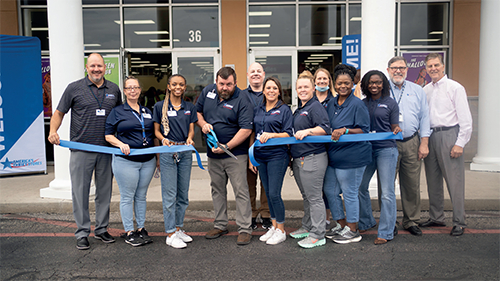 When it comes to experience, there are few companies that can match the retail veteran when it comes to knowing and understanding their customers. "What America's Thrift customers look for is a combination of value and variety," Ken explains. "With that in mind, we've made it our mission to deliver a 'New Store Every Day', which is our brand tagline. We do this by growing our donations, and getting those into stores on a consistent basis. As a result, shoppers know that if a product isn't here today, it may well be here tomorrow, or the day after. More than half of our customers shop at Thrift at least once per week, and a quarter of our customers shop between two and four times per week. It's that rhythm which has allowed us to be so successful."
It's difficult to argue with the numbers. According to Ken, the end of June 2022 saw America's Thrift achieve existing store sales growth for the 20th quarter out of the last 22, with the only anomalies falling within the Covid-19 lockdown. It's the equivalent of almost five years of quarter-after-quarter existing store sales growth. In 2021 alone, 16 of the company's original 17 stores achieved record sales levels, with similar results expected for 2022. Now, the focus is on taking America's Thrift into a new era.
"We're on a nice run, enjoying a strong tailwind," Ken comments. "By the end of 2022, we expect to have expanded to 25 stores. That'll be our eighth new store opening going back to September 2019. Prior to that, we hadn't opened a store since January 2013, so it definitely signals a step change in the business, and follows our decision in 2015 to bring in a 20-plus year thrift store expert, Sean Minnick, our COO, who was tasked with modernizing our processes to be more efficient and scalable.
"We're now in the midst of investigating new technology," he adds. "We expect to install self-checkouts at four of our stores by the end of the year, we're exploring ways to automate the processing of books and digital media, and we're looking at the possibility of expanding into a centralized processing site for the pre-sorting and possible pricing of items prior to their distribution into individual stores. Beyond that, one goal is to become more productive with how we collect donations, utilizing new technologies to measure how full our donation bins are prior to collection, routing our trucks to the bins that are full, and giving our drivers the ability to monitor and respond to that information in real time."
But it's not all about in-store. As of 2022, a large portion of the retail sector has moved online, as part of a trend that was accelerated by the Covid-19 pandemic. It's a new challenge for many thrift stores, for whom business has traditionally relied upon in-store interactions. But it's one for which America's Thrift is well prepared.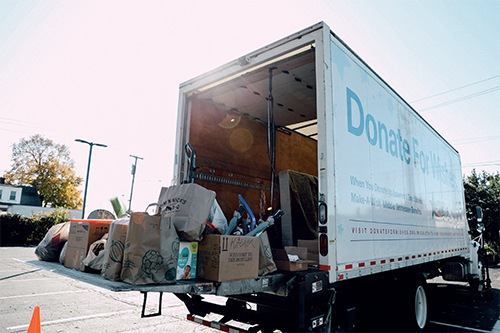 "A lot of people don't realize that secondhand goods have a long history when it comes to online shopping," Ken points out. "Over 20 years ago, goodwill.com was founded in Orange County, California, and has been online with nearly 100 chapters for a number of years, but simply hasn't attracted the attention of investors or the media in the way that recent startups have, such as ThredUp or Poshmark. Nevertheless, when we look at our growth, we know that we need to attract more Gen-Z customers. Developing our online presence is key to that."
America's Thrift's expanded online business encompasses two sites: shopATS.com, a business-to-consumer site embedded within eBay for the selling of secondhand goods; and America's Thrift Supply, through which the company supplies mystery boxes and micro-bales to resellers, who then in turn sell them to consumers either online or in-store. But these new platforms aren't just driving growth for America's Thrift; they're also reshaping the company's primary product lines.
"Online gives us an opportunity to sell items that don't necessarily sell in-store, and to sell those items at a premium," Ken explains. "Those items include jewelry, video games, collectibles, unique branded goods, collectors' t-shirts, and more. This also benefits us from a recycling standpoint because it means fewer leftover items end up in landfill. The same goes for America's Thrift Supply – it's all about making the most of our supply. The next step will then be to seek out more online marketplaces in order to further develop our reach and spread brand awareness among online customers."
For Ken, the alignment of thrift store activities with sustainability goals is a fact that often goes overlooked. "It's our mission 'To Give Back'," he insists. "Not only do we achieve that by enabling shoppers to outfit their families at better values, but we make nearly $3 million in charitable contributions per year, and continue to create around 300 jobs a year with the opening of new stores. Perhaps most significantly, however, is that we do all that by keeping around 40 million lbs of clothes out of landfill each year, which is precisely what would happen if donations weren't sold in America's Thrift stores or passed onto our reselling partners.
"In January 2022, our business entered into new ownership for the first time in almost ten years, following our purchase by private equity firm TZP Group," he goes on. "It's a purchase that was made partially because they recognized the sustainability credentials of our business, and believed it was a good investment to make. As an ever-growing number of customers begin to place emphasis on such credentials, we're confident that it's set to be a major driving force for the business in the years to come."
It's been a big few years for the secondhand goods market, and Ken expects the good times to continue. "Today, the sheer number of people who are selling secondhand goods online is overwhelming," he admits. "Added to that, one of the impacts of inflation, rising interest rates, and general economic uncertainty, is that there's a supply of donations headwind: people move less, people shop less, and those are the conditions that trigger a higher volume of donations. To continue to supply our stores and online businesses we have to expand our donation geographic presence even further into more new markets if we're to capitalize on that, and keep driving our market share. That's the thinking behind the majority of our investments.
"Before the end of 2022, we'll definitely have opened another new store, with a second and third to be opened in Q1 of 2023," he concludes. "Longer term, we hope to expand our donation presence into states where we don't yet have a full presence, including Tennessee, central Georgia, and others. These are locations where we've got one foot in the water, but don't yet have the network in place needed to fulfil our vision of having around 50 stores within the next five years, and growing our online sales to above $10 million in revenue. That's our goal, and we remain focused on achieving it."