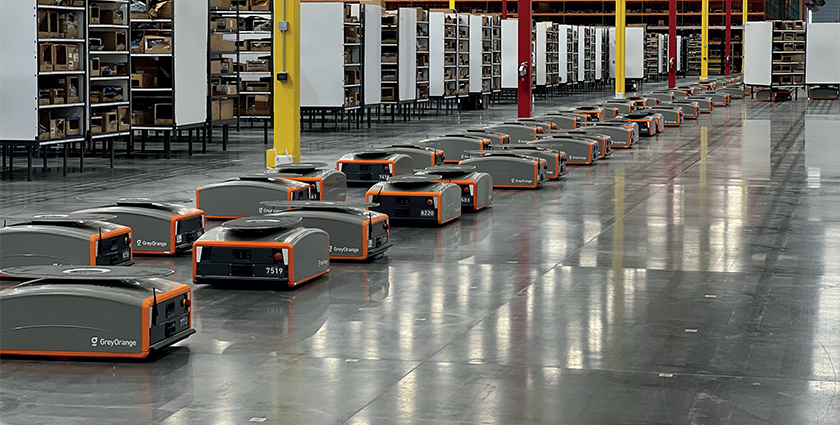 Home to a number of iconic brands, fashion retailer Abercrombie & Fitch Co. is optimizing its supply chain operations in order to deliver a future-fit shopping experience
Abercrombie & Fitch Co. has gone through many chapters during its 130-year history. The iconic high-street fashion retailer was founded in 1892 as an outdoor specialty retailer, carrying high-quality camping, fishing, and hunting gear, and is proud to have outfitted famous names, including Theodore Roosevelt, John F. Kennedy, and Amelia Earhart. Fast-forward to the present day, and it's evolved into a global omni-channel retailer, operating a total of five brands: its namesake Abercrombie & Fitch, along with Hollister, Gilly Hicks, Social Tourist, and abercrombie kids.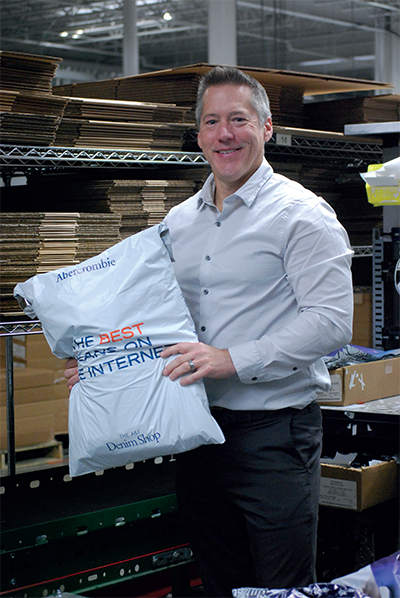 But not everything changes. Then, as now, Abercrombie prides itself on two commitments: to quality, and to its customers. "We honor our lineage," says Larry Grischow, Executive Vice President of Supply Chain at Abercrombie. "One of the things that sets our family of brands apart is that we're rooted in purpose. We're there for our customers, on their journeys to being and becoming who they are throughout their various life stages." It's a mindset that will ring true for those familiar with Abercrombie's brands. Hollister, for instance, targeted towards teenagers across the globe, promotes the concept of an 'endless summer'.
"Another key is that we know our customers, and know them deeply," Larry adds. "At every touchpoint throughout their shopping journey, we make it about them. We meet them where they are, know how they want to shop, how they want their products delivered, returned, and more."
This insight is key, at a time when there are more question marks around supply chains than ever before. "With Covid-19, we've certainly had our share of challenges," Larry admits. "To navigate those, it requires a robust network of partners, through which we can leverage our complementary strengths to ultimately deliver to our customers. For instance, we worked with the supply chain experts from North Highland to help us reimagine our distribution network, with the aim of positioning inventory closer to customers and to meet their needs, accounting for the massive e-commerce acceleration since the pandemic began."
For Abercrombie and its family of brands, the aim is to provide customers with a future-fit supply chain – as Larry puts it, one that is "digitally enabled, automated, and self-healing." He continues: "We're always focused on driving efficiency and reducing cycle times. Over this past year, we've implemented a highly automated fulfilment center in Phoenix, Arizona, designed to increase e-commerce capacity in a way that places less dependency on labor, something that has become a significant challenge throughout the pandemic."
The company is also investing across its other facilities, installing the latest material handling equipment within the largest of its e-commerce fulfilment centers, to drive efficiency throughout the packing process. "Automation doesn't stop with the physical facilities, either," Larry points out. "One initiative we're really excited about, and one that we've seen good traction around, is robotic process automation. We're leveraging that technology, taking some of the necessary but repetitive and mundane tasks, and creating robots to complete them. That in turn frees up our workforce, who can focus solely on delivering for our customers."
At the moment, one of the biggest areas of exploration for Abercrombie is digitization. "We live in a digital world, and our target customers have grown up in that world," Larry reflects. "So, we need to lean into that. From a supply chain perspective, we're always trying to improve visibility, upstream and downstream, using that information to make faster, better decisions. That means trying to create a digital twin for every physical movement in the supply chain and capturing external signals – such as public health data – that can shape our decision-making.
"Likewise, we need to consider how to utilize data in a more meaningful way to improve the customer experience and drive efficiency," Larry explains. "Again, that's about leveraging our partnerships with those who are great at what they do. In this instance, we partnered with Green Mountain Technologies (GMT) to craft our final mile delivery strategy, and then optimize it from a service and cost standpoint.
"To apply that to our current climate, we saw during the pandemic how everybody shifted from bricks to clicks, which then placed extreme pressure on final-mile capacity," Larry goes on. "Parcel carriers were capping volume, while there were also pockets of capacity that we could go after. GMT helped us optimize our carrier allocations in order to hit our delivery objectives. Consequently, we were able to pivot to regional carriers earlier than many other retailers, and secure capacity ahead of time. That allowed us to diversify at a greater pace than the rest of the market."
With the closure of physical stores for a period of time in early 2020, the shift of consumers spending online is an industry-wide phenomenon. As Larry notes, e-commerce sat at approximately a third of Abercrombie's revenue pre-pandemic. Now, it accounts for around half – with the potential to rise yet further.
"I don't think anybody really knows how e-commerce penetration will change over the next few years," Larry states. "Currently, we're seeing a significant shift back to stores, with the
balance between in-store and online beginning to stabilize. However, those figures are different by brand: e-commerce penetration is higher in our adult brands than it is in Hollister, which reflects how those target customers shop.
"Depending on how the next generation of teenagers shop, we need to be prepared to flex," he insists. "As a team, we've completely changed our people, processes and tools across the organization to lean into this, organizing ourselves in an agile fashion around the customer journey. For instance, we have a team that's solely focused on the checkout experience, whether you're in stores or online, and how we optimize that experience. Our supply chain team then works with our agile squads to make sure we're delivering fulfillment capabilities that 'wow' our customers."
This dialogue between customer experience and fulfillment has been essential in the rollout of Abercrombie's latest offering: same-day shipping from stores. "We have a test and learn methodology, and it's an initiative that performed really well with our test markets," Larry says. "Clearly, we have a subset of customers who have a need for this service, and now it's available from virtually all our stores in North America, as well as stores in the UK."
As an industry leader when it comes to rolling out omnichannel offerings, Abercrombie was no stranger to the challenges of such an initiative, and was able to draw on its experience to identify the optimum service for its customers. "It's a fairly noisy market in terms of same-day delivery service providers," he continues. "We wanted to make sure that we had the flexibility to plug-in-and-play based on what's best for our customers in a certain market. To achieve that, we engaged a middleware software provider that gave us that flexibility. Then, we were able to update our operating protocols throughout our stores and select the right same-day courier for each market."
Turning to the future of the fashion industry, one idea above all is set to shape the years ahead: sustainability. More than just a buzzword, however – it's a concept that Abercrombie has embedded throughout its operations for more than two decades, with the view to reducing its environmental impact. In 2019, the company entered into the United Nations Global Compact, the world's largest corporate citizenship and sustainability initiative, and with that, announced a series of sustainability targets for 2025. These include the responsible sourcing of materials, a water consumption reduction of 30 percent in the production of its denim by 2022, and a pledge to collaborate with vendor partners on training programs, including human trafficking prevention and health and wellbeing.
One such partner is ThredUp. A self-described 'online consignment & thrift store', the platform provides consumers with an opportunity to resell their unwanted clothes. "As part of our commitment to quality, we try to ensure that our products can enjoy a long life," Larry explains. "Whether it's our garments or others', ThredUp allows you to clean out your closet, introduce your clothes to the re-commerce market, and be rewarded. We're encouraging our customers to participate in that circular economy."
It's an exciting time for Abercrombie. As part of its recently announced three-year 'Always Forward' plan, the company has ambitions to achieve revenues in excess of $4 billion, driven in part by the acceleration of its digital revolution. Within that, supply chain is key.
"On the resiliency front, we were already on a path of diversifying our supply chain prior to the pandemic," Larry notes. "With the help of partners including Century, Expeditors, EFL, and RCS, we've segmented our inbound supply chain by product, all the way from source to a customer's front door or store. Accordingly, when we have products in high demand from our customers, we're able to leverage services that have a higher probability of delivery certainty within a shorter timeframe, in order to move those products through the chain. That's a massive data exercise, and it requires considerable communication and market orchestration to pull it off.
"Long term, our goal is to grow to a $5 billion top line across our family of brands," Larry concludes. "To do that, we need to continue to listen to our customers, to know them better than the competition, and to give them the best experience.