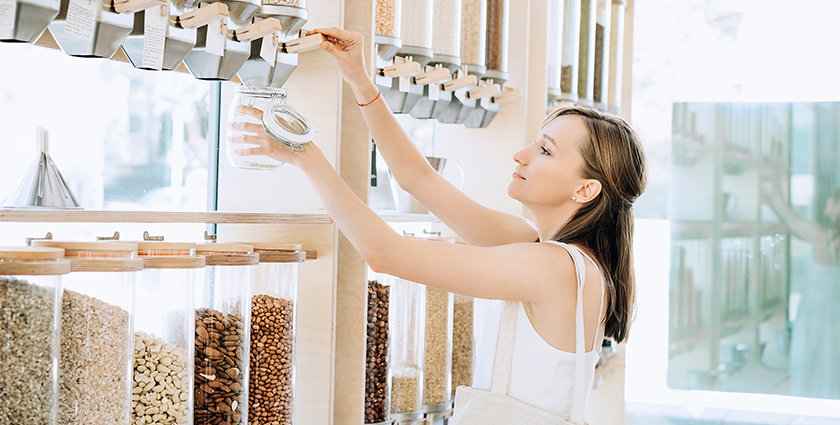 Today, consumer enthusiasm for packaging-free and refillable options continues to grow, with a recent report from Drapers finding 64 percent of Brits are more likely to buy from retailers that provide sustainable packaging, and 50 percent of the consumers are willing to pay more for sustainable packaging and delivery. And yet, the wide adoption of refills and dispensing models continues to present significant challenges.
Firstly, the customer experience on sustainable purchase models comes with a significant shift in influencing power. Who is pushing who to do the right thing? Is it the retailer, the brand or the customer?
Secondly, and perhaps more importantly, consumer brands have used packaging as a differentiator for decades, spending millions on branding, logos and stand out designs. If packaging is going to be reduced, or disposed of altogether, how can these brands assert their presence in shops and drive customer loyalty?
Lastly, the rise of online shopping during the pandemic also opens up new challenges around transportation, the functional requirements of packaging and its sustainable credentials.
The how and where of the experience
To understand the broader challenge in refills and dispensing, the categorization by the Ellen MacArthur Foundation, leaders in circular economy practices, is a good place to start. By considering the methods of delivery – 'on the go' or 'at home' – and expected consumer behaviors – 'return' or 'refill', we can begin to understand how sustainable purchase choices might fit into our everyday lives, and their limitations:
Refill on the go, where you fill up your water bottle, washing up liquid, coffee grounds etc. from a dispensing point. Waitrose's 'Unpacked' offering falls into this category.
Return on the go, where you drop off your previously purchased product at a designated point for recycling – such as SodaStream canisters.
Refill at home, where you receive a new product at home to refill your container, often transferring product from lightweight temporary packaging to a more practical and sturdier dispenser.
Return from home, where products are picked up and dropped off at your doorstep, the milkman being a good, old-fashioned example.
Across all those categories, the product and service experience must successfully meet the needs of consumers, brands and retailers alike. But unfortunately, those needs are not always aligned.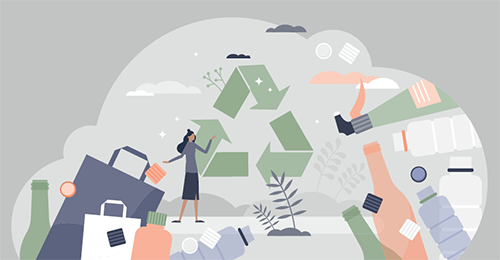 During our research at PDD, we have identified that, when it comes to refills and dispensing units, consumers tend to prioritize convenience, sustainability and hygiene standards. Brands on the other hand, tend to focus on visual branding and presentation and want to control the customer experience and reduce any risk of contamination. For retailers, reputation and sustainability credentials come first, as well their ambition to get customers to return to their physical or virtual stores for repeat purchases.
A point of no return?
Collaboration is key here. Brands, retailers and manufacturers need to work together to accept the inherent limitations of the existing refill and dispensing models and use those constraints to develop new, more holistic people-centered solutions.
From a brand perspective, refilling at home offers excellent opportunities for innovation – the brand has a direct relationship with the consumer and control over delivery and presentation. On the other hand, it is difficult to keep the carbon footprint low because of the need for postage and temporary packaging.
Despite their best intentions, many consumer brands still struggle to define what a sustainable, convenient refill or dispensing experience is, particularly when the broader supply chain elements are taken into consideration.
'Refilling-on-the-go', say, at your local supermarket presents a tangible conundrum. If consumers have the responsibility of cleaning containers themselves and fail to clean it properly, refill it with a beverage from a retailer and fall ill, the vendor might be held liable. Refilling stations were starting to appear in UK supermarkets before the pandemic, but the risk of infection from shared interfaces meant that plenty of these initiatives were paused. Even without considering such concerns, retailers would still be responsible for the maintenance, cleaning and presentation of these stations which can easily become messy or be mishandled by customers. This creates a tension with brands who lose control over customer experience and find their opportunities for aesthetic control reduced, presenting a challenge to brand differentiation.
A richer experience
At a time when consumers are painfully aware of the impact of human activity on the climate and the environment, the pressure to provide a genuinely sustainable solution is mounting. However, if sustainability is going to succeed in the long term, those solutions must also be appealing and desirable.
Refillables and dispensing present a fabulous opportunity for experience enrichment and customization. Wild deodorant, for example, offers an array of nine scents including limited edition options. Perso, a 'soon-to-hit-the-market' initiative from L'Oreal, is an AI-powered home system that customizes a user's skincare, lipstick and foundation and results in a fully personalized experience. Brands should take note that an exciting level of personalization is possible by formulating a base product and layering desired add-ons on top, giving people the chance to make the product 'theirs'.
In rapidly changing landscapes, such as we are experiencing now, significant opportunities in refills and dispensing exist for those willing to try out new things. Our historic understanding of consumer priorities and habits no longer applies, and we need to be prepared to imagine new products and services through research, scrutiny, and testing.
Brands looking to take the lead in this area need to step back, think bigger and consider all facets of the product lifecycle for consumers, manufacturers, distributors and retailers. If, as innovators, we are to transform the way people shop and drive more sustainable behaviors around refills and dispensing, we need to 'unthink' and deconstruct how we look at everyday consumer products and experiences.
To succeed, we need to embrace a holistic, human-centered design approach and adopt a future-thinking mindset, with integrated, personalized experiences that support sustainable consumer behaviors not just now, but years into the future.
Jamie Buckley
Jamie Buckley is creative director at PDD, a leading innovation consultancy that creates products and experiences that enhance businesses and improve people's lives. With a unique multi-disciplinary approach which is rooted in Human Centered Design, PDD helps customers in the healthcare and consumer industries achieve commercial and creative success. Clients include some of the world's leading healthcare and consumer companies Beckton Dickinson (BD), Novartis, Samsung and Nestlé and influential startups like AWAK and Trojan Energy.
www.pddinnovation.com