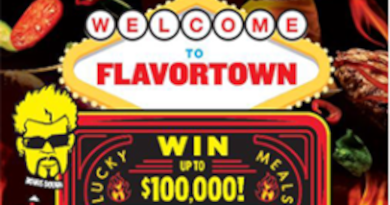 Guy Fieri brings players to Flavortown as he joins licensed game portfolio
Chef, restaurateur, and New York Times bestselling author Guy Fieri is truly one of a kind. He is globally adored for his love of food and his deep appreciation for the hardworking people in the restaurant industry, and, in 2019, the dynamic TV show host received a coveted star on the celebrated Hollywood Walk of Fame. Additionally, Guy and his team at Knuckle Sandwich, LLC have created a thriving food and beverage empire. His most recent creation is Flavortown Kitchen, a 175-location delivery-only restaurant brand, which offers Guy's real-deal flavors to complement his 80+ scratch kitchen restaurant concepts worldwide.
In February of 2022, the Mayor of Flavortown made his first-ever half-time commercial appearance during Super Bowl LVI, which had an estimated audience of over 208 million viewers and helped to propel his popularity to new heights. With his signature style and over 6.6 million followers across various social media platforms, Guy Fieri has established a wholesome brand that prioritizes food, fun, and philanthropy, providing an excellent fit with the lottery industry, and instant tickets, in particular.
"Pollard Banknote strives to deliver entertaining, exciting, and diverse brands to our lottery clients, and we are confident that the endless possibilities presented by Guy Fieri instant tickets, in terms of both art design and prizing, will be well received," said Brad Thompson, Vice President, Sales & Marketing, Pollard Banknote. "Guy Fieri's instantly recognizable persona, coupled with his extensive philanthropic endeavours, align well with lotteries looking to launch dynamic new instant tickets that will boost returns to good causes."
To support strong sales and engagement, Pollard Banknote's Licensed Games team offers lotteries a comprehensive turnkey program that includes the design, programming, and printing of themed tickets, as well as various optional enhancements such as second chance draws, merchandise prizing, experiential prizing, POS programs, and digital marketing.