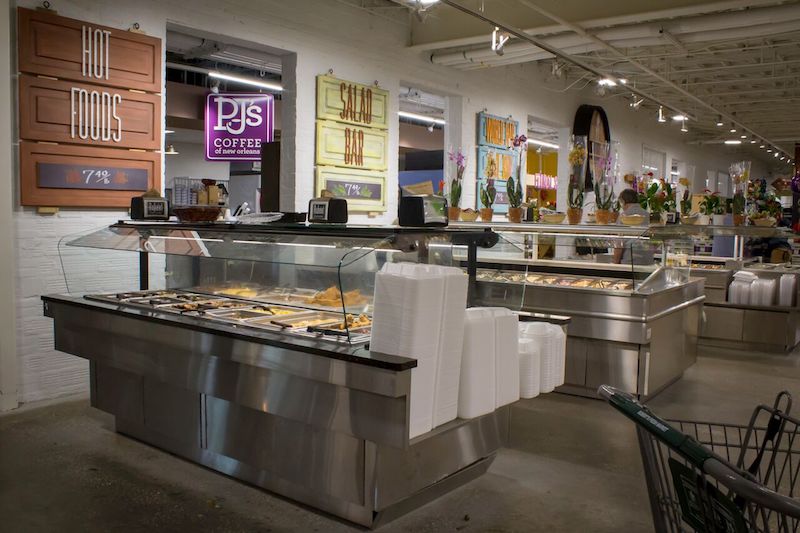 Robert Fresh Market reinvents itself and focuses on its local market.
By Kat Zeman, Senior Editor at Knighthouse Media
Like chameleons, Robert Fresh Market grocery stores are proficient at blending in with the neighborhoods in which they operate. Their adaptability to local culture – as well as offering a variety of fresh produce, prime cuts of meat, fresh-prepared foods and unique gourmet items – sets them apart from their competitors.
Operating six stores in southern Louisiana, the company embraces diversity, variety and locally sourced products. "We are local, family-owned and well known in the community," owner and General Manager Marc L. Robert says. "We offer high-quality products, but we have a better relationship with local farmers and fishermen than most of our competitors. That allows us to carry more local foods." The full-service grocery chain operates three stores in New Orleans, one in Baton Rouge and another in Metairie under the Robert Fresh Market brand. In 2011, it opened a Lakeview Grocery in New Orleans.
Local Flavor
In March, the company celebrated the grand reopening of its renovated 27,000-square-foot Robert Fresh Market in the Faubourg Marigny and Bywater neighborhoods of New Orleans. Both the décor and product offerings have been tailored to reflect the style and needs of those communities. "That store is a historic landmark," Robert says. "We focused the décor and cultural scene of New Orleans. It's in a fun and eclectic neighborhood."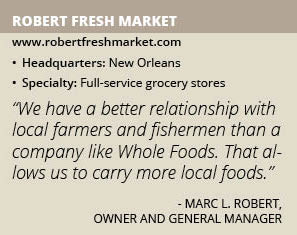 In addition to an extensive selection of groceries, produce, meat and seafood, the store features a bakery, fresh sushi, salad bar, world foods bar, fresh squeezed juice bar, a pizza oven, a sandwich bar, hot food bar, barbecue venue and fine wines. "We localize each of our stores to their neighborhood," Robert says. "We cater to that neighborhood and give them what they need. In family-orientated neighborhoods, we focus on kid-friendly and healthy foods. Some of our other stores, like the one next to Tulane University, focuses more on categories like imported cheeses, French wines and craft beer."
Katrina's Wrath
For those that didn't feel it hit, Hurricane Katrina is a distant memory. But those that experienced it will never forget Katrina's wrath. All six of Robert Fresh Market grocery stores were either totally destroyed or severely damaged when Katrina plowed through the area in 2005, causing billions of dollars in property damages and taking hundreds of local lives. It took the company more than a decade to fully recover.
"We were rubbing pennies together and trying to get these stores back up," Robert says. The new Marigny/Bywater store is the last of its six stores to reopen since 2005. "We lost our stores and we lost our homes," Robert says. "Our stores sustained about $25 million in damages, but the insurance company cut us a check for only a small fraction of what was due."
After a five-year legal battle with the insurance company, Robert Fresh Market finally received its money and was able to rebuild. One reason the company is well-liked in its communities is the spirit it showed during those tough times. Robert Fresh Market reopened its first store a few months after the hurricane hit. "Even though it didn't make sense businesswise, we kept all of our management on staff and placed them into that one store."
One by one, the company reopened its stores. "By reopening our stores, we were one of the key things that helped bring these neighborhoods back," he adds. "People started moving back into these neighborhoods and back into New Orleans."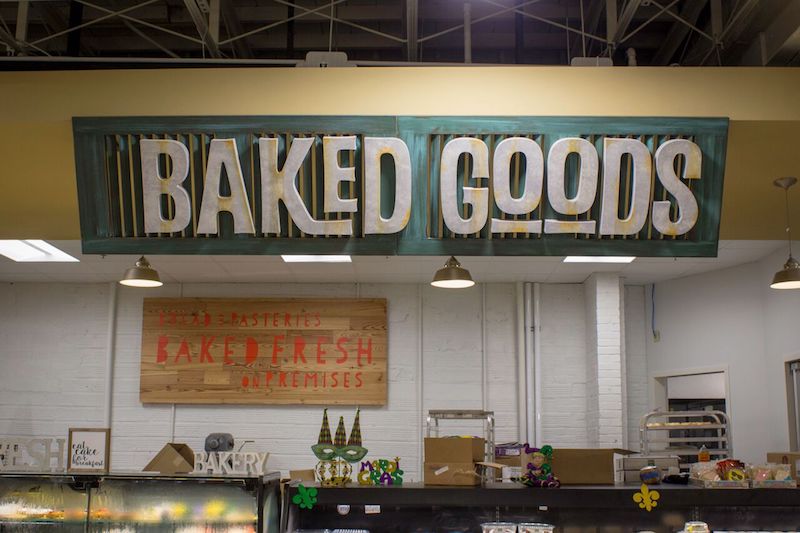 Better Than Ever
Every cloud has a silver lining. Robert Fresh Market has rebuilt its business and focuses on a bright future. It has invested money in technology and introduced new food ideas. The company has a new online delivery platform and a sophisticated POS system for data reports, card reading and other enhancements.
It is also focusing on responding to consumer trends. "The grocery industry is changing," Robert says. "One of the biggest trends we see is that we are losing center store sales, non-food items that people can easily buy online. So we are replacing them with more prepared foods options. We make over 80 soups in-house."
In addition, "today's customer not only wants prepared foods, but a lot of people get excited about cooking and they want quick and easy ways to make food," he adds. "So we cut up our vegetables and fruits. It's a wave of the future. You will continue to see growth in that area." The company has also been focusing on its growing catering business and its alternate brand, Lakeview Grocery.
The store is known for reasonable prices with a quick, convenient and friendly shopping experience. It also brings a touch of nostalgia to the neighborhood. "We wanted to do a totally different brand," Robert says. "This store has a slightly different feel to it. It's a throwback to a 1950s grocery store. We wanted it to feel like a neighborhood market."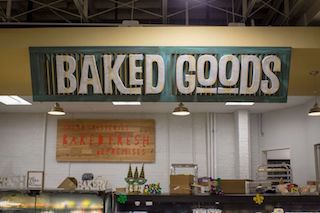 Pride of the Neighborhood
Robert Fresh Market was founded in 1994 when Marc Robert's parents, Marc and Darlene Robert, opened their first location in New Orleans. They envisioned a neighborhood-oriented, full-service market filled with the highest-quality fresh produce supplied by local growers and signature offerings made from scratch. "We try to offer something in between the Whole Foods experience and a value grocery store," Robert says.