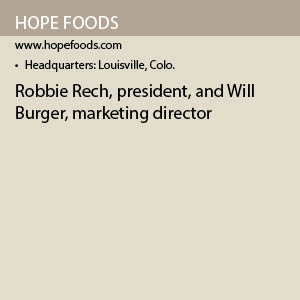 During its first six months in business, HOPE Foods' founders would spend an entire day in a commissary kitchen space making hummus, which they then cooled and transported to the farmer's market the next day. "That experience of personally making and hand-delivering hummus with unique flavors was the foundational experience that set us on the path of doing this on a larger scale," Rech says.
HOPE's founders exclusively sold at the market until October of that year, when they began to expand the operation. The expansion included hand-delivering fresh packaged products to natural food stores in the Boulder region. The company also began shipping products to neighboring states including Utah, New Mexico and Nebraska.
"Once we started to grow, we refined our mission – we wanted to be the first national organic hummus company, as that's something that no one else was doing," Rech says. "There was a lot of hummus out there, but almost all of it was Mediterranean style, while ours is a farmer's market style. No one had really developed an identity around making organic hummus, and that was something we thought needed to be done."
Difference Makers
The company employs 70 full-time employees in a 60,000-square-foot production facility in Louisville, Colo., where they make several varieties of hummus in flavors including spicy avocado, Thai coconut curry and kale pesto. The company sources the ingredients for its products from local as well as regional producers.
HOPE Foods' products are made to order for regional as well as national retailers including Whole Foods and Publix. "We're on our way to a lot more stores," Rech says.
The company's products differ from other hummus brands in flavor and texture, a result of the unique way in which they are produced. HOPE Foods uses high–pressure processing (HPP) in place of traditional pasteurization techniques. Instead of heating its products, the company uses hydrostatic pressure to eliminate bacteria and pathogens. The technique keeps the hummus at a temperature of 40 F or less, meaning it retains its flavor while gaining a different texture from typical hummus.
"Because we do not use heat, the product comes out and continues to taste, look and smell fresh," he adds. "By doing this, we're able to preserve the farmers' market experience of a customer buying something direct from a proprietor; it is this experience that really connects them to the people making their food."
One Mission
HOPE Foods' production and other employees have a strong connection to the food they make, as well as to the company as a whole. "We believe in growing talent from within, which has allowed us to find cohesion in our business," Marketing Director Will Burger says. "We make our own product, as opposed to using co-packing, and that has allowed us to establish a culture where everyone is working toward the same mission, from management to the production floor."
The company helps its employees achieve its stated mission of "being the absolute best dips and spreads company it can possibly be" by regularly training its employees and investing in lean manufacturing methods. "Lean manufacturing puts problem-solving onto the people on the shop floor who are doing the work, which matches our philosophy of having people be productive and fulfilled in their work," Rech says.
HOPE Foods teaches lean techniques as well as leadership skills and other topics including food safety and food quality in a two-year staff enhancement program. "Everyone in our company from the production line up is given the chance to go through this program, which ultimately enables them to be paid more and opens up more opportunities in our organization for them," he adds.
Employees also regularly participate in community service and volunteering programs benefiting schools and local agencies that promote health and wellness, the company notes.
A Higher Profile
HOPE Foods continues to improve its processes as well as its products. Last November, it updated its production line by installing a cell-based manufacturing system, Rech notes.
The company's newest products include a black garlic hummus introduced in March. The garlic used in the hummus is aged in a moist environment that makes it dark and caramelized while retaining its flavor. "We could have done a garlic recipe similar to what's already out there, and we experimented with several recipes but we weren't inspired by them," he says.
HOPE Foods is increasing awareness of its black garlic hummus, as well as its other varieties, in several ways including through in-store demonstrations and other special events. "We believe our product is our key differentiator and the main driver of our success," Burger says. "We want people to experience the difference in our product. We have found that, when they do experience our product, they stick with it."