Immersive Realms and NFC Data Want You to Explore Your Inner Zombie this Holiday Season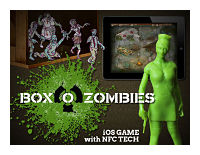 Dec. 13, 2012 – A group of young Chicago companies are giving fans the unique opportunity to be immortalized with their own character, storyline and interactive game figure in the Box-O-Zombies game that is scheduled to be released April of 2013 on Apple iOS-based mobile platforms. "We are really excited to give our Zombie hoard the opportunity to immortalize themselves as one of these action figures," said Box-O-Zombies Creator Shawn Recinto, Immersive Realms.
Top tier backers on Kickstarter are being given the opportunity to explore their inner Zombie. Inspired by Immersive Realms' Box-O-Zombies figurines, the game is a post-apocalyptic storyline of a man and his dog on their journey to discover who they are, what happened to the world around them, and how to fix it. It is a game where players get to build and defend their own Zivilization.
In an ironic twist, the Box-O-Zombies game brings these popular figurines to life by making them an interactive part of the game play. "The technology from NFC Data allows us to completely rethink the boundaries of game play with its ability to bridge the physical and virtual worlds," said Kent Mages – Executive Producer, Proximity Game Studios, an NFC Data, Inc. company. The Box-O-Zombies Kickstarter project is funding the creation of extended game content and packs of collectible, digitally serialized figures that will appear as characters in the game using a Bluetooth connected NFC reader.