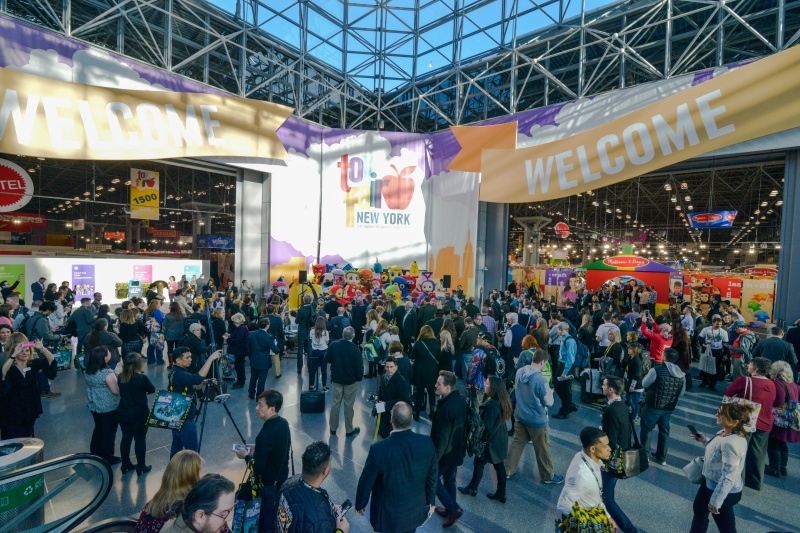 Toy Fair is the largest toy trade show in the Western Hemisphere, and brings together more than 1,100 exhibitors to showcase hundreds of thousands of toys. By Laurie Chartorynsky
Taking place Feb. 17-20, 2018, Toy Fair draws more than 30,000 play professionals to the Jacob K. Javits Convention Center in New York City. Attendees can scope out the hottest new toys and games, engage in deal-making with top buyers and sellers, gain exposure from national and international press, and also learn valuable industry insights and trends in a series of seminars and interactive workshops. Attendees can register for Toy Fair here.
Toy Fair now occupies every exhibit hall at the Javits Center – and last year's show shattered exhibit space records. Toymakers and marketers competing for a stake in the $26.5 billion U.S. toy market filled 445,000 square feet of exhibit space (the equivalent of nearly eight football fields) with toys and related play products. Retailers visiting this year's "must attend" event will once again see every square foot filled with hundreds of thousands of new playthings coming to market in 2018.
Mattel, Melissa & Doug, Jazwares, The LEGO Group, and Wicked Cool Toys are just a few of the more than 1,100 companies showcasing products such as educational toys, STEM/STEAM activities, outdoor toys, arts & crafts, eco-friendly toys, infant and toddler products, collectibles, board games, and the latest in tech-infused playthings. Of note is the Launch Pad hall populated by eager first-time exhibitors, who will display their unique and cutting-edge toys and games for the very first time at Toy Fair.
"Toy Fair is the place to be for buyers looking for the latest toys coming to market – including what could possibly be the next hot toy or youth entertainment product," says The Toy Association's Executive Vice President of Global Market Events Marian Bossard. "Buyers walking the floor of the Javits Center will be privy to an array of diverse products for kids of all ages – many of which will not be seen at any other show in the world."
On top of being a world-renowned business marketplace, Toy Fair offers ample opportunities for networking and learning. Attendees will learn about a range of industry topics such as trends in the retail community, play's role in society, the latest toy trends, licensing tips, entrepreneurship, and U.S. and global toy safety standards. More educational tracks and speakers will be confirmed in the coming weeks; check ToyFairNY.com for event details.
Getting Ready for the Show
Retailers can get a head start on scouting product by visiting ShopToys365.com, the play community's digital marketplace connecting global buyers with suppliers. The ever-evolving platform allows sellers to showcase product and buyers to discover new and valuable suppliers. Through year-round engagement, buyers and sellers can find new business opportunities in a safe and secure digital environment. Retailers interested in learning more about ShopToys365 can contact Scott Evans at scotte@balluun.com.
"Four days does not seem like nearly enough time to take in everything Toy Fair has to offer," Bossard says. "That's where ShopToys365 comes in, allowing buyers to do business with vendors via their digital showrooms before, during, and after the show." Toy Fair will take place Feb. 17-20, 2018 at the Jacob K. Javits Convention Center in New York City. For up-to-the-minute information about registration, special events, educational opportunities, hotel bookings, shuttle schedules, exhibitor floor plans, and more, visit ToyFairNY.com.
About the North American International Toy Fair
Toy Fair is an annual event that is produced by The Toy Association Inc. The largest toy tradeshow in the Western Hemisphere, Toy Fair takes place each February at the Jacob K. Javits Center in New York City. The show brings together more than 1,100 exhibiting manufacturers, distributors, importers, and sales agents to showcase hundreds of thousands of toys and youth entertainment products to thousands of retail outlets from 100 countries. Visit the show's website, ToyFairNY.com for more information.
About The Toy Association
Founded in 1916, The Toy Association™ Inc. is the not-for-profit trade association representing all businesses involved in creating and delivering toys and youth entertainment products for kids of all ages. The Toy Association leads the health and growth of the U.S. toy industry, which has an annual U.S. economic impact of $80.25 billion, and its 950-plus members drive the annual $26 billion U.S. domestic toy market.
The Toy Association serves as the industry's voice on the developmental benefits of play, and promotes play's positive impact on childhood development to consumers and media. The organization has a long history of leadership in toy safety, having helped develop the first comprehensive toy safety standard more than 40 years ago, and remains committed to working with medical experts, government, consumers, and industry on ongoing programs to ensure safe and fun play. Visit www.toyassociation.org or www.playsafe.org for more information.
Laurie Chartorynsky is the communications specialist/content developer for The Toy Association.