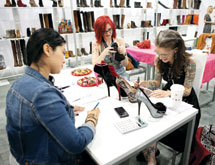 MAGIC Market Week Feb. 19 to 21 at the Mandalay Bay and Las Vegas Convention Centers will feature the latest trends, most talked-about clothing labels and tens of thousands of retailers from more than 80 countries around the world. MAGIC bills itself as offering the most comprehensive community of retailers, brands, buyers and fashion insiders at a single event.
More than 5,000 brands of men's, wom­en's and children's apparel, footwear and accessories will be exhibited during the week. Celebrity-studded events and parties will feature the most influential names in fashion, promises Advanstar, Magic's organizer.
MAGIC Market Week is where the international community of apparel, accessories and footwear professionals trade information, previews trends, builds business and shop for fashion. Retailers attending will discover the buzzed-about emerging brands, the freshest undiscovered finds and hot new designs from industry-leading labels to ignite their imaginations.
By combining commercial potential, creative inspiration and connection opportunities, MAGIC Market Week averages nearly $200 million in per-day order volume. With 85 percent of the top 50 retailers in attendance, more business is done at MAGIC Market Week than any other fashion retail trade event, Advanstar says.
New areas at the February 2013 show include Project MVMNT, which will be ded­i­cated to the communities and businesses driving the growth of modern youth culture. This show will unveil up-and-coming trendsetters, inspire motivation, support commerce and curate resources.
Also new at the show will be The Tents@Project, which will be a highly curated section of brands that are interconnected by their innovative and artistic approach to vision. The Mandalay Bay Convention Center also will feature ENKVEGAS, an all-women's exhibition. Women's brands previously showing at Project will now be on the ENKVEGAS show floor.
The week's seminars will feature free talks on today's most important topics, including fabric, color and trend forecasting from some of the biggest names in the business.
MAGIC Market Week unites the largest and most influential network of buyers, brands, media and decision-makers via innovative initiatives, exclusive access to cutting-edge information and conveniently merchandised show areas. These include WWDMagic, FN Platform (the footwear show), Project Mens/Wear, Project Mvmnt, The Tents@Project, Pooltradeshow and Sourcing at Magic. The next MAGIC Market Week will be in August in Las Vegas.