Keds Announces Sponsorship Of Taylor Swift's 'RED Tour'; Releases Limited Edition Tour Sneaker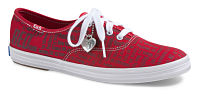 March 18, 2013 – Keds is hitting the road this spring as a sponsor of seven-time Grammy winning, multi-platinum singer-songwriter and style icon Taylor Swift's North American RED Tour, kicking-off on March 13 in Omaha, Nebraska and continuing through September. To celebrate, Keds is releasing a limited edition Champion sneaker featuring the names of each city on the tour. Fans can receive exclusive access to ordering and see the shoe in person by visiting the Keds Style Studio, a unique pop-up brand experience inside each venue where they can learn more about Keds footwear and apparel.
Girls will be encouraged to share their stories of bravery, self-confidence, friendship and style at the Keds Share Fearlessly video set, with the chance to be featured on Bravehearts.com, the new Keds website devoted to helping girls live their lives to the fullest. Throughout the length of the tour, Keds also will be running a series of giveaways that include seat upgrades and backstage tours in every city. Follow Keds at Facebook.com/Keds and Twitter.com/Keds for the latest tour updates and information on how to get in on the action.
"We're thrilled to be part of Taylor Swift's North American RED Tour, and to be offering our fans fun and exciting ways to experience Keds," said Rick Blackshaw, president, Keds. "The tour shoe is the first of its kind and is a really unique memento of the concert experience. We can't wait to meet our fans, hear stories from Keds girls across the country on what makes them brave, and help inspire as many girls as possible to be fearless."