Leadership Changes at Mars Inc.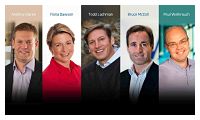 Mars, Incorporated has announced that Todd Lachman, current President, Mars Global Petcare, decided to leave Mars at the end of 2014 to relocate his family to San Francisco, California. Todd has been with Mars for 8 years, first leading the Chocolate North America and Latin America business before moving into the lead role of the Mars Global Petcare business. Poul Weihrauch has been appointed as President Mars Global Petcare, effective Jan 1, 2015.
Poul is currently Global President of Mars Food. He also has accountability for Mars Drinks and European Multisales. After 6 years with Nestle, Poul joined Mars in 2000. He has been with Mars for 14 years, and in that time has worked in multiple categories, including Chocolate, Wrigley, Food and Drinks.
Fiona Dawson, currently Regional President of Chocolate UK and Global Retail, will step into the role of Global President, Mars Food with accountability for Mars Drinks and European Multisales. Fiona began her Mars career in Sales in 1988 as a graduate trainee. After many years in Multisales in Ireland, the Netherlands and Belgium, she became the head of the UK Chocolate business in 2005 and has since also added responsibility of the Mars Retail Group.
Andrew Clarke, currently Regional President Petcare for Latin America, will become Mars, Incorporated's new Chief Customer Officer and a member of the Mars Leadership Team, effective February 15. This is a critical job responsible for driving strategic initiatives related to customers. Coming from Marks & Spencer®, Andrew began with Mars in 2000 in UK Sales and over the next seven years took on increasing responsibility in the function as he moved between the Pet Specialty, Impulse and Grocery teams. Since then, Andrew has taken multiple general manager roles across the business.
Bruce McColl, Mars' Chief Marketing Officer is being made a member of the Mars Leadership Team. Bruce joined Mars in 1992 in Australia as a brand manager. Over his 22 years in marketing at Mars, Bruce has worked across Mars' business brands, categories and geographies. His stewardship of Mars global agency relationships and collaboration with our worldwide marketing community have resulted in brandbuilding, and award- winning marketing that is increasing reach with consumers all over the world.
"We are thrilled to have such great talent within the organization and proud of the growth that these leaders have demonstrated over the years," said Grant F. Reid, Office of the President, Mars, Incorporated. "These great leaders have an average of more than 19 years of experience in leadership at Mars, and they are a testament to how well our development programs at Mars works."